A Taste of Kentucky Derby!
Hold your horses, you don't have to live in Kentucky to celebrate this festive southern tradition that takes place at Churchill Downs the first weekend in May. At the Derby spectators line the infield inside the track to enjoy finger foods and Mint Juleps at individual small parties and receptions. Celebrate in style in your own infield-backyard with an easy but elegant table spread that your guests will enjoy.
At the starting line of this food event, silver makes a real statement as serving pieces. It wouldn't be the Derby without silver platters, plates and cups. Don't have silver or silver plated pieces? Classic white dinnerware can be used or intermingled with a few silver pieces.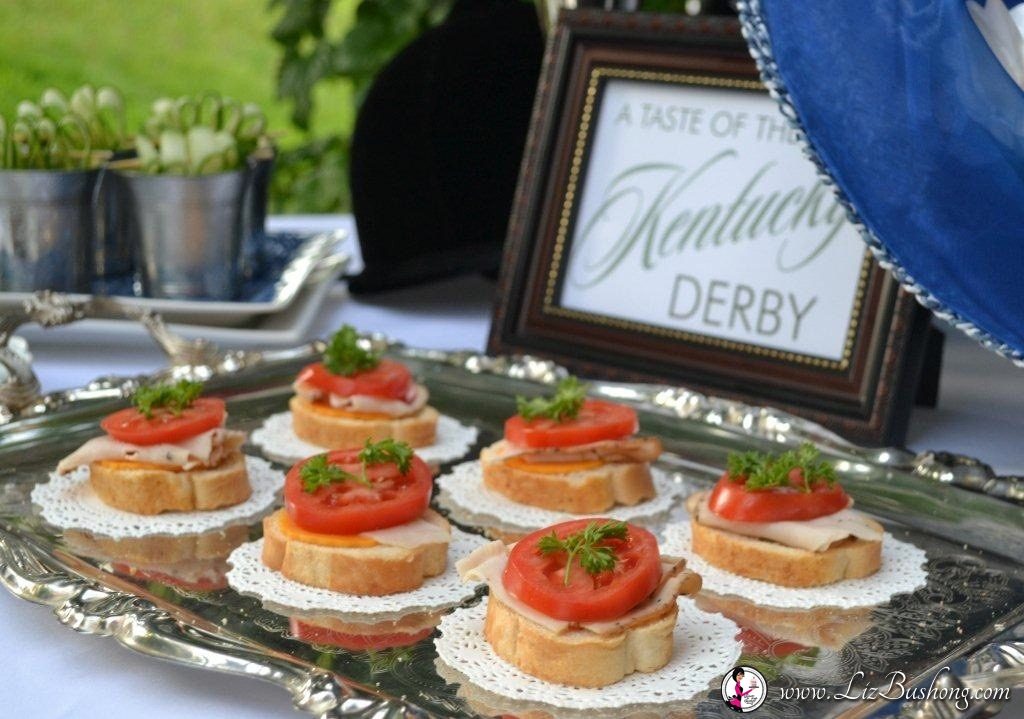 The Mini Hot Brown's are served with small rounds of crusty bread toasted with butter and stacked with melted cheddar cheese, cooked peppered bacon, and smoked turkey breast. As a garnish for this appetizer, a thin sliced Roma tomato with parsley appeals to the eye. These can be served warm or cold depending on your preference.
The Kentucky Derby Bars have a solid filling with toasted pecans and mini chocolate chips making this graham cracker crust dessert sweet and rich.
While mingling and munching on these delicious bites sip on the frosty Cucumber Mint Julep.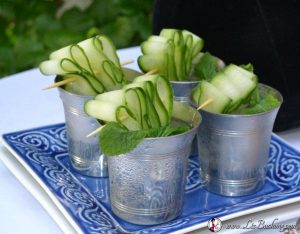 A twist on the traditional bourbon filled julep is the Cucumber Mint flavor. Seedless English cucumbers are mixed with mint simple syrup and pure vanilla extract. Lemon lime soda or Perrier is added and poured over frozen mint ice cubes making this julep refreshing on a hot day.
In true Derby style, serve Mint Juleps in a silver cup with a skewered ruffled English Cucumber slice. Pretty and Delicious!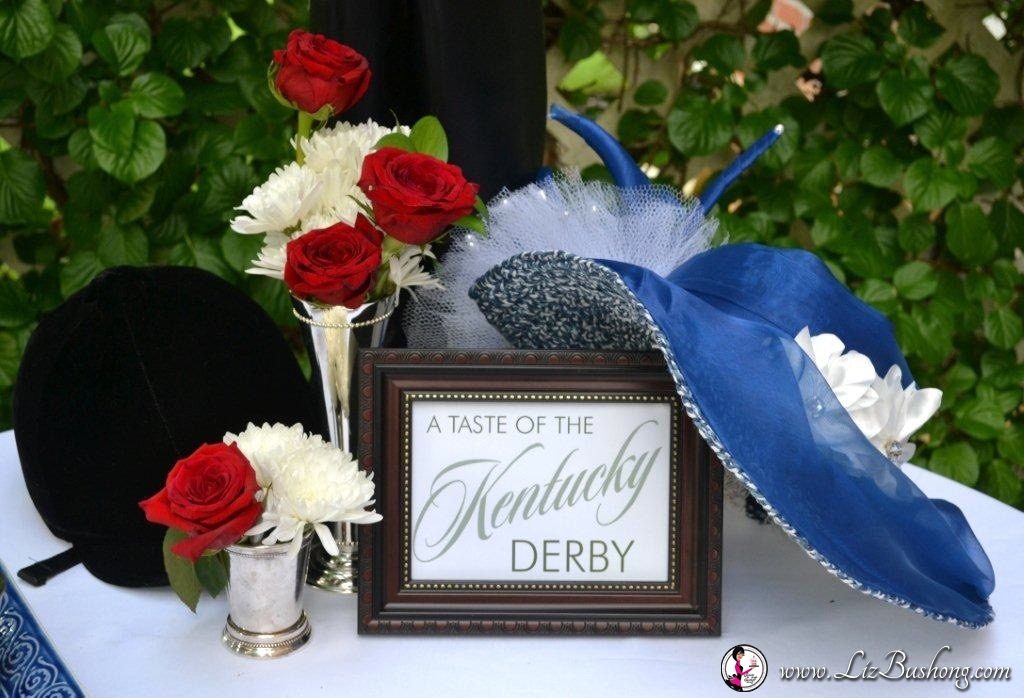 The nickname Run for Roses is another name for the Kentucky Derby; for a blanket of red roses are draped over the winning horse. To mimic the winning blanket, red roses and white carnations are arranged in Mint Julep cups and supports the overall table decor color scheme. For an added accessory, an elaborate navy hat with pearls, lace and tulle reflects the lavish style that well-connected and famous women wear during this event.
We had a great time on the set sporting our cute Derby Day hats.  The hat in the cover photo belongs to Angelia Baker publisher of VIP SEEN magazine.  She had asked me to make something special out the blue floppy hat that she needed to wear for an event.   I took tulle, blue chiffon, and even lace from my wedding dress to make this special hat for her.  The hat was so pretty.  I need to get a photo of her in the hat.. will have to work on getting that. ha ha
Be sure to check out VIP SEEN magazine for April.  The Taste of the Kentucky Derby article can be read and seen there.   I will post link after it is published.
Happy Derby Day!
Liz