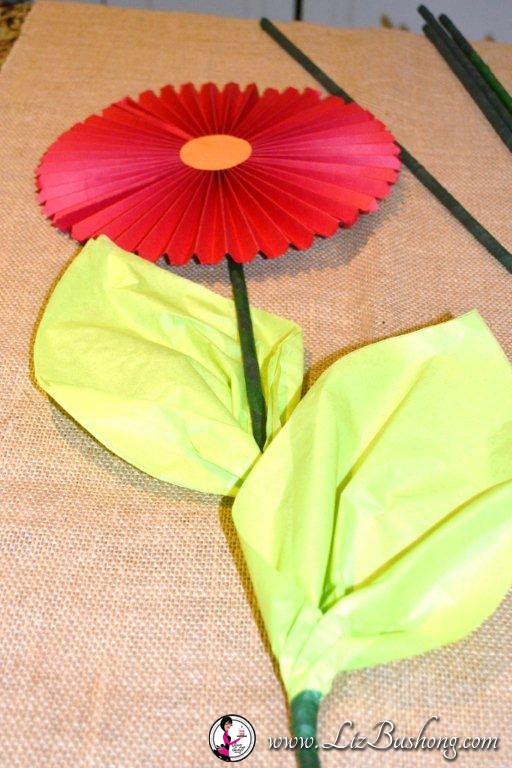 Accordion Pleated Paper Flower Tutorial
This Accordion Pleated Paper Flower Tutorial will help you create a blooming party this summer!   These 9 inch round flowers are easy to make and are stunning when grouped together on a wall or in individual flower pots.  These flowers were made and displayed in the windows of the Bristol Olive Oil Company in Bristol Virginia.   The large paper flower is constructed with  card stock scrap-booking paper in 4 quadrants and glued together, then attached to a dowel rod.  The lime green leaves were cut to size and attached to the dowel with green floral tape.  These cute blooming beauties were potted in bright yellow and white polka-dot flower pots.  Styrofoam and green moss kept the flowers upright and secure in the flower pots. 
Accordion Pleated Paper Flower Tutorial Supplies Needed:
2-12 x 12″ colorful card-stock paper sheets
Glue gun- glue sticks
1-3 x 3″ coordinating card-stock paper for center of flower
1-2″ circle punch
1-3/8 " dowel rod- 36″
1 roll green floral tape
2 sheets lime green tissue paper
ruler, pencil, scissors
flower pot
styrofoam piece 4 x 4″
package of green moss
 Accordion Pleated Paper Flower Tutorial  Steps:
Step 1:  Cut card-stock into 4- 11 1/2 " x 4 1/2″ pieces from the 2 sheets of 12″ x 12″ card-stock.   These 4 pieces will make one  9″ round flower head.
Step 2:  Accordion fold or pleat each strip of card-stock into 1/2″ widths.
Step 3:  Using hot glue gun glue all edges together and stand it up on the counter.  You will think you have made a terrible mistake, but you haven't.   Next push down the center until the flower lies flat.   Using your circle punch, cut out  2 coordinating paper circles or use the same color  as flower, and hot glue this circle to the front and back  center of flower.   Yeah!  You have just made one flower head.
Step 4:  I don't have a pattern for the leaf shape, but basically I folded the tissue paper sheet in half and cut on the fold.  Then folded each tissue paper sheet in half again.  Starting at the right lower corner of the folded paper, I cut a curve for one side of the a leaf shape.  When you open up the paper, you will have a perfect shaped wide….. leaf.  Next, you will hand pleat the longest edge of the paper leaf to form a small leaf.  Your leaf will look like the leaf in the photo.  You will need two -three leaves per flower stem.
Step 5:  The dowel rods are 3/8 " thick, but you could go larger totally up to you.  I made three flowers per pot so I had three dowel rods, one 36 " long, one 30″ long and one 18″ long.  Keep in mind that you will lose height when you push the dowels into the styrofoam filled pots.. so plan accordingly.
Step:  6.  Cover each dowel rod with green floral tape.  (I made 9 flowers total and used two rolls of floral tape.)  Attach each leaf to the dowel rod using the  same floral tape.   Hot glue the dowel rod to one side of the flower, inserting the rod into one of the folds to help conceal it.
Step: 7   Insert each flower into a styrofoam filled 6″ flower pot.   I used three flowers per pot for the window display.  The pots were yellow plastic.  I added round white stickers all around the sides of the pots for more fun and pop to the arrangement.  Green moss is used to cover the foam and give the flower a completed look.  Sorry for the glare on the window.  They look so cute and bright in person.  Wish you could see them in the window.  I added colorful trowels and other garden supplies around the window and of course…. several olive oils!!!    It turned out soooo cute!