Black Forest Mini Cakes are 2 x 2 inch cakes with three layers of dark chocolate cake brushed with cherry jam and layered with chocolate whipped cream. Yes, chocolate whipped cream!
Black Forest Mini Cakes are easy and fun to create.  To create this mini masterpiece you will need a firm cake like this recipe.  The chocolate cake is made with Jello instant pudding and pie mix which makes the cake really moist.  The cake was baked in a parchment lined baking sheet, frozen, and cut into 2″ x 2″ squares.  The cake squares were also frozen to make cutting easier when it was time to put together.  You will need a square 2″ x 2″  silicone baking mold   Although it is so much fun to use and will insure that your cakes are firmly put together.
Black Forest Mini Cake Step 1: Cake & Freeze
Bake your cake as recipe suggests, cut the cake into 28-2″ x 2″ squares using a square biscuit or cookie cutter.  Freeze these cakes 30 minutes. Slice these cakes in half horizontally using a serrated knife, place one slice in the bottom of the mold sections.  NO need to spray mold.   You will use three cake sliced per mold for your mini cake.  Brush cake slice with melted cherry jam.  You will coat one side of each cake with jam.
Print
Black Forest Mini Cakes
Three layered 2″ square cakes filled with chocolate whipped cream and cherry jam, covered with chocolate ganache topped with whipped cream and long stem cherry.
Author:

Liz Bushong

Yield:

16 Mini Cakes
Ingredients
1-16.5 ounce package Dark Chocolate Fudge Cake Mix

1-3 ounce package Chocolate Fudge Instant Pudding and Pie Filling

1-1/3 cup water

½ cup vegetable oil

3 eggs

1- teaspoon vanilla

1-cup cherry jam-melted

1-recipe dark chocolate ganache

Chocolate Whipped Cream Filling
1- cup whipping cream-chilled

2- tablespoons Hersey's Special Dark Cocoa

1/3-cup confectioner's sugar

 Garnish
Whipped Cream

12- maraschino cherries with stems-drained

Baking Equipment Needed:
2 x 2 inch Square Silicone Baking Mold* 

Chocolate Ganache
2/3-cup heavy whipping cream

1-cup mini or regular chocolate morsels

Ganache recipe covers 5 cakes. Double recipe for remaining cakes.
Instructions
Preheat oven 350 F.  Line a 9 x14 baking sheet with parchment.  Spray with cooking spray.
In large mixing bowl, add mixes and next 4 ingredients.  Blend to mix about 30 seconds, beat at medium speed for 2 minutes.  Pour batter into baking sheet, smooth top with flat edge spatula to level.
Bake for 20-25 minutes.  Remove from oven and loosen edges of cake from pan,  Let cake cool.
Place cake in freezer to firm.  Cut cake into 2 x 2 inch squares using a square cookie cutter or cardboard pattern. You will have 28 squares.  Cut each cake square in half horizontally.  Place one cake in each mold brush with melted cherry jam.  Prepare Chocolate Whipped Cream, then see how to assemble.
Chocolate Whipped Cream filling; place cocoa and confectioner's sugar in mixing bowl with whisk attachment.  Blend the cocoa and sugar, then add cold whipping cream Beat at high speed until stiff peaks are formed.  Place whipped cream in a pastry bag with round wide tip or clipped zip-lock bag.  Set aside.
To assemble:   Cut each frozen square cake in half horizontally.  Place one cake in each mold, brush with melted cherry jam.  Pipe chocolate whipped cream thinly on top of cake. Repeat with another cake layer, jam, whipped cream.  Layering three times. Place in freezer several hours to set.  Remove cakes from mold.  Before pouring ganache over cakes. 
Chocolate Ganache Instructions:   Heat 2/3 cup whipping cream in microwave safe bowl for 50 seconds.  Cream will be very warm but not boiling.   In a small bowl with morsels, add cream. Stir mixture until smooth and shiny.
Place cakes on wire rack on top of parchment lined baking sheet.  Pour melted and smooth ganache over the cakes covering entire surface. Garnish with whipped cream and long stem cherry.  Serve immediately or keep refrigerated up to 3 days.
Notes
If ganache sets up before you can pour over cakes.  Gently reheat in microwave at 10 second intervals to remelt.  Stir until smooth.
Black Forest Mini Cake Step 2:  Filling
There is an easier way to mix the chocolate for the whipped cream.  In your mixing bowl,  place 1/3 cup confectioners sugar plus 2 tablespoons Hersey's special dark cocoa, stir this around with whisk, then add the 1 cup chilled heavy whipping cream .  Beat on high speed until peaks form.  I did it the old fashioned way, folding it in.. but later decided I could mix it faster and better as mentioned.
Black Forest Mini Cake Step 2a: Alternate
If you don't have a mold you can stack your cakes by hand, after cutting them apart.  Just coat each side with jam, then pipe in the filling.  Stack three layers of cake together then wrap in plastic wrap and freeze until hard.  After they are frozen,  go to step 5, covering with ganache.
We are getting close to another fun part!  Piping the filling in the mold.
Black Forest Mini Cake Step 3:  Pipe Filling
Fill piping bag fitted with a large open tip,  #12 or you can fill a zip lock bag and clip one corner for piping whipped cream.  Pipe the chocolate whipped cream on top of cake in the mold.  Then add another cake, brush with cherry jam, pipe filling and top with jam coated one side cake.  The cakes will be on the top of the mold.  Do not coat top cake piece with jam.  Place these cakes in the freezer or refrigerator to firm up.  Freezing is best.
Black Forest Mini Cake Step 4: Ganache Glaze
When making the ganache, pour the 2/3 cup  heaving cream in a microwaveable bowl and heat for 50 seconds.  Then add 1 cup of chocolate morsels, stir to blend.  You will think you made a mistake, but keep stirring, it is amazing how the chocolate comes together.  The chocolate will be smooth and very shiny.  Now you are ready to pour over the cakes.  If this ganache gets thick, just reheat in microwave gently until smooth again.   The ganache will cover 5 mini cakes, so you will need to double the recipe.
Black Forest Mini Cake Step 5: Glaze Cakes
Remove your mini cakes from the mold.  Yeah!  This is the another fun part..to see what the cakes look like.  Now you are ready to coat the entire cake with chocolate ganache.  Place a cooling rack on top of a parchment lined baking sheet, place one cake on the rack and pour the chocolate over the entire cake.  Using an off-set spatula smooth top first then the sides.  If you missed a part of the cake, just spoon more chocolate over the top of cake and let it slide down the sides of cake.  Smooth the cake with your spatula.   I use a small spatula.  Not the large one.
If you don't want to  cover the cake with ganache.. you could just pipe dollops of chocolate whipped cream to the top of the cakes and add chocolate shavings or cherry.  I used a  long stem maraschino cherry.
After cakes are coated.  Keep in refrigerator until ready to serve.  Before serving, pipe a dollop of whipped cream and add your garnish.  Everything is better with a cherry on top!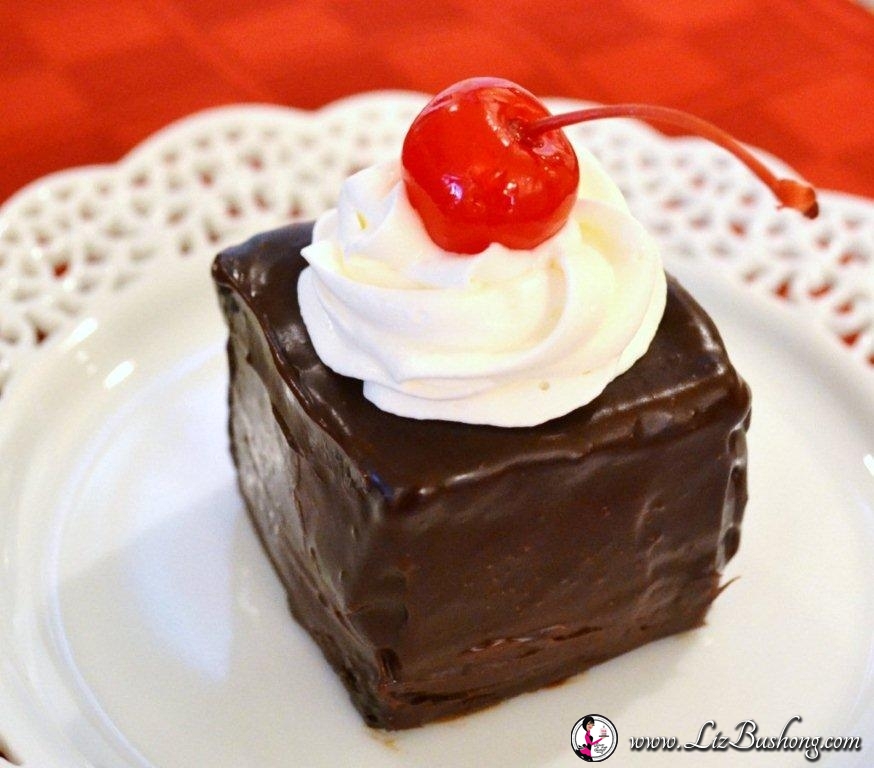 We made these little cakes and this tablescape on Daytime Tri-Cities.
Enjoy!  These look like a lot of work, but once you get started it really isn't.  You will have fun making these.  The square baking mold is really a must for perfectly shaped cakes.
Happy Creating!  XO