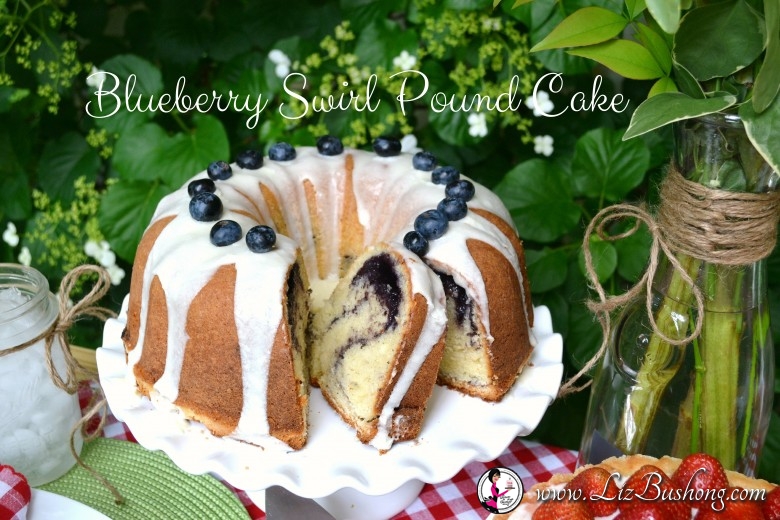 Blueberry Swirl Pound Cake
Blueberry Swirl Pound Cake is rich in flavor with sweet blend of blueberries and cream.  Lightly sweetened blueberry puree is layered in the cake batter and gently swirled before baking.  This pound cake is perfectly wonderful all on its own, but when topped with a handful of fresh picked-ripe berries it becomes a sensational taste of summer.
Blueberry Swirl Pound Cake
is baked in a  fluted pan.  If you don't own a fluted pan you can bake this delicate cake in a loaf pan with the same great results.  Sometimes when I bake this cake, I will divide the batter into 1/2 cup portions and bake mini tube pan cake.  The mini cakes are easy to freeze for your next dinner party or have-on -hand desert.  The cake freezes well after glazing and even garnishing with the berries.  You could make this pound cake with another berry like strawberry, blackberry and raspberry.
This cake is a dense cake, like all pound cakes but bakes up beautifully.  A couple of good tips before making/baking.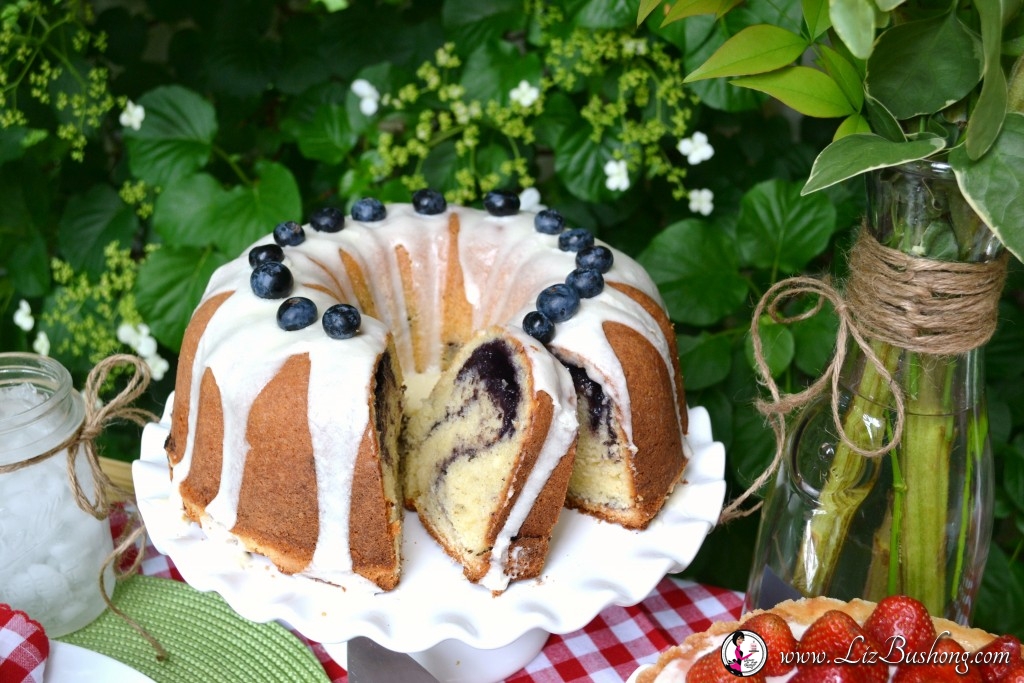 Blueberry Swirl Pound Cake|  Ten Baking Tips
1. Use room temperature butter, cream cheese and eggs.  Yes, there is cream cheese in this cake which really makes it rich and moist.  YUM!
2.  Cream the butter first before adding the sugar.
3. When adding the sugar, remove any lumps in the sugar and gradually add while whipping the butter.
4.  Beat the butter and sugar mixture for at least 7 minutes.  You want the sugar and butter to incorporate with no grit-sugar pieces.
5.  Prepare your baking pan with shortening and dust with flour.  You could use baking spray with flour if desired.
6. Pureeing the berries is easy if you use a blender then strain with colander to remove the skins.  It will however make the puree a lighter in color.
You can leave the skins in the puree if you don't mind having that texture in the cake.
7.  Mix cornstarch in cold water to make a slurry ( gravy), this will thicken the cooked blueberry puree.
8.  Allow  the puree  to cool and chill before placing in pan and batter.  It will thicken up a bit after you chill it.
9. When swirling the puree in the batter, use a sharp knife to cut through the batter, but be careful not to touch the sides or bottom of the baking pan.
10. Bake cake until toothpick comes out clean, allow cake to cool about 10 minutes in pan before inverting to release the cake from pan.
One More Tip:  Glaze after cake is completely cool.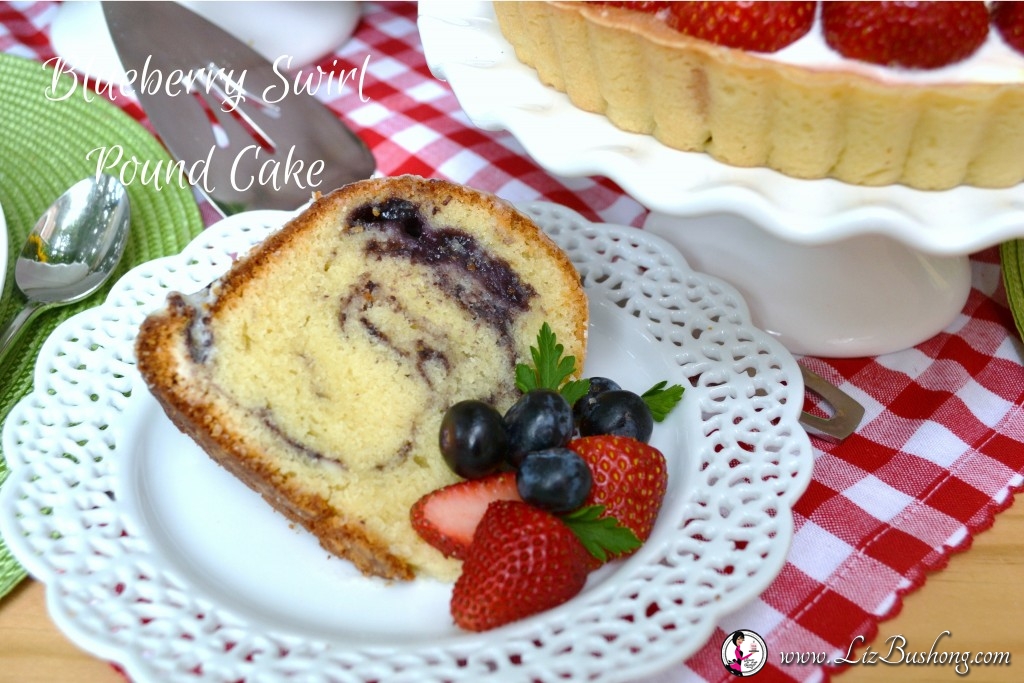 Making this pound cake is pretty simple with simple ingredients, room temperature butter, eggs and cream cheese will bring great baking results.
Cream the butter for about 5 minutes before combining the sugar.  You will be using 3 cups of granulated sugar.  Sometimes I will sift the sugar to remove any lumps and I always use dry measuring cups for dry ingredients and liquid measuring cups for liquids.  Complete recipe here: http://serveitupsassy.com/blueberry-swirl-pound-cake/
Add sugar to butter mixture gradually not all at once.  Scraping down sides of mixing bowl after each addition.  Beat this mixture for 7 minutes.  Really.. 7 minutes.  You will want the sugar and butter to whip together so there is not grit feel to the batter and great texture to the cake. Then add the softened cream cheese, beat to combine and creamy smooth.
Next add the six eggs, I know it is a lot of eggs, but the eggs will add body, richness and texture to the cake, as well as nutritional value. Got a have some nutrition in this dessert.  xo
After beating the eggs one at a time in the batter, add the extract and zest, then add your dry ingredients.  I like to use King Arthur Flour for baking and Gold Medal as an alternative.   Baking Powder and salt and you probably noticed the milk in the glass measuring cup, that is Heavy Cream.  I know.. more fat in this recipe. But it will be a great cake!!!   The Baking powder is Rumford,®aluminum-free which I prefer in all of my baking.
The puree is for the swirl inside the cake.  I have made the cake with frozen blueberries with skins on and prefer to leave the skin on.  Removing the skins by straining the puree (after you have pulverized in a blender) makes the puree lighter in color as the photo.  The puree is thickened over medium heat in a saucepan.  Arrowroot or cornstarch is used for the thickening agent.  After you have cooked the puree let it cool before pouring onto cake batter.
If you don't have a fluted pan, grease and flour a 9″ loaf pan.  I use shortening to grease my pan and lightly sprinkle flour all around the edges of the pan for an even coat.  If you skip this part your cake will not come out of the pan with success.  This pan is a non stick pan but I still coat with shortening and flour.   Spoon 1/3 of the batter into your pan, then add the blueberry puree.  Try not to get the puree on the outer edges of the pan, as shown here, I had too much puree added and when I spooned the rest of the batter on top of the puree it the weight of the batter caused the puree to spread to the edges.
The reason you don't want the puree on the edges of the cake pan is it will spill over in your oven and will not create a beautiful cake outside edge of cake.  To solve the spill over, place cake on a parchment lined baking sheet and bake as normal.  To correct the juice edge of the cake after it is baked, glaze with Orange Buttercream Glaze and allow it to drizzle down the sides of the cake.  It doesn't have to be perfect…. it is a lovely cake when sliced into slices.
Blueberry Swirl Pound Cake|The Swirling Pattern
With a sharp knife, cut through the center and middle of cake in a small figure 8 or whatever consistent pattern you desire.  The blueberry puree will be swirled inside the cake and it will be a big surprise when you cut it what it will look like.  Don't you love surprises?
Bake the cake at 325 for 75 minutes or until golden brown and center is done baking.  Remove cake from oven and allow to cool for 5 minutes before inverting the cake on wire cooling rack.   In about 15 minutes your cake will release on its own as it cools in the pan.  Yeah!  success!
Drizzle the cooled cake with Orange Buttercream Glaze- recipe here http://serveitupsassy.com/blueberry-swirl-pound-cake/
Garnish with fresh blueberries and serve it up sassy with fresh strawberries.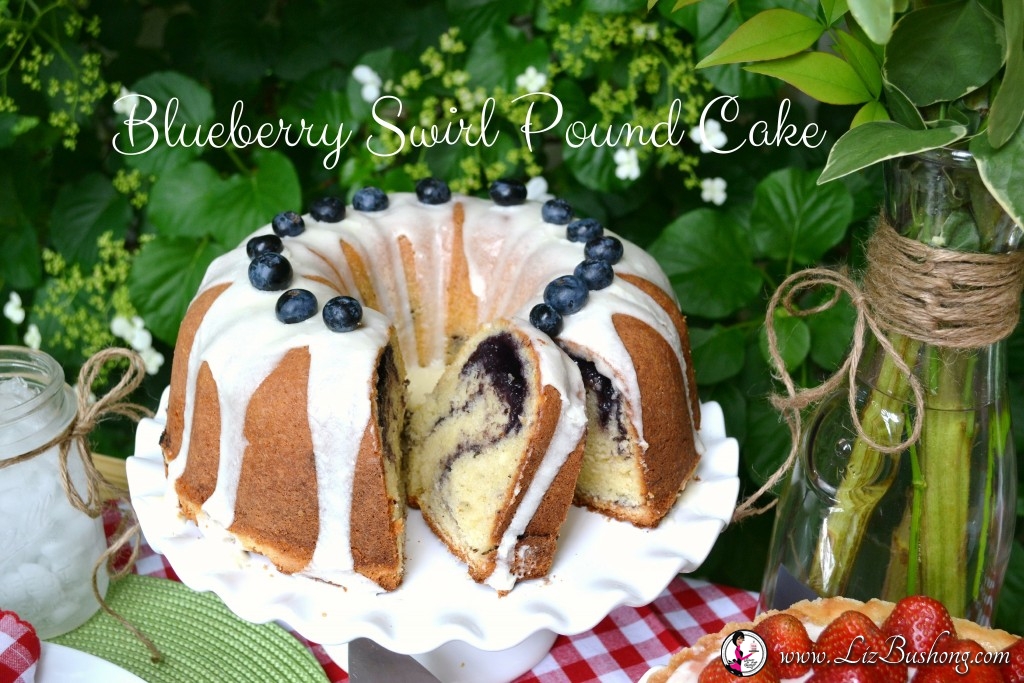 Hope you will bake this for your next event.  Let me know if you leave on the skins or take them off for the  blueberry puree?
Helping you Make a Statement, Make is Sassy and Make it Yours! ®
This recipe was featured on Good Day Tri-Cities and VIP SEEN magazine.   Click on link to see post about article.
As Seen on Good Day Tri-Cities