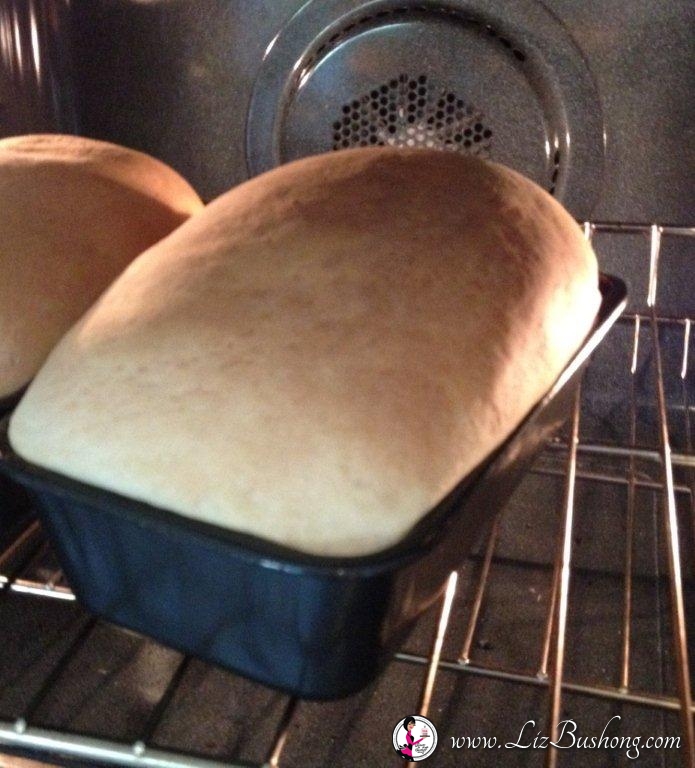 Buttermilk Bread Recipe
I love this Buttermilk Bread Recipe!  My great aunt taught me how to make this bread years ago.  This is my go to bread for BLT, Bread cubes, and Thanksgiving dressing.  The bread has a firm texture and holds up well for sandwiches.  It is not a sweet bread like some roll recipes, but can be made into dinner rolls.  You can also add grains to the bread to make it multi-grain.   You will love this bread and your family will too.  Plan on about three  hours to make this bread, although you are not in the kitchen the total 3 hours, but you will need to stay at home for three hours for rising and baking time.
Doesn't this look great!  Buttermilk bread is baking and the entire house smells like a bakery.  Got my bacon, lettuce and tomato ready to make a great BLT as soon as this cools to slice.  Can't wait!  Even my little Megan is excited about this bread.  (She is my  fur baby-miniature schnauzer).  Her little stubby tail is wagging in anticipation of a dropped piece.
If you haven't baked bread before, no worries!  This is very easy to put together, but will require a few baking tips for a successful turn out.  When baking bread you have to be exact with your measurements.  Like sifting flour, using the right kind of flour, making sure your yeast is active and that you don't kill it by overheating your water.  NO worries.. I will walk you through each step. It isn't as hard as you think.  Just take your time and read the recipe a couple of times before you start.  Also,  sift and measure all your ingredients before you start.  Grease your bread pans, adjust your oven rack and get prepared in advance.
Check out this link for  technique how to videos.  http://breadworld.com/education/Technique-Videos.  I would do this first, if you haven't baked home-made bread.
Hour One:  This bread will take a couple of hours, meaning you will put the ingredients together, then set the dough aside for the yeast to do it's thing (thang-southern say'n) , that will take about one hour ( during that time you clean up the kitchen and get ready to roll out the dough).
Hour Two: Next, you roll out the dough and shape into loaves, then cover and let dough rise (do it's thing-thang) for another hour. During this time you can go make the beds or go lay down.  but don't leave the house.  You need to watch the dough so it doesn't over rise and spill over the pan.
Hour Three:   Baking for 30-45 minutes.
Ready to get started?  Or have you changed your mind???  I know it is easier to go the grocery store to pick up a loaf, but making your own.. there is nothing like it.  Give it  a try.. You will amaze your family and friends!  Let me know how this works out for you.  If you have challenges, tell me and I will see what I  can do to help you.    Ok… let's roll,   ha ha…maybe I should say, Let's Bake!
Print out recipe and read it before starting.
Buttermilk Bread Baking Tips
1. Start with a good all purpose flour, I use King Arthur  http://www.kingarthurflour.com/flours/. ( they are not endorsing my blog and I am not getting compensation at least for now).
2.  Select a good yeast:   I used Fleshimans,  http://breadworld.com/education/Yeast-Basics   Yeast is active when water is added to it.  The water temperature  needs to be between 110- 120 degrees depending on what kind of bread you are making.  Instead of explaining it all here, check out the link from Breadworld or King Arthur for great tips and how to's.   Another great yeast is Saf instant yeast.  I am used to working with  Fleischmann's  Yeast.
Remember yeast likes sugar but not salt.  Here is what I do,  I  add 1 cup of water and 1 cup of buttermilk in a glass measuring cup and place in microwave for 45 seconds. That usually brings my water temperature to 112-115 degrees.  I do not go over 115 degrees.  Very important.  If you go over this heat, you will kill the yeast.  You will know when you kill the yeast because it will not bubble up in the measuring cup, it will not move.
WHAT YOU ARE LOOKING FOR:  BUBBLING ACTION IN THE YEAST.  Your yeast will begin to bubble up and eventually rise up the glass measuring cup.   It will be foamy looking like this.  It is still rising and will continue to rise if I allow it, but I am ready to use it at this proofing point.  It shows me that the yeast is active and alive.  My bread will rise to perfection.
Combine 2 cups flour, sugar, salt, baking soda, and undissolved yeast.* you could also use rapid rise yeast if desired. Attach regular mixing flat beater to stand mixer., you will use this beater mixing the wet and dry ingredients, then switch to the bread dough hook. 
Heat buttermilk, water and butter over low heat until liquids are warm. (mixture will appear curdled). Wet ingredients should be at a temperature of 110-115 degrees if using the regular active dry yeast, but for rapid rise your wet ingredient temperature should be 120 degrees, but not warmer.  If water is too hot it will kill your yeast and your bread will not rise.  
Add to dry ingredients;  beat  to combine  with flat beater and then let it rest for 5 minutes.
Add 1 cup flour, Beat at high speed for 2 minutes. Remove beater and attach bread dough hook.
Add another cup of  flour  and on medium speed mix to make a soft dough. If dough is not forming a ball in the bottom of the mixing bowl, add more flour a little at a time until dough is cleaning the sides of the mixing bowl.  This is what it should look like.
Turn onto floured surface knead about 8-10 minutes
Place in greased bowl, grease top of dough. Cover with tea towel and let rise until doubled. about 1 hour.
Punch dough down, turn onto floured board. Knead a couple of times, maybe 2 minutes to make dough smooth and satiny/elastic.  Be careful not to over flour the dough.  The dough will be tough if you use too much flour. Dough should not be sticky and move easily ..soft and pliable.
Look at this cute heart in the middle of this risen bread!!!  I didn't do that… See the one on the left of the heart.. this is the result of good active yeast and a lot of love kneaded into it.  ha ha ha. I couldn't believe it!  So fun to see God Winks in your everyday moments of life. 
Had to take a moment to reflect!  
Divide dough in half.  Shape into 2 evenly sized loaves.
Place each loaf in a greased 8 ½ x 4 ½ x 2 ½ " pan.   Cover and let rise for 1 hour.
Bake at 375 about 35 minutes or until done.  Remove from oven and brush with melted butter if desired.
Remove from pans and cool on wire racks.
Bread is ready to Slice and EAT!  Yahoo!!!  I can taste it now.  Can you smell the fresh baked bread?
One last tip-> This bread will freeze well after baking.  Wrap in plastic wrap and then foil to freeze.
Hope you will make this bread.  It seems like a lot of steps, but it really isn't .. once you know what you are doing you will be the best
bread maker in your family!  GO for it.!  You can do it!
I believe in you!!!
Let me know how it goes!  Will post the dressing recipe soon.  :)
Liz