With a dash of cinnamon or a sprinkle of sugar, the apple is the favored fruit for fall. Would you like to smell the aroma of nutmeg, cinnamon and apples baking in your kitchen?  This Caramel Apple Pie is the ultimate comfort food for fall.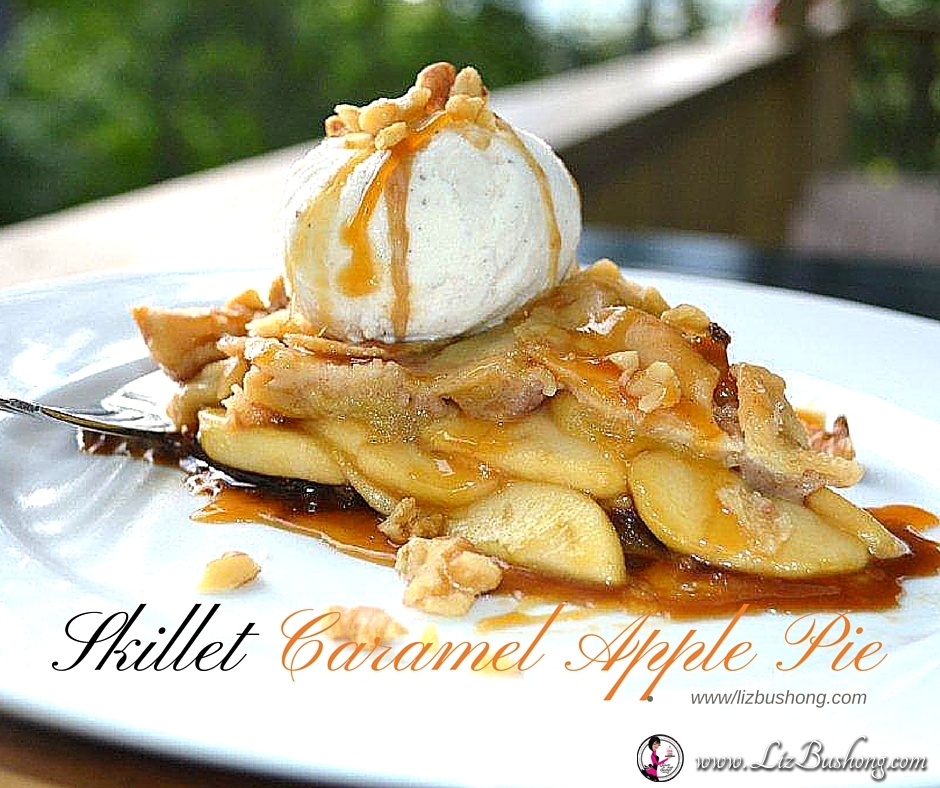 Caramel Apple Pie Recipe
A rich caramel sauce is heated in the base of a cast iron skillet before the pie crust and filling is added.  The sauce seems to bake through the double layers of pie crust and filling which makes this apple pie something to savor.   Caramel sauce is made from dark brown sugar, real fresh butter and a little bit of corn syrup.  I know corn syrup gets a bad rap, but in this case it is needed to keep the caramel sauce soft while baking. Baking in a cast iron skillet makes the pie crust even more flakey and the filling richer.  There is nothing like cooking in cast iron.  Grandma sure knew what she was doing back in the day.
The filling begins with fresh- picked granny smith apples that are peeled, cored and sliced thin.  Flour, sugar and ground cinnamon are mixed together and tossed to coat the fresh apples.  This skillet pie used 5 large apples and made a heaping mound in the skillet.  Keep in mind the apples will bake down and create a lot of juice, so you will want to line your baking sheet with parchment while baking the skillet pie. Spillover in the bottom of your oven will not be the cinnamon or nutmeg scent of fall that you are craving.  See recipe http://lizbushong.wpengine.com/caramel-apple-pie-recipe/
To peel or not to peel apples is totally up to you.  You will get more fiber and color if don't peel the apples.  Simply wash the apples, to remove the wax,  cut sides off and leave the core behind, then slice into thin wedges.  Selecting firm cooking apples such as Granny Smith, Pink Lady, or Cortland offer the best flavor, but if you have Golden Delicious or Gala's they also make a tasty pie.
Here's a tip to remove wax from apples
Boil water in a saucepan and place entire apple in the water for 60 seconds. Remove apple and the wax will have melted off.  If the wax isn't completely gone, try again. Just make sure you don't overheat your apples.
The only thing we haven't talked about is the crust.  You can make your own crust or use purchased freezer pie crusts.  I like to use refrigerated Pillsbury Pie Crust, they are consistently good and easy to roll out and fill.  Here is a great pie crust recipe if you want to make your own. http://sallysbakingaddiction.com/2015/07/01/baking-basics-homemade-buttery-flaky-pie-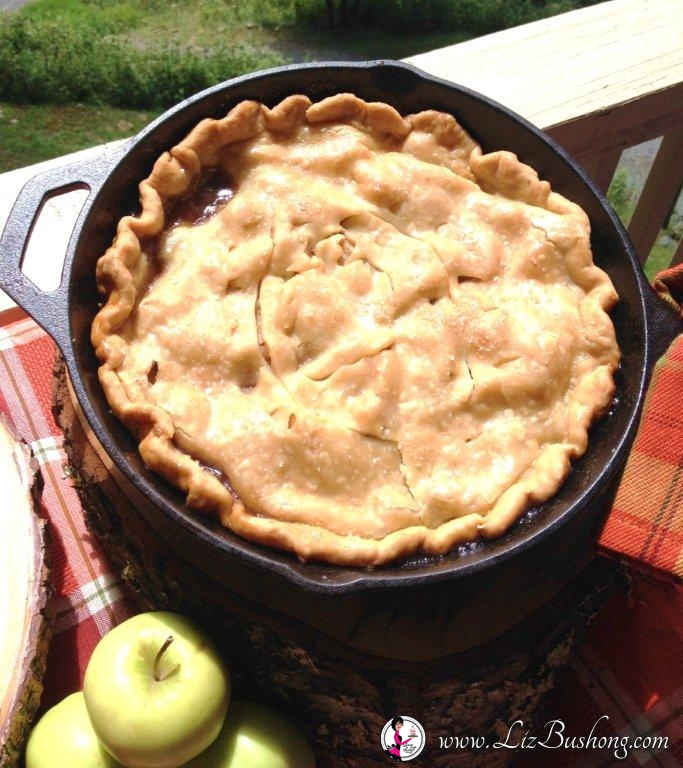 Caramel Apple Pie Recipe can be found here http://lizbushong.wpengine.com/caramel-apple-pie-recipe/
Caramel Apple Pie Quick Easy Steps
Melt butter and brown sugar until smooth and slightly bubbling. Remove from heat and allow to cool before placing raw pie crust in skillet.
At this point if you want to add chopped walnuts or pecans to the caramel sauce you can, it does make the pie even more crunchy and super delicious.
Prepare pie filling.  Add flour, granulated sugar and spices.  Toss apples to coat and set aside.
After the caramel sauce has cooled, place the pie crust over the top and up the sides of the skillet.
Place coated apples in crust.  Dot with butter cubes and sprinkle with salt over the apples.
Cover filling with second pie crust and crimp edges together.  See complete recipe here http://lizbushong.wpengine.com/caramel-apple-pie-recipe/   Brush pie crust with egg wash and sparkling sugar.  Bake at 350 for 60 minutes or until apple filling bubbles on the top.  The first 35 minutes you will need to cover the crust with foil so the edges do not burn. Remove foil and continue baking to brown the top.
TaDa!  Your Caramel Apple Pie is now ready to eat!  Add a scoop of vanilla ice cream and you are good to go!   Until next time…
Make a Statement, Make is Sassy and Make it Yours! ®