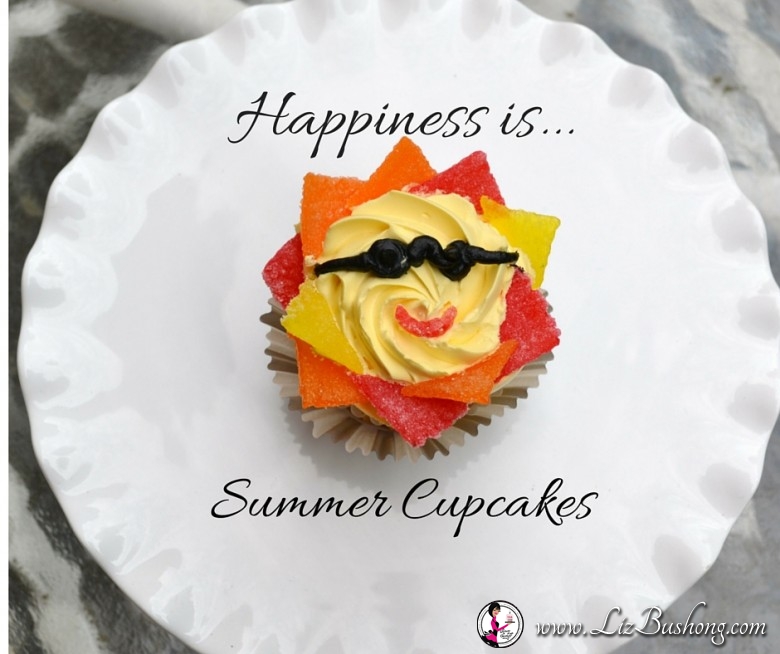 Catch the Rays
Catch the Rays of summer at home in your own backyard with these easy to create fun food ideas for your kids.  Grab your shades and beach towel you are about to catch rave reviews for this summer time impromptu lunch.
Make waves at the table with these creative lunch ideas for your kiddos. Expect smiles as big as surfboards as your kid's look in wonderment at a table filled with brown sugar "sand", candy "seashells" and "crab"-wich sandwiches. To finish the beach inspired lunch, serve frozen triple fruit pop-sickle  and sunshine lemon cupcakes. Hungry kids will dive right into this tasty lunchtime fare.  
Catch the Rays-Here is how to make this fun Crab-wich.
This fun sandwich will be one your kids will remember.  They will probably say, Mom, "remember last summer when you made the sandwiches that looked like a crab?"  "Can you make us some more but this time a lobster?"… don't be surprised, they love being creative .  Stir up your creative juices using fruit and veggies to make their end of summer lunches fun and healthy.  You don't have to tell them it is healthy, just make it fun and they will eat it.
Better yet, get them involved in the kitchen with you.  They will love spending time with you in the kitchen.  Here are three ideas to get ya started on your own road to creative foods for kids.  Let me know how things turn out.  You can leave me a comment at the bottom of this page.  To watch how to make this sandwich, even though the photo is pretty self explanatory scroll down the page and watch Daytime Tri-Cities segment.   You can also read about this Catch the Rays! as an article in VIP SEEN magazine.
Ready, Set, Go!   Let's get started!

Per sandwich ingredients:
Small croissants  filled with your child's favorite sandwich filling
Six mini peeled baby carrots
2- 1/2 " round balls of Cream Cheese
2 small blueberries
half a gala apple for claws
Fill croissant with child's favorite filling.  Place six mini peeled baby carrots around outside edges to represent the crab legs.   The crab eyes are half inch round balls of cream cheese with a blueberry picked together with a long toothpick.   Slice and cut gala apple "claw" and place on each point of the croissant sandwich.  For the mouth, a sliver of apple adds personality to the fun sandwich.   Gone are the moments where you have to persuade your kids to eat their vegetables, they will dig right in.  Serve the sandwich on paper plates on a bed of brown sugar sand and candy melt seashells.  You can purchase the seashell mold on line.  Candy melts or baking bark was used to create the shells.
Recipe was given to me by my friend, Sharon Neuhaus, she gave me a torn out magazine clipping a few years ago and I am not sure where she got it.   But, if I had to guess it could have been Family Circle, or Better Homes and Gardens?  I have adapted the recipe to make it my own.
Sunny Mr. Sun Cupcakes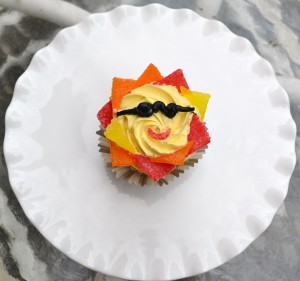 The sunshine cupcakes are actually purchased lemon cupcakes with lemon frosting decorated with colorful rolled and cut gumdrop pieces to resemble the sun rays.  Black frosting is piped to create the sunglasses.  For added summer fun let your kids decorate the cupcakes.  Make the gumdrop sun rays ahead of time and let the kids decorate the top of their cupcake.  I placed each cupcake in a decorative cupcake liner, you don't have to do this, but it makes it more colorful and fun.
 Here is a tip for successful cupcakes and decorating; when frosting your own cupcakes tint the frosting with yellow food coloring gel for the best sun-bright yellow.   Black and red coloring gel could be used for the sunglasses and mouth or use a sliver of red gumdrop for the red smile.
To form the Sun- rays on the cupcake,  flatten red, orange and yellow gum drops with a rolling pin on a sugared surface.  With a sharp knife cut the flattened drop into a square, then cut the square in half forming a triangle.  Insert the long end into the sides of the cupcake frosting with points of the drop standing or leaning on the edge of cupcake.  See photo below.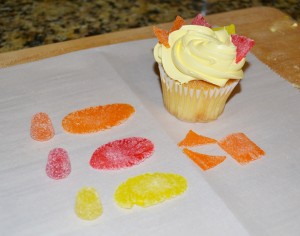 Have fun making these cupcakes with your kiddos!  These cupcakes are fun to make and great for a make it and take it dessert.  Kids of all ages will love these!  If you don't want to pipe the sunglasses on the cakes, find sun-glass picks, most groceries store bakeries will have these or you can order online.
Recipe for cupcakes was adapted by "the big book of cupcakes" Betty Crocker
The Triple Fruit Popsicle is healthy and refreshing for kids and adults.  The fruitsicle is made with pureed strawberries, pineapple, and kiwi that are frozen in layers in a popsicle mold.  No sugar here, just fresh fruit deliciousness.  Serve these cute pops in a bowl of ice to keep chilled.  You could use your child's favorite fruit combination to make your own fruitsicles. If you don't have a popsicle mold, use a small yogurt cup with a lid.  With a knife, slit the center of the cup lid and insert a plastic spoon or craft stick into the fruit.  Freeze until firm about 3 hours.  Remove the popsicle packaging and serve.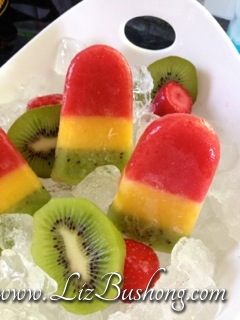 Sorry I took this photo with my cell phone and it isn't very large, but you can see the pretty layers.  I put these in a bowl of ice when serving along with a few slices of fresh fruit.  It is so pretty and very good.   This is my own creation and combination of flavors.  I used frozen fruit when blending in the blender and actually it blended great.  I didn't have chunks of fruit in the bottom of the blender.  Yeah!  Success!   Here's the recipe.
Catch the Rays- Triple Fruit Pop-sickles|www.lizbushong.com
Ingredients
1/2 cup frozen or fresh- hulled strawberries
1/2 cup frozen or fresh pineapple or mango chunks
1 kiwi, peeled and sliced
4-6 tablespoons orange juice or water
4 pop-sickle molds
Instructions
* note: you need just enough liquid to the blended fruits to make it pour able.
Add a little liquid at a time for the correct consistency.
Can use any fresh or frozen fruit for a tripe flavor.
If the fruit is frozen it will set up faster.
In a blender, blend strawberries and 2 teaspoons orange juice, pour into pop-sickle form 1/3 full. Place in freezer and freeze 20 minutes.
In blender, blend pineapple with 2 teaspoons orange juice, pour into pop-sickle form on top of the strawberry layer. Freeze 20 minutes.
In blender, blend kiwi with 2 tablespoons of orange juice or water, pour into pop-sickle form on top of the pineapple layer. Freeze pop-sickles until totally firm.
To remove from form, run warm water over the base, then turn over and release. Keep pop-sickles cold and serve over crushed ice if desired.
http://serveitupsassy.com- http://lizbushong.com
So Happiness is Summer Cupcakes and Catching the Waves one more time!  
Enjoy!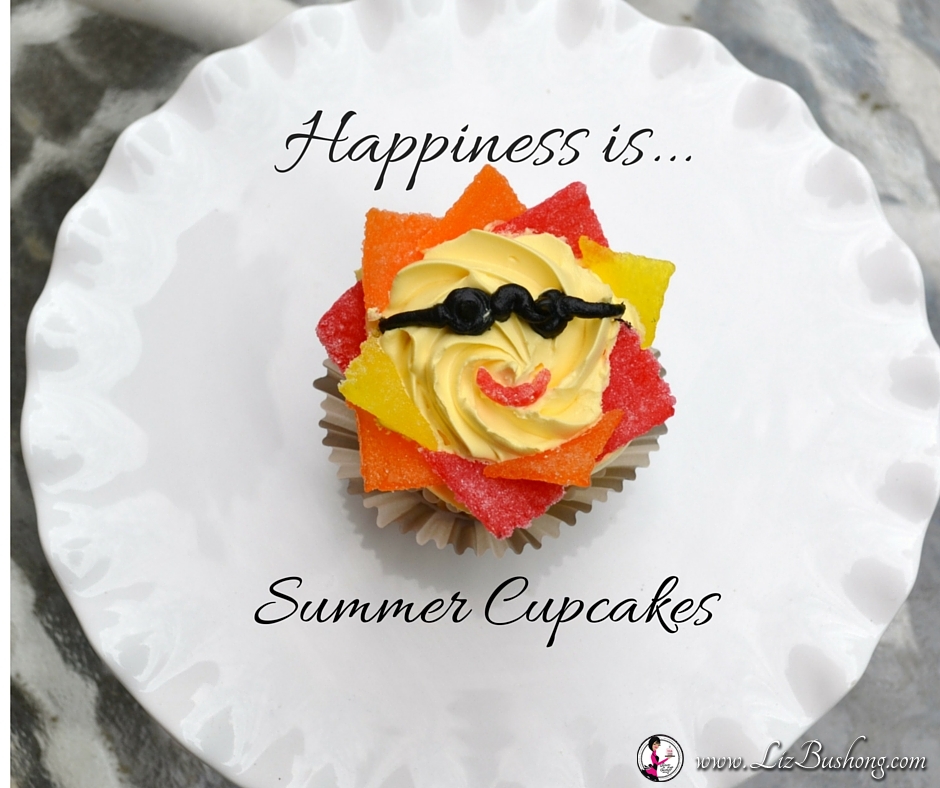 Helping you Make a Statement, Make it Sassy and Make it Yours! ® 
Watch Daytime Tri-Cities to see how to make these treats!  Video will be posted soon.  In the meantime, check out my youtube page for more videos from Daytime Tri-Cities, Good Day Tri-cities and more!