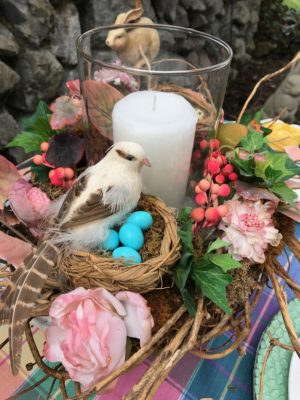 As cherry blossoms with new leaves appear and singing birds are building their nests; the glories of spring unfold before our eyes. New life begins with the budding sentiment of the season, and hosting an outdoor luncheon for your garden club or special friends is a fun way to celebrate the arrival of spring.
Balance fun and formality with a nature inspired location and table setting to ensure every guest has a lovely view of God's seasonal showcase. A table setting under a blooming tree or a garden bed full of blooming flowers would make a lovely venue for a spring luncheon.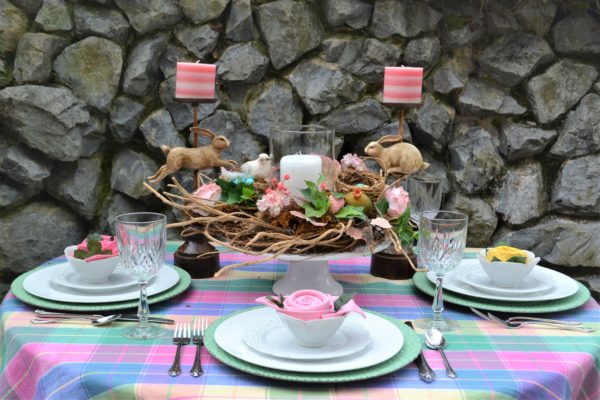 A plaid tablecloth enlivens the table-scape with bright cheery colors. Shades of pink, lavender, light green, purple, and yellow blend together and make a beautiful back ground for the blooming rose napkins at each place setting.
Each setting features a crackled charger with the classic white dinner plate and dessert plate with a small cup holding a rose folded napkin. Pink, dark pink and yellow rose napkins are positioned on the plates in small bowls that are reminiscent of a bed of blooming roses.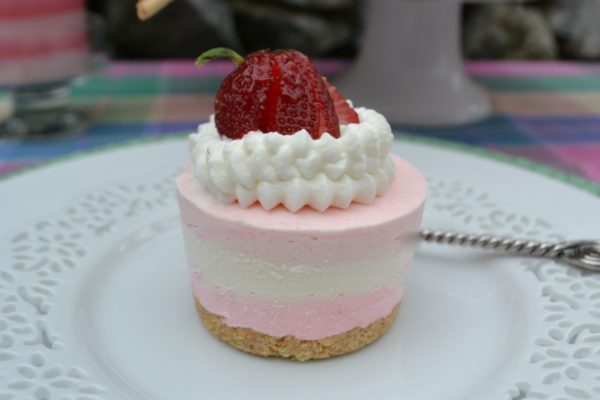 As a mother bird gathers twigs and leaves for her nest we have gathered a lovely grapevine wreath with twigs and berries for our table centerpiece.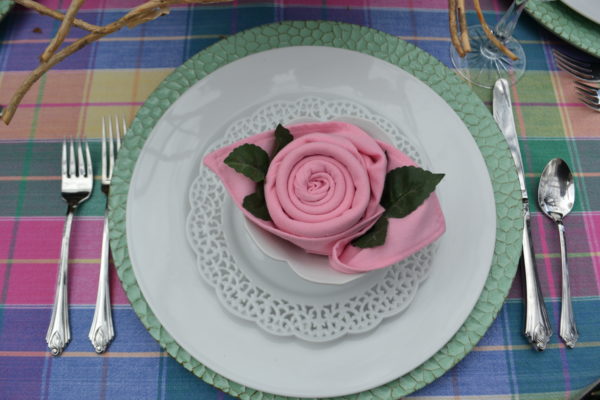 Faux woven nests with momma bird hovering over her speckled eggs will draw your guests to the table as they listen for the sounds of baby birds singing their hunger songs. Beside the centerpiece are two tall bunny candlesticks with striped candles. The pink and white striped candles inspired the mini cheesecake dessert.
Just one bite of this creamy mini cheesecake is sure to put a spring in your step, maybe even a hop and a jump! The no-bake cheesecakes are easy to make and layer in jumbo silicone muffin pans. The pan makes perfectly round and easy to remove cheesecakes, just pack with graham cracker crumbs and filling, and then freeze solid. When ready to serve, pop them out of the mold and decorate with fresh whipped cream and berries. Electric pink, soft pink and white food coloring and unflavored gelatin were added to the cheesecake filling to create colorful layers and stability.
Spring has officially arrived bringing with it a prismatic plethora of color. Come into the garden for a gathering of friends and celebrate spring as it magically unfolds before your eyes.
For decorations, inspirations and recipes to help make your special moments and everyday celebrations memorable go to these links;
Helping you Make a Statement, Make it Sassy and Make it Yours! ®