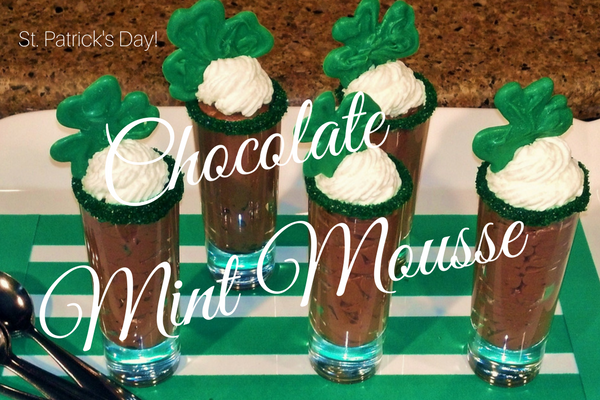 Chocolate Mint Mousse
Chocolate Mint Mousse is made with fresh whipped cream and minted ganache.  Candied Shamrocks are added to swirled whipped cream dollops in a green sugar rimmed parfait glass making this the perfect St. Patrick's Day Dessert!   Nothing better than whipped cream and chocolate ganache, except with a little bit of peppermint for a cool refreshing smooth dessert.  Ande's Mints could be used as a garnish for any dinner party, supper, lunch event.
Make a pretty presentation with small parfait glasses .  The mousse is served in a small  5″ shot glass.   Dipping the rim of the glass in green coarse sugar adds to the flair of the dessert as well as the small candied shamrock.  They were made with green candy melts.     As an option, you could garnish with mini chocolate chips, chocolate curls, Junior Mints, Ande's Mints or any other dark chocolate candy.
What makes  Chocolate Mousse a Mousse?
You can make mousse with milk, white, or dark chocolate, and it's easy to punch up the flavor with espresso, liqueur, pure extracts,  sea salt, or any number of spices, like cinnamon, cardamon, nutmeg, and cayenne to name a few.   Using a 60-65%  dark chocolate makes a rich chocolate flavor.  
The most important thing to remember when making a mousse is melting the chocolate completely so there are no lumps, and whipping your heavy whipping cream until almost stiff peaks form.   When whipping cream,  you must chill your mixing bowl and I like to  chill my wire whisk attachment.  Also, the mixing bowl has to be completely clean, without any grease left on the sides of the bowl.  I know it's pretty picky, but worth the extra effort to make a rich creamy mousse.  Besides that your cream will not whip right if your bowl has any kind of residue left behind.
Making Mousse|Whipping Cream and Adding Chocolate
To make a creamy smooth mousse, you want to fold in the lukewarm chocolate over the firm peaked chilled whipped cream and not stir the mixture.
Making Mousse| Folding  the "J" Technique
Folding is a technique that involves using a rubber spatula and making a J- shape folding procedure.   Start at one side of the bowl, scooping down into the whipped cream and chocolate, then forming the hook of the J  as you bring up the spatula, while turning the cream and chocolate together. gently turn the spatula over and dipping it back into the sides of the bowl into the whipped cream.   Rotating the bowl as you scoop and form the J will keep you from over mixing in one area.  It's really fun to do and you will be surprised how well the cream and chocolate blends together.
HERE IS THE POINT of IT.. You don't want to deflate the cream or beat it after you have added the chocolate. I If you do over beat the cream and chocolate you will end up with a rich lukewarm chocolate  soup that you could heat and turn into a cup of HOT CHOCOLATE.  It would be really rich and good, but not good for your mousse.
Ok.. it's time to make it!  Here is the recipe for the Mousse, Whipped Cream, Sugar Coated Rims, and Shamrock Candies!
Yield: 6- 5" small parfaits
Serve it up Sassy! Using card stock or scrapbook paper, cut in 1/2 inch lengths, tape to white serving platter 1/2 inch apart. I used double face tape to adhere to card stock strips.
Ingredients
Ganache:
½ cup heavy whipping cream, heated
1-cup semi sweet chocolate morsels
½ teaspoon mint extract
Whipped Cream/Mousse
1-cup cold heavy whipping cream
½ cup sifted confectioner's sugar
¾ cup cold ganache
Candy Shamrock
1 cup green candy wafers/or melts
1/4 teaspoon peppermint extract
zip lock plastic bag-scissors
For Rimmed Shot Glasses:
1/2 cup light corn syrup
1/2 cup coarse green sparkling sugar
Instructions
For Ganache:
In small saucepan, heat whipping cream until warm, but not boiling.
Add the chocolate morsels, stir until smooth and glossy.
Add mint extract.
Set aside to cool and harden slightly. Can refrigerate until ready to use
.
For Whipped Cream
In large cold mixing bowl, beat cream until medium peaks form, gradually add confectioners sugar, add cold ganache, whip until mixed.
Using a disposable pastry bag fitted with a tip 1 M-fill bag with mousse,
Pipe chocolate mousse into mini shot glasses or dessert parfaits.
Garnish with piped Whipped Cream and candy Shamrock
Candy Shamrock
Melt candy wafers in quart size zip lock bag by immersing bag into bowl of hot water.
Do not allow water to touch candy.
Massage bag until wafers are melted.
Add extract and massage bag to blend.
Clip one corner of bag to 1/8 inch.
On parchment paper, pipe three small hearts each once connecting at the heart points to form a shamrock.
Pipe a long stem.
Be sure to fill in hearts with the candy melts.
Set aside until harden .
When set, add to mini dessert parfait mousse.
For Rimmed Shot Glasses:
Dip rim of dessert dish/shot glass into corn syrup, do not immerse rim, just barely touch the rim for a thinner ring of sparkling glitz.
Dip wet edge into sparkling sugar. Set aside to dry before filling mousse into dishes.
For best results: pipe mousse into shot glasses using tip 1 M or any large shell tip
Serve it up Sassy! Using scrap book paper, cut in 1/2 inch lengths, tape to white serving platter 1/2 inch apart. I used double face tape to adhere to pla
http://serveitupsassy.com- http://lizbushong.com
Enjoy the Day!