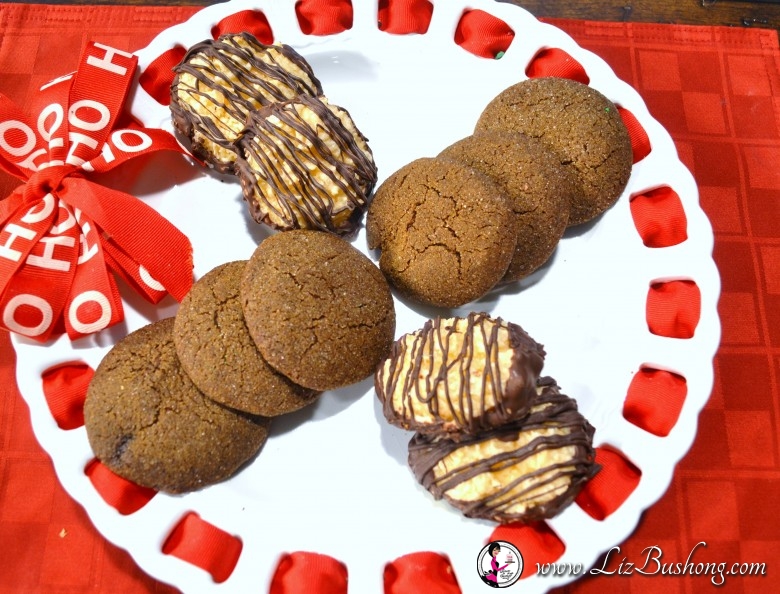 Christmas Cookie Countdown| Chocolate Covered Macaroons
Chocolate Covered Macaroons are rich coconut filled orange flavored cookies that are dipped and drizzled in dark chocolate . If you love coconut, chocolate and orange flavors you will love these cookies.  The cookie base is a white cake mix.. I know.. how easy is that?  Guess what else this cookie has as an ingredient???
Ok.. I have you guessing… it is a pint of orange sherbet and lots of coconut.  Pretty simple recipe and fast to put together.  You will need a pint of orange sherbet for this recipe.  You can also use lime if you want that flavor.  Here are the ingredients:
I like to use Creme Bouquet as the flavoring. This flavoring has an orange, lemon, and vanilla flavor all mixed into one concentrated flavoring.  You can find this on line or at my favorite shop in Kingsport  Tn, The Gazebo.
Christmas Cookie Countdown| Chocolate Covered Macaroons
Combine cake mix in large bowl with softened sherbet, beat to blend, than add coconut and flavoring.  Scoop the batter into round balls and place on parchment lined baking sheets 2 " apart.  Refrigerate the cookies for about 5 minutes… this is optional but it does seem to help the cookies.   Bake the cookies at 375 for 15 minutes.
When dipping the cooled cookies, line a baking sheet with parchment and dip the cookie bottom in chocolate first, then turn the cookie upright so the chocolate is facing you.  When chocolate is set, turn the cookie over and drizzle with remaining chocolate.
I used semi- sweet chocolate chips and shortening to dip the cookies.  You can use Ghirardelli dark melting wafers for dipping as well.  Candy melts are not recommended for this cookie.
Another note,  if you don't like stringy coconut, you can process the coconut in food processor 10 pulses to make it finer.  You may have to add additional coconut or 2 tablespoons of all purpose flour to thicken up the batter.
This cookie is great for your Christmas Cookie Tray. The other cookie in the feature image is Spiced Gingersnap Cookies.  Click on the link to get recipes and how to assemble tray.
Christmas Cookie Countdown| Chocolate Covered Macaroons
This cookie can be baked and frozen before adding chocolate. You can also scoop the cookie batter into balls and freeze to bake later.
These cookies were featured on the Christmas Cookie Countdown|Cookie Tray Assembly on Daytime Tri-Cities
See more recipes at http://www.lizbushong.com
Ingredients
1cup orange sherbet, softened
2 teaspoons almond or crème bouquet flavoring
1-15.25 ounce white cake mix-tested Duncan Hines
¼ cup all purpose flour
6 cups flaked sweetened coconut
Garnish:
2 cups semi-sweet chocolate chips
2 teaspoons vegetable shortening
Instructions
In large mixing bowl, add cake mix, sherbet, and flavoring.
Beat until well combined on medium speed in mixing bowl.
Add flour, then coconut 2 cups at a time until batter becomes thickened.
Using a 2 tablespoon sized scoop, scoop cookie batter onto a parchment lined baking sheet 2 " apart. Bake cookies at 350 for 12-15 minutes.
Cookies will be tender in the middle.
Cool cookies before coating with melted chocolate.
Dipping Cookies:
Melt chocolate chips and shortening in a glass measuring cup and place in microwave for 20 seconds, stir until chips are melted.
Repeat process if necessary to melt chips. Stir until smooth.
Dip bottom of cooled cookies in chocolate, turn upside down on a parchment lined baking sheet to set up, repeat until all cookies are coated.
Once chocolate is set, turn cookies over and drizzle the tops with remaining melted chocolate.
If you would like, you can place the melted chocolate in a zip lock bag, clip a tiny opening in one end and use this technique to drizzle the tops of the cookies with chocolate.
http://serveitupsassy.com- http://lizbushong.com
Click on photo or link to see
Have a wonderful time Baking some Goodness!