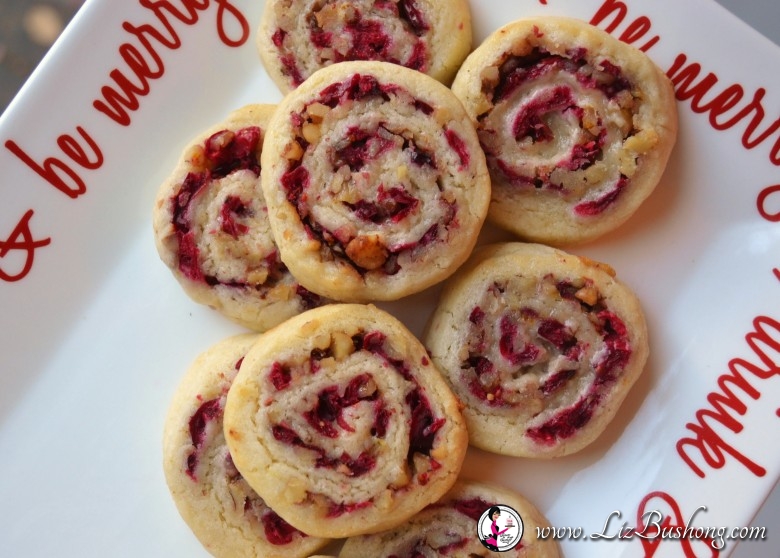 Christmas Cookie Countdown|Cranberry Pinwheels
Christmas Cookie Countdown Cranberry Pinwheels are filled with fresh chopped cranberries mixed with chopped walnuts or pecans then rolled like a jelly roll, chilled, sliced into 1/4″ slices and baked to perfection.  So pretty for a Cookie Tray!  You will want to purchase extra bags of cranberries to freeze so you can have this cookie any time of the year. 
While everyone goes shopping the day after Thanksgiving, I like to get in my kitchen and bake several batches of cookies that can be made ahead and frozen. A lot of my cookies are unbaked rolls of cookie dough that I will slice and bake right before I put together cookie trays.  I make several cookie trays for family, friends, and my husband Doug's co-workers.  There are certain cookies that always get rave reviews and those are the cookies that I am sharing.  Ricotta Lemon Cookies, Poinsettia Cookies, and Cranberry Walnut Cookies.   Other Christmas Cookies for trays include, Santa Meringue Hats, Snowmen Oreo Pops,Maple Leaf Cookies,  Stained Glass Chocolates,  and Kit Kat Christmas Trees.  I freeze cookies without decoration then decorate a few at a time when putting together my cookie trays.  Be sure to check out how to Assemble a Show Stopping Cookie Tray.
Christmas Cookie Countdown|Cranberry Pinwheels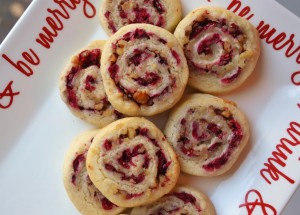 Since the dough is a 10″ square, you can roll the dough from any end or side, it will come out the same.  After rolling into a jelly roll, wrap in parchment paper and then plastic wrap, place in a zip lock freezer safe bag and store in freezer until ready to slice and bake.  When making a cookie tray, or having friends over and you need a quick cookie, this is it.  Allow cookie dough to thaw slightly before slicing and baking for an even smooth cut.  The dough is very forgiving, if you don't get a tight roll, when you cut it you could have some gaps, no worries, just pinch the dough to close any loose edges so your pinwheel will bake in a round spiral.
Christmas Cookie Countdown|Cranberry Pinwheels
Yield: 36 cookies or 3 dozen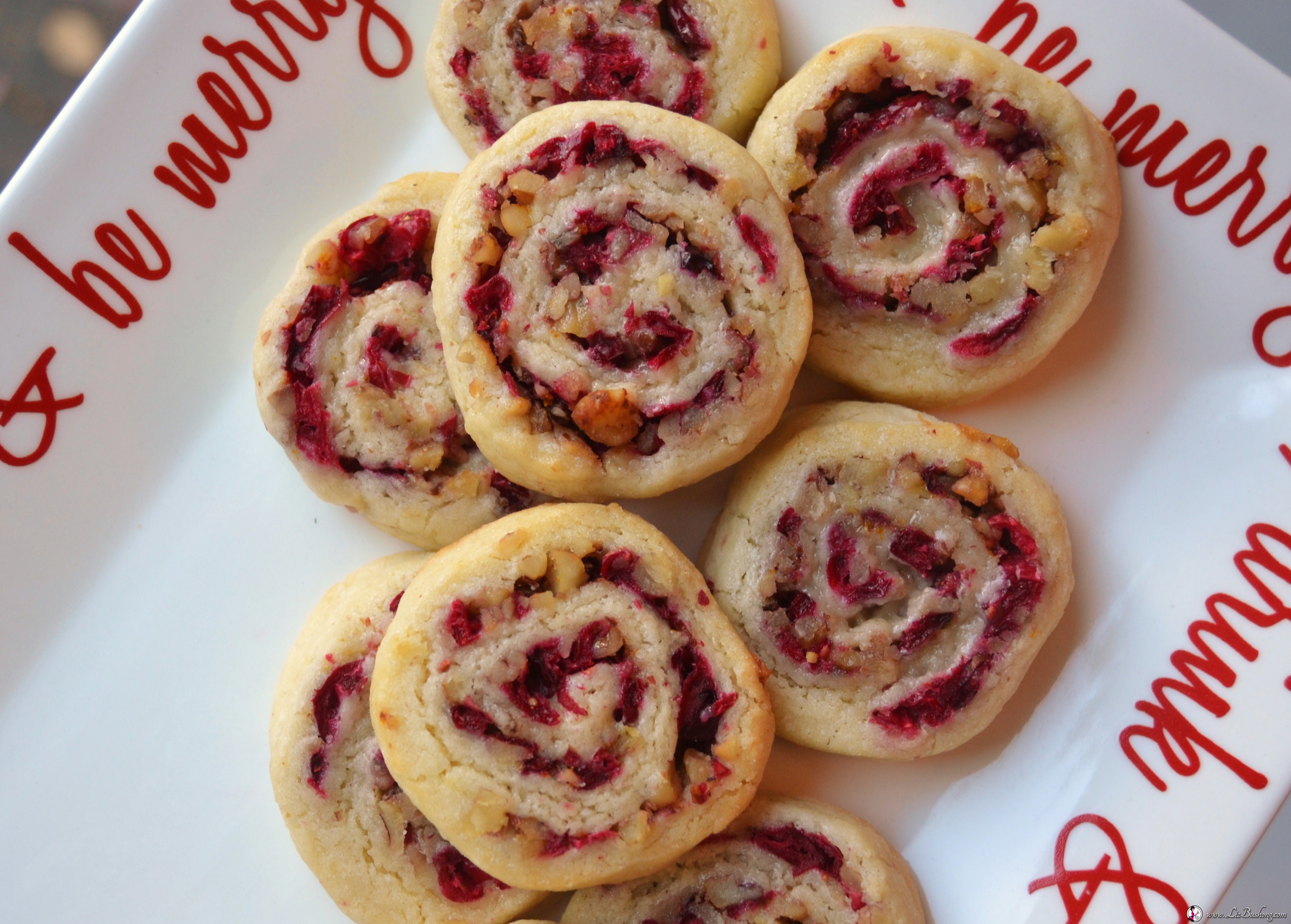 This recipe was inspired by Cranberry Walnut Swirls-Southern Living Patty Van 2004
I purchase several bags of cranberries during Thanksgiving season to freeze so I can bake these cookies anytime of the year. These make a pretty Cookie for the cookie tray or gift to give. See more Cookie Ideas at http://www.lizbushong.com
Ingredients
1/2 cup butter, softened, no substitutes
3/4 cup sugar
1 large egg
1 teaspoon vanilla
1 1/2 cups all purpose flour
1/4 teaspoon baking powder
1/4 teaspoon salt
1/3 cup finely chopped fresh cranberries
1/2 cup ground walnuts or pecans
1 tablespoon grated orange rind- optional
Instructions
Cream butter and sugar at medium speed with mixer until light and fluffy.
Add egg and vanilla
Gradually add flour, baking powder and salt
Cover dough and chill for 1 hour
Filling:
Process cranberries in food processor to finely chop, remove to medium bowl
Process nuts to ground, add to cranberries and grated orange rind to medium bowl-set aside
Roll:
Turn dough on floured surface, roll into a 10" square
Spread cranberry-nut mixture leaving a 1/2 " border on 2 opposite sides
Roll up dough like a jelly roll, cover and freeze 8 hours or until needed
Baking:
Cut roll into 1/4" thick slices. Place slices on parchment lined or lightly greased baking sheet
Bake on top rack in oven at 375 for 14-15 minutes
Freeze up to 2 months if desired
http://serveitupsassy.com- http://lizbushong.com
These cookies can be made ahead, frozen, sliced and baked last minute or kept in the freezer unbaked or sliced up to 3 months.   For a variation, I have used this dough to make a cinnamon roll cookie.  For the filling, mix together 1/4 cup dark brown sugar, 1/4 cup chopped pecans, and 1/2 teaspoon ground cinnamon.  Brush the dough with melted butter  after the dough is rolled into the 10″ square and add filling. Roll, chill or freeze, then slice and bake.
Another great cookie for your bake-a-head Christmas cookie tray!
Helping you make a statement, make it sassy and make it yours! ®