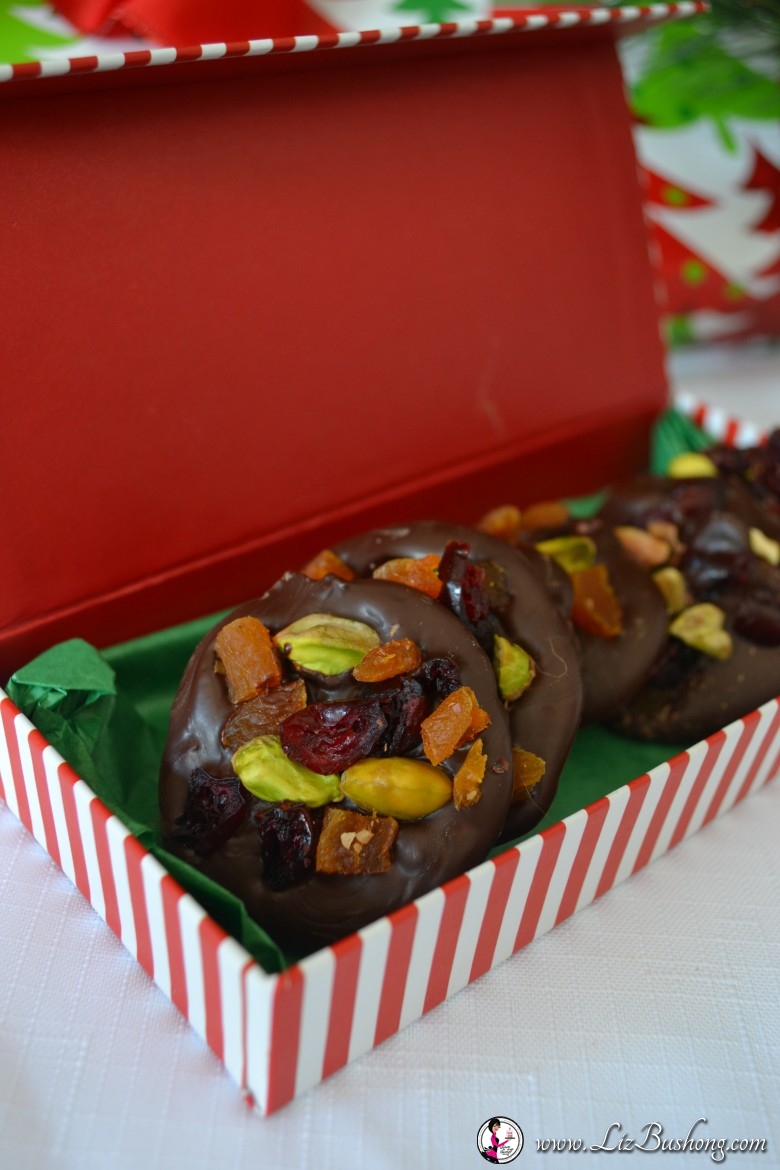 Christmas Cookie Countdown-Stained Glass Chocolates
Christmas Cookie Countdown-Stained Glass Chocolates are made with dark chocolate as the base with chopped dried apricots, cranberries and pistachios. No mixing, no baking, no refrigeration.  Just melt the 60% dark cocoa chocolate, drop in rounds on baking sheet and add chopped fruits and nuts.  You will love this easy and healthy candy… well sort of healthy.. dark chocolate is good for you!  
Stained Glass Chocolates|General Instructions
Stained Glass Chocolates are made with Ghirardelli 60% Cocao morsels.  I like to use the morsels for ease of piping.  Place the morsels in a well sealed zip lock baggie and place this baggie in a bowl of very warm water.  I will heat the water in a glass mixing bowl in microwave for about 3 minutes.  Allow the morsels to melt in the bag, then massage bag to make sure everything is melted.  Snip the bag with scissors and pipe the chocolate rounds onto a silpat lined baking pan, or you can use parchment paper.  Using the silpat or paper will allow the candies to harden and be removed with out much difficulty.
Pipe small rounds of chocolate then add the chopped dried fruits and pistachios.  No mixing, no stirring, just drop, set and eat! Don't you just love those kind of candies.  These are best made a day before you plan to serve on your cookie or candy tray or give as gifts. They take less than 10- minutes to make so make extra, your family and friends will love these sweet little gems.
These were made on Daytime Tri-Cities for my Christmas Cookie Count-down series.  A series that began in September to help get you ready for a stress free Christmas baking season.  Most all of the recipes are make a head with a few exceptions, like this candy and the Kit Kat Christmas Trees.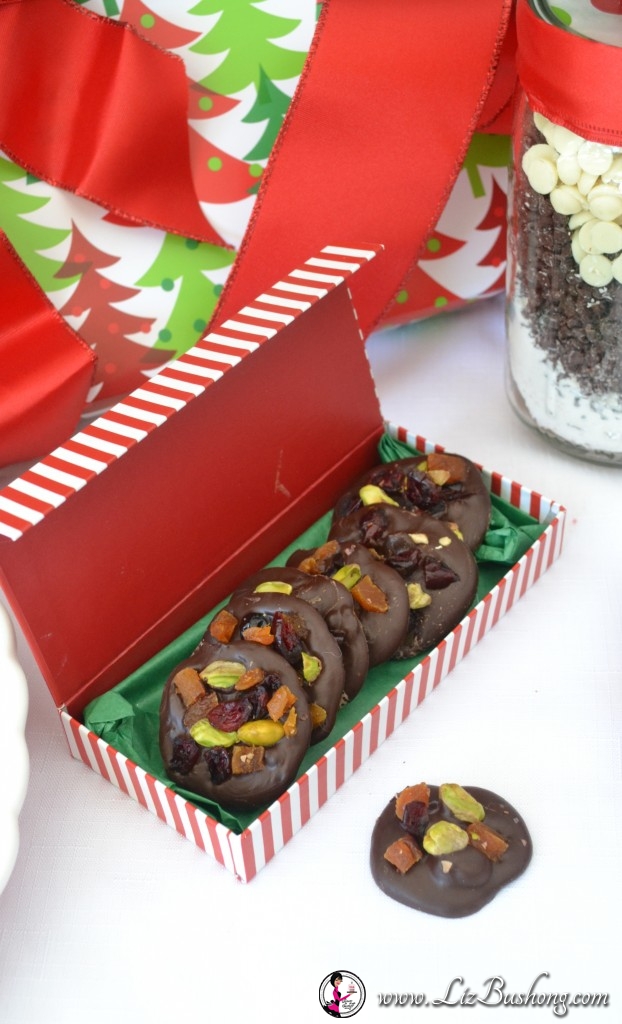 Christmas Cookie Countdown-Stained Glass Chocolates

Ingredients

1-10 ounce bag Ghirardelli 60% Cacao Bittersweet morsels
½ cup chopped dried apricot
½ cup chopped dried cranberries
½ cup chopped pistachios, dry roasted and salted

Instructions

Line a baking sheet with silicone mat or parchment paper.
Lightly spray with cooking spray, set aside. Place chocolate morsels in a zip lock sealed bag. Immerse this bag in a bowl of very warm water, knead bag until morsels are completely melted.
Pat dry baggie filled melted morsels completely.
Clip one end of bag and pipe small 1-1 ½"rounds onto baking sheet.
Immediately add chopped fruits and pistachios on chocolate rounds.
Let chocolates set until firm for about 2 hours before storing.
Candies are best served with in 2-3 days.
Place candies in a covered container with wax paper sheets between layers.

http://serveitupsassy.com- http://lizbushong.com
Enjoy and make a lot of these!  If you love chocolate, you will love these.  One Note:  I did not use candy melts or candy bark for this recipe, because I wanted a firmer bittersweet chocolate to balance the flavor of the dried fruits and pistachios.  But that is up to you.  For best results use a high quality chocolate.  Also, be sure not to get any water on your chocolate.. it will seize up and turn white.. not very pretty to look at.  It will taste ok, but not pretty for your cookie tray presentation.  You know how much I am in to pretty presentations!    I did not freeze these candies either, so if you do freeze these let me know how they turn out for you.
I love helping you Make a Statement, Make it Sassy and Make it Yours!
 xoxox  Liz