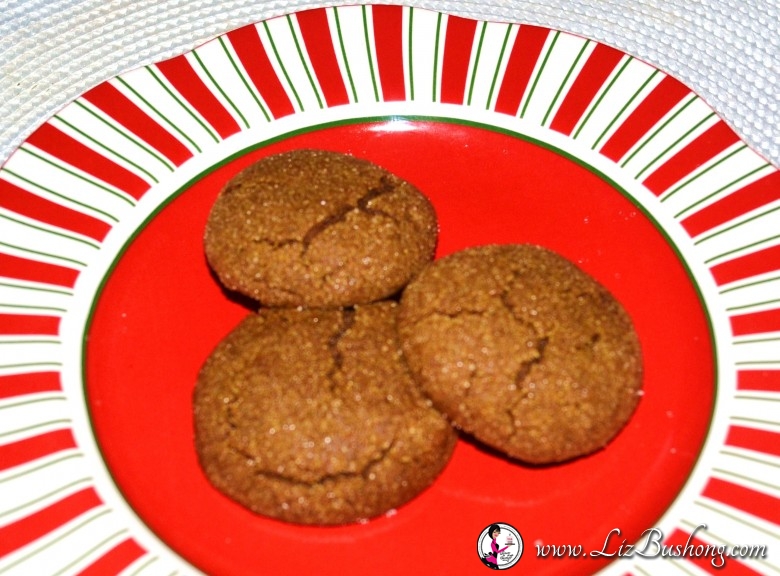 Christmas Cookie Countdown|Spiced Gingersnaps
Christmas Cookie Countdown|Spiced Gingersnaps are spicy moist crackled molasses cookies with ground cinnamon, ginger, cloves, all spice and black pepper. Black Strap molasses adds a deep rich flavor to these chewy cookies.
You will love these little cookies, they will remind you of grandma's cookies if your grandma baked; mine did and I can remember the smell of these cookies baking like it was yesterday.  It was yesterday that I was baking these cookies. ha ha.. Actually I am baking these cookies ahead, it is election night and I am baking off my anxiety.  Yahoo!  I live in my kitchen, creating and baking working off stress.  Kneading bread is a great way to get some arm exercises .. sorry I am getting off track of the Cookie Countdown.
These cookies are soft, chewy and filled with a robust flavor of molasses, ginger, cinnamon and all spice.  If you like these rich flavors you will love this cookie.  They are easy to mix, scoop, bake and great for a cookie tray.  You can box them up and ship to loved ones far and wide, they travel perfectly.  Make someone happy this season with home-made gingersnaps.
Christmas Cookie Countdown|Spiced Gingersnaps
This recipe begins with creaming softened butter with granulated and dark brown sugar for about 5 minutes until smooth and well blended.  An egg is added along with vanilla.  In a separate bowl,  measure the flour, baking soda and all the spices and set aside until ready to blend into cookie batter.  After the egg and vanilla are incorporated add the molasses.  To keep the molasses from sticking to the glass measuring cup, spray the cup with cooking spray then add the sticky molasses.  I used black strap molasses for the robust flavor and health benefits.  Yes, this molasses has several heath benefits.  So we can eat our cookies and be healthy all at the same time (wink, wink).  Seriously though, molasses does have health benefits.  Check out the link to learn more. .  Be sure to preheat your oven to 375 if baking right away.
You can roll the dough between your fingers if desired or use a  one tablespoon ice cream scoop.  The dough is moist and will stick to your fingers so it is helpful to use a scoop.  I drop the scoop of dough into my custard cup of sugar and then toss sugar to cover the cookie ball.
Line two baking sheets with parchment paper and place the sugar coated snaps on the cookie sheet.  Bake at 375 degrees for 10-12 minutes.  The tops of the cookie will crack and be tender in the middle when done.  Remove from oven and allow to cool before removing from pan.  I adjust my oven rack in the mid half section to bake the cookies.
Yum. These are so soft and chewy with a robust flavor of Grandma's cookies.  Cinnamon, ginger, cloves, all spice, and black pepper makes your cookie delicious.  The smell from your kitchen will draw the family in for a glass of milk and a couple of cookies.  You will want to make two batches, this recipe will make 2 dozen at a time.
After baking you can freeze them until ready for cookie tray.  If you would like, you can mix the dough, roll in balls and not coat with sugar then freeze.  When ready to bake, roll in sugar and bake as normal.
Ok.. here is the recipe.  This cookie is one that will be the first on your cookie tray assembly.  See how to build a cookie tray here. 
Happy Baking!
Merry Christmas!!!