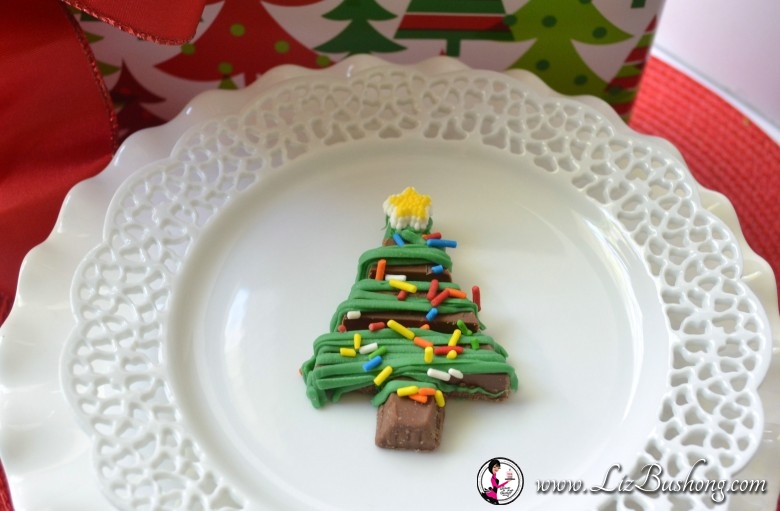 Christmas Countdown-Kit Kat Trees
Christmas Countdown-Kit Kat Trees are candy bars shaped like a Christmas tree decked out with decorative star and sprinkles!   So easy, you won't believe it!  Your kids will love making these last minute candies, make extra they won't last long.  Let's get started on our Christmas Cookie Countdown, a jump start on our cookie candy trays for the Holidays!
Christmas Countdown-Quick Candies for Cookie Tray| Kit Kat Trees
To liven up your Christmas Cookie Tray consider adding a few quick candies like the Kit Kat Trees.  Your kids will love making these.  All you will need to do is cut a kit kat bar into triangles, tree shapes, add a tree stump, drizzle with green candy melts and Christmas sprinkles or jimmies.  That's it!
This is  not my original idea but thought they were so cute you needed to see how to make them.  My Cupcake Addiction created these trees as a forest. Since I am adding these to a cookie tray, mine will lie flat but you can attach melted candy melt to the bottom of the kit kat stump and stand them upright.  Although, you will have to trim the molded edge of the kit kat to make it easy to stand.  Check out Elise Strachan's website, you will love it.
One Note:  You will want to make these last minute.  They seem to dry out and the candy melt drizzle will be hard and chip off, you might even lose the trunk if moved around a lot.  For best results make these right before you plan to serve your guests or give as gifts. xo 
How To Make Kit Kat Trees
Ingredients:  
small zip lock bag- scissors
baking tray with parchment paper
small spatula
 ( Did you notice I shaped the text like a tree? -hee hee)
Step 1:  Kit Kat Bar on parchment
Make sure the bars are together and not broken apart.  You will be cutting through all horizontal 4 layers.
 Step 2:  Cut into tree shape's
Use a serrated knife for cutting clean lines. Save scrapes for tree stump.
Step 3:  Assembling trees
Place green candy melts into a zip lock baggie, sealed tightly, place in bowl of very warm water.  Massage melts until smooth, push melted candy to one corner and clip edge of baggies with scissors. This is your piping bag.  Attach tree stump with melted candy, then drizzle the top of the candy tree with the green melts.  Drizzle horizontally then add sprinkles while candy is wet.
These were featured on Daytime Tri-Cities along with two other quick candies to make for your Holiday Cookie Tray.  Stained Glass Chocolates and
Sno-ball Snowmen faces.   Video is on its way!  Let me know if you make these.
Christmas Countdown-Kit Kat Trees
Yield: 2 kit kat trees + 1 small tree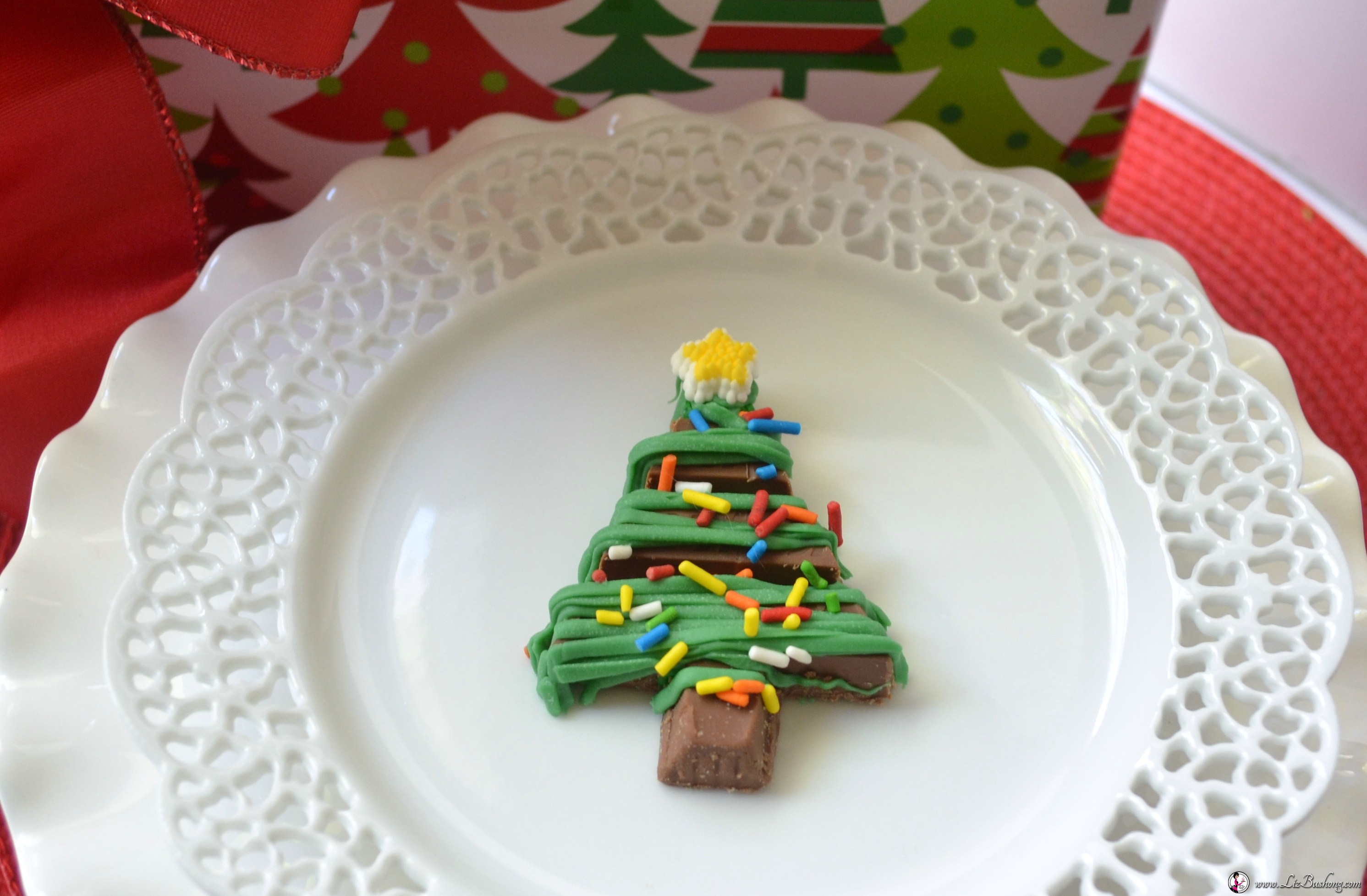 Ingredients
• XL Kit Kat candy bar- solid and not separated into sticks
• Green Candy Melts
• Assorted Christmas Sprinkles
• Wilton or other brand decorative icing star
• small zip lock bag- scissors
• baking tray with parchment paper
• small spatula
Instructions
Cut kit kat horizontally into three small triangles to represent trees place on parchment lined baking sheet
With left over kit kat pieces, cut a tree trunk.
In microwave bowl, add water and heat 2 minutes on high.
Place candy melts into zip lock sealed baggie and insert into warm water to melt.
Massage the melts to completely melt.
Clip a small corner of the baggie and pipe the tree trunk to the tree, then pipe horizontal lines across tree to represent a full tree.
While melts are wet, sprinkle Christmas sprinkles and add decorative star to top of tree. Using small spatula remove trees after melts have completed dried.
Arrange on cookie tray.
Trees can stand if you trim the trunk base flat and candy melt the bottom of trunk and plate.
Inspired by My Cuocake Additction
Notes
When you purchase the Kit Kat make sure it is solid and not broken apart. You will be cutting the kit kat with the lines or sticks laying horizontally, it providing a wider tree looking shape. If you break the pieces, no worries, just candy melt them together.
http://serveitupsassy.com- http://lizbushong.com
https://www.hersheys.com/content/kitkat/en_us/products.html