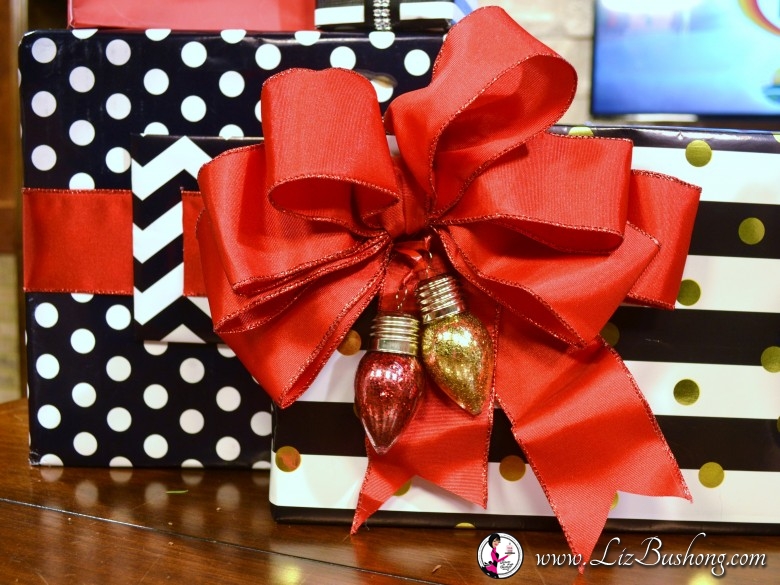 Christmas Gift Wrapping Ideas Deck it Out Series
Deck it Out for Christmas series on Good Day Tri-Cities featured Christmas Gift Wrapping Ideas.  Our color scheme was black and white with pops of red as in big red bows, and lots of pattern.  I know it isn't your traditional red and green, but we do have RED.  These package ideas were featured on Good Day Tri-Cities.  Check out these pretty ideas.
Christmas Gift Wrapping Ideas| The Paper & Ribbon
Pick a color scheme and stick with it for your Christmas gift wrap.  Just so happened that I collect black and white wrapping paper and this year decided to deck my halls with the black and white with pops of red.  The wrapping paper that I like to use is the heavier duty kind with lots of paper on a roll.  Since I use black and white through out my home, having this color for paper I can use all year round.  As in my home, decorating with black & white is easy for every color goes with black and white.  You have to be careful not to over do it, and keep the color scheme monochromatic with accent colors.
Back to gift wrapping ideas,  I also like to  use wired edged ribbon and wide ribbon.  In keeping with the traditional red and green, red was my selected accent ribbon.  Here is a great place to purchase ribbon, bags, paper, tissue paper and boxes. Nashville Wraps.  You do not have to be a business owner to purchase from them so be sure to check them out.  They also have video tutorials on how to make bows and package things.
Christmas Gift Wrapping Ideas| Santa Style
You can make your packages stand out under the tree with various Santa Styled Looks, for example taking a plain red tote bag, add a bit of white boa to the top edge, add a white paper belt with black paper buckle.  Tuck the top of the bag with pleated red tissue paper and you have a cute little gift package.
The other tiny package is black and white striped paper with black satin ribbon and a strip of glitz and glam sparkling trim.  This is Put'in on the Glitz with your packaging.
Santa Belt wrapping is easy to make, just wrap your package with wrapping paper, add wide red ribbon and make a large contrasting wrapping paper buckle, run the ribbon through the buckle and tape to package.  Love the mixed papers.
Christmas Gift Wrapping Ideas|Take a Bow
Make large bows with wired edged ribbon for a great package topper.  This bow is made with 5 loops on each side, tied with a red pipe cleaner and attached to the package.  Two glitter filled light bulb ornaments dangle from the package bow.  The wrapping paper is black and white with gold dots.  The dots were on the paper. But, if you just had black and white paper you could add any color of dots to your packaging.  hot pink, turquoise, any bright color.
Christmas Gift Wrapping Ideas|Flower Cone
To make this paper flower cone, check out my red, black and white tissue paper flower tutorial.  This cone flower is attached to a cake board round and it fits perfectly on top of my package.  I used a  3 M Command Strip to attach to the wrapped package.
The other packages in this photo includes a round oatmeal box covered with black and white chevron wrapping paper, with gold wrapping paper top and bottom band.  A red and white polka dot tag  hangs from the top and on top of the package is a black satin simple bow with small tails. 
The smaller package is wrapped in the same patterned wrapping paper only turned in the other direction, vertical.  The ribbon on the top is a curly cloth ribbon I purchased a few years ago that I had on hand, I attached a shiny shatterproof ornament to the center of the curly bow.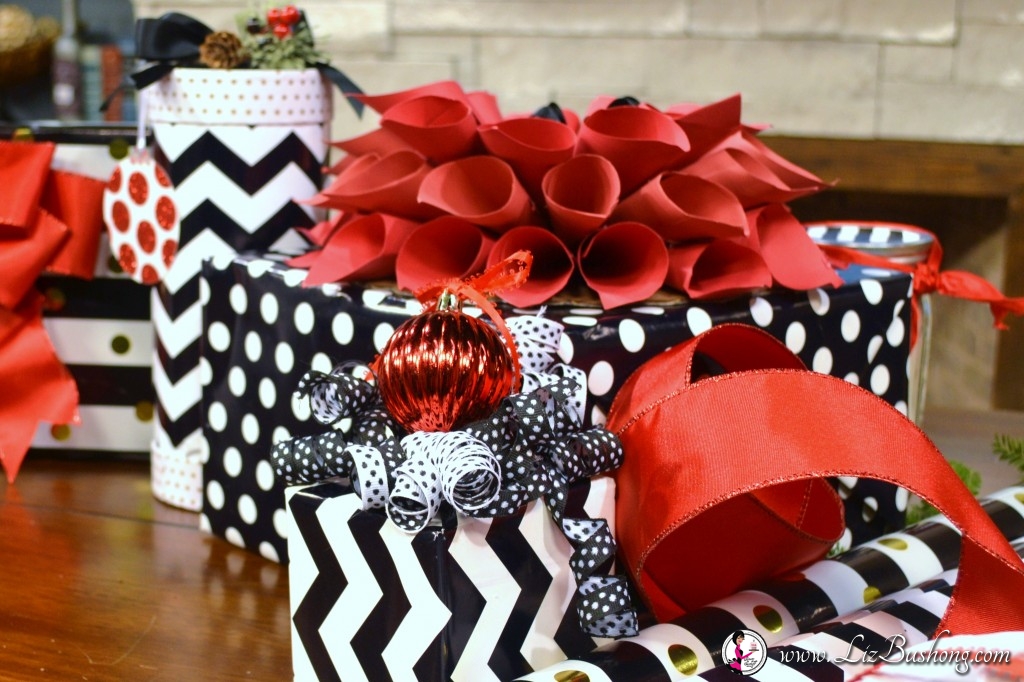 Making your Christmas Gift wrap pretty is fun to do.  You don't have to use black and white to make a statement, but it does make an impact.  Make your own Sassy packages using your favorite color scheme.  Look around the house for package toppers.  Perhaps you have old Christmas cards you can attach, past ornaments, other festive ribbons, buttons and bows!
And That's A Wrap!
(Sorry I couldn't resist) 
Have a Merry Christmas and Happy Gift Wrapping !  Liz