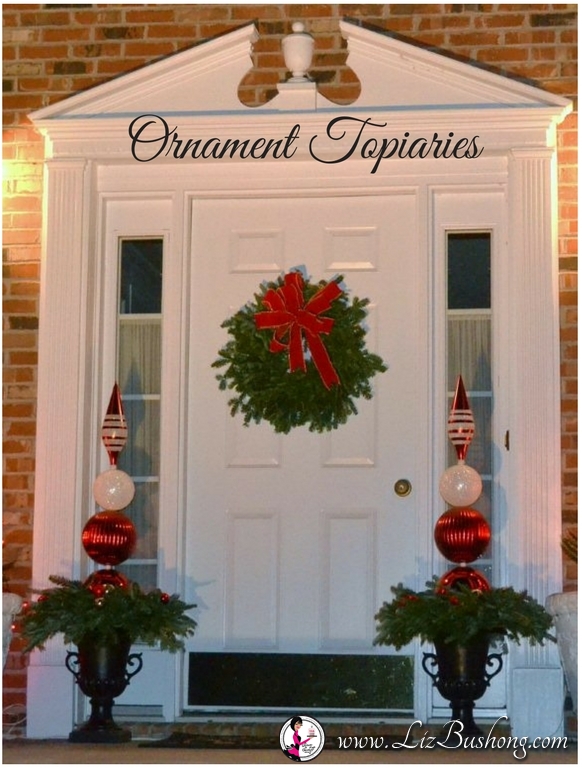 Deck it Out Series- How to Make Outdoor Ornament Topiaries
Deck it Out Series -How to Make Outdoor Ornament Topiary's are large, medium and small  sized shatterproof ornaments stacked vertically together  in a decorative urn.  Instructions and how to for these topiary's were featured on Good Day Tri- Cities.  The topiary's can be changed seasonally once you learn how to create the center structure.  Hope you will have a great time making these for your home.  They really make a statement on our front porch or hearth.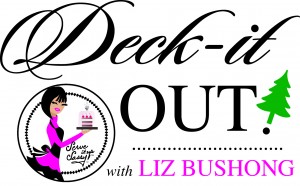 Ornament Topiary's: Part 1 Deck it Out! Series
Create these bright and cheery Christmas Ornament Topiaries
for your front porch this Holiday Season!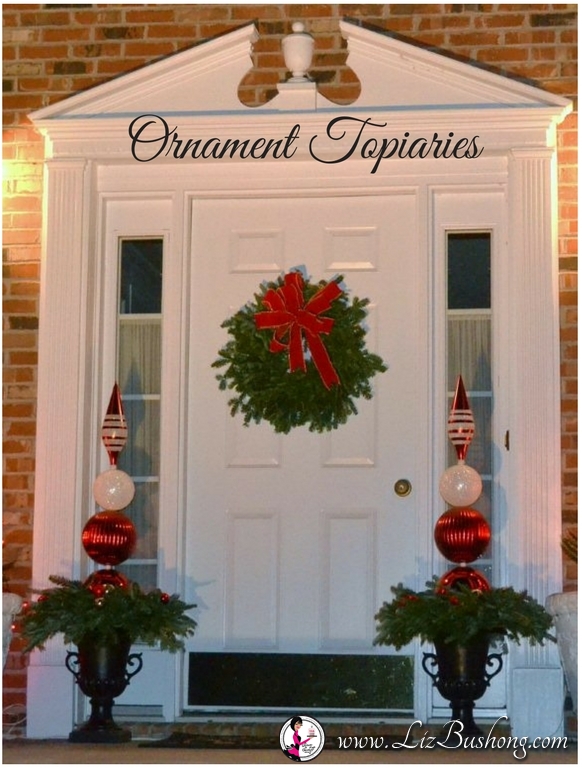 I saw these large outdoor ornaments online at Christmas Central.com, then later I found a few at Lowe's and Big Lots.  Having made faux pumpkin topiaries I already had the inside structure to put the topiary together.  It was finding the 10″- 8″  large shatterproof ornaments in the color that I wanted that was the challenge.  But.. I found them!
The topiary's are not hard to put together but will require a drill and drill bit to match the size of the dowel rod that you use to thread the ornaments on.  The cap of the ornament should twist off which means you only have to drill one hole in the bottom of the ornament.  I also wanted pretty urns for the container but you can use a painted clay pot or other decorative container for your topiary.  A large round 1/4″ thick painted plywood disc was placed on top of the urn to help hold the wreath and ornaments in position.  My sweet husband cut the disc for me and drilled the center hole for the dowel to slip through.  Inside the urn is a plaster of Paris filled milk carton that holds the dowel rod.  That was tricky mixing and getting the dowel rod to stand in the center.  I used tape to help hold the dowel in the center as it dried.  The total cost for each ornament depends on what you use around your house , but the major components like the ornaments, urn, dowel, and wreath for one topiary was close to $85.00.
Deck it Out!- How to Make Outdoor Ornament Topiaries
Tools needed for one topiary:
 1/2 " diameter 3′ dowel
1/2″ drill bit and drill
1/4″ diameter plywood disc to fit surface of urn's diameter
Plaster of Paris
Masking tape or painters tape
Cardboard  half gallon-milk carton cut 4″ x 4″ cube
 Decorative urn
 1/4″ thick cut plywood round the diameter of the urn top surface
Paint to paint the plywood round- painted the same color as container- mine was black
10″, 8″, 6″, and decorative finial shaped shatterproof ornaments
faux or real ever green wreath to fit diameter of urn-extra fresh greenery
Hot glue gun and glue sticks
15-20 shiny regular sized ornaments to decorate the wreath
Deck it Out! How to Construct Topiary
Line work surface with old sheet or brown paper for spills.  Rinse and dry half gallon milk carton and measure from bottom up 4″ and draw a horizontal line around the perimeter.  Cut on this line.  You now have a 4″ x 4″ cube.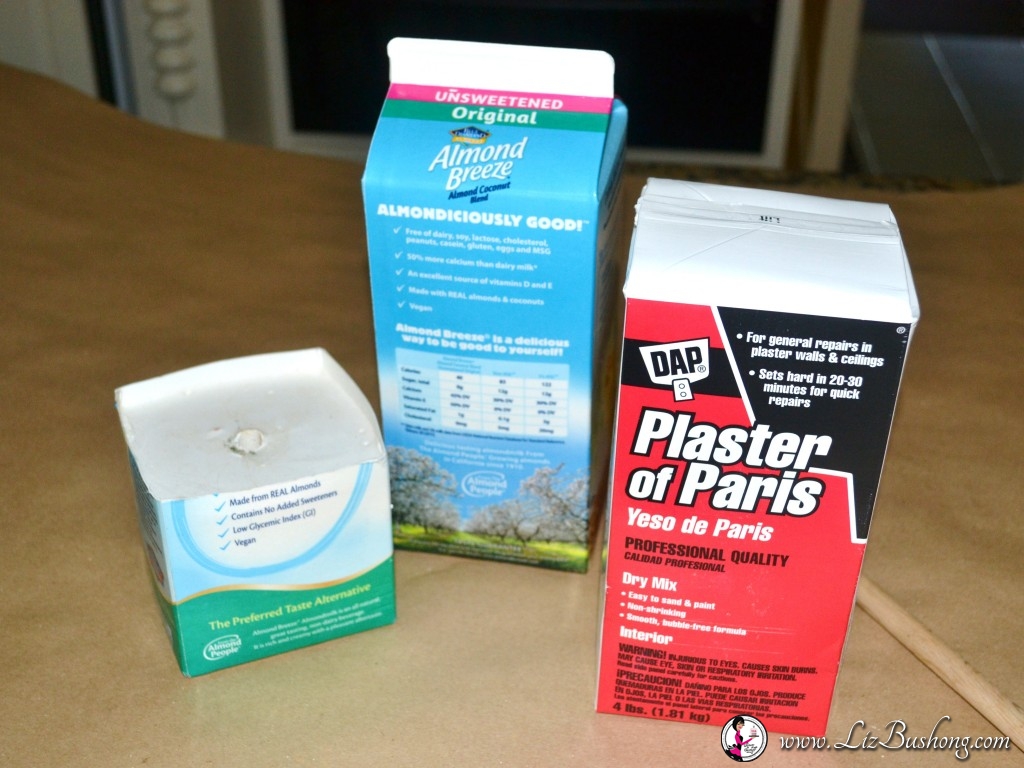 Mix 2 parts plaster of paris to one part cold water.  I used 4 cups of paris with 2 cups of cold water in an old bucket.  Stir to mix removing any lumps of paris.  Pour mixture into milk carton.  Allow to sit for 4 minutes before adding the dowel rod to center of paris.  In the meantime, cut 8″ pieces of tape and have handy ready to tape across the carton once the dowel is in place.  You will criss cross the tape in layers to help secure the dowel in center of paris to dry.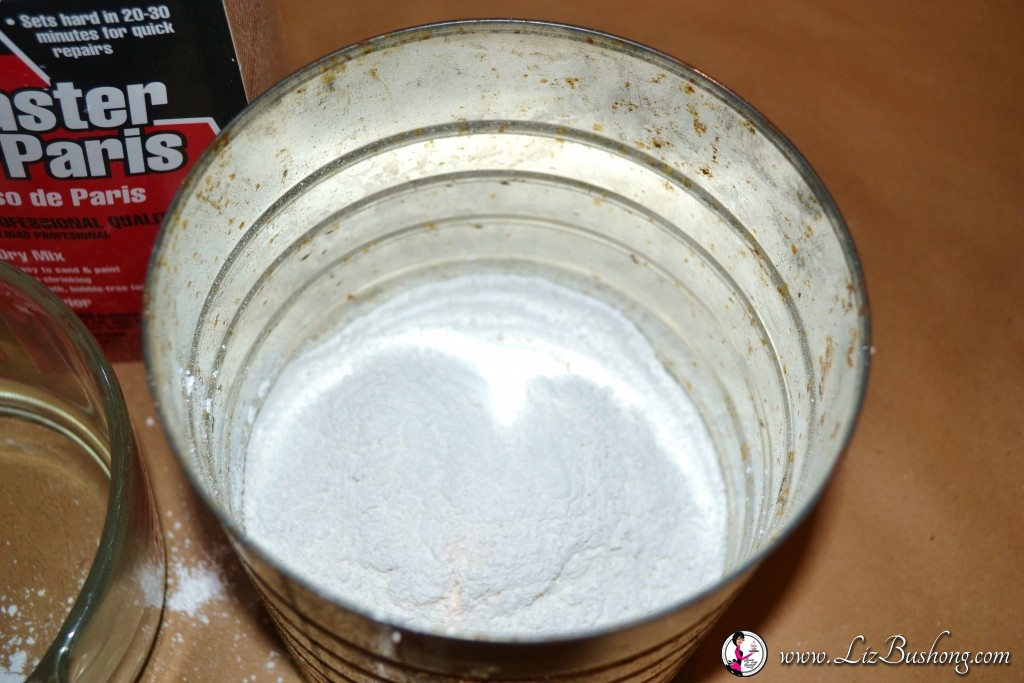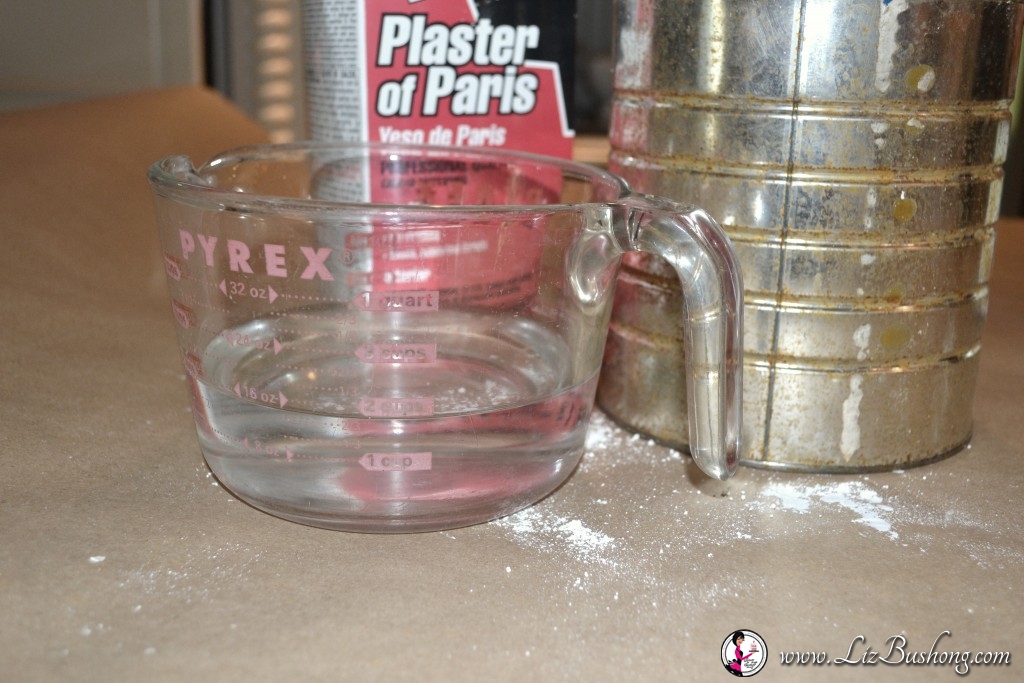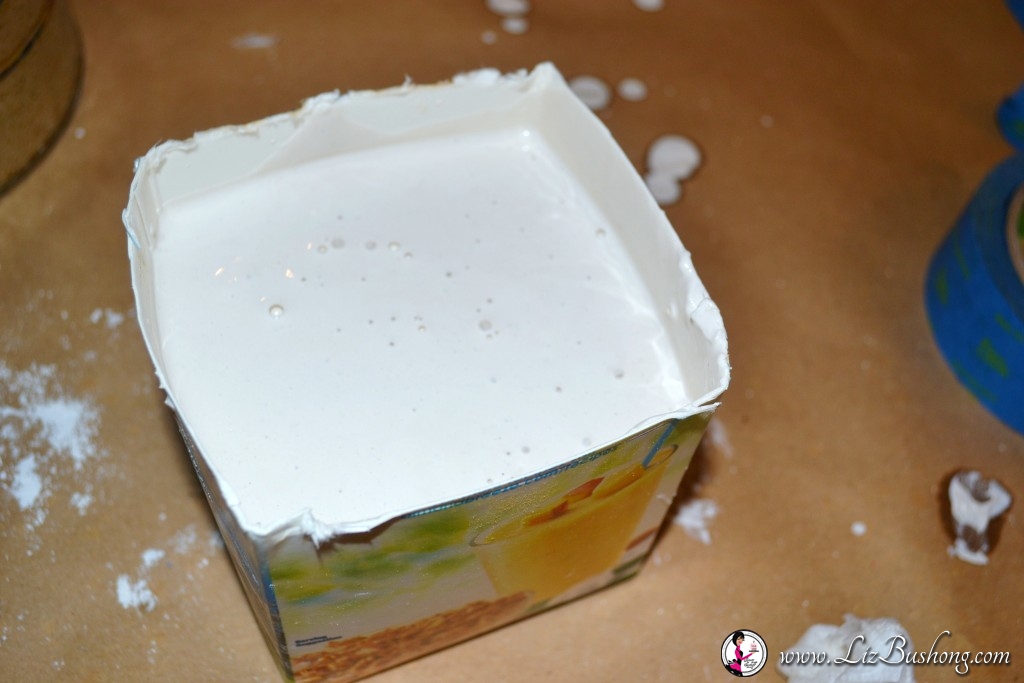 Insert dowel.  Tape to hold in place.  Allow to sit overnight to dry.  Next day, remove tape and dowel should be standing tall.  If yo u missed the center a bit, no worries, you can adjust the container in the urn to make it center.  ( ask me how I know this?) haha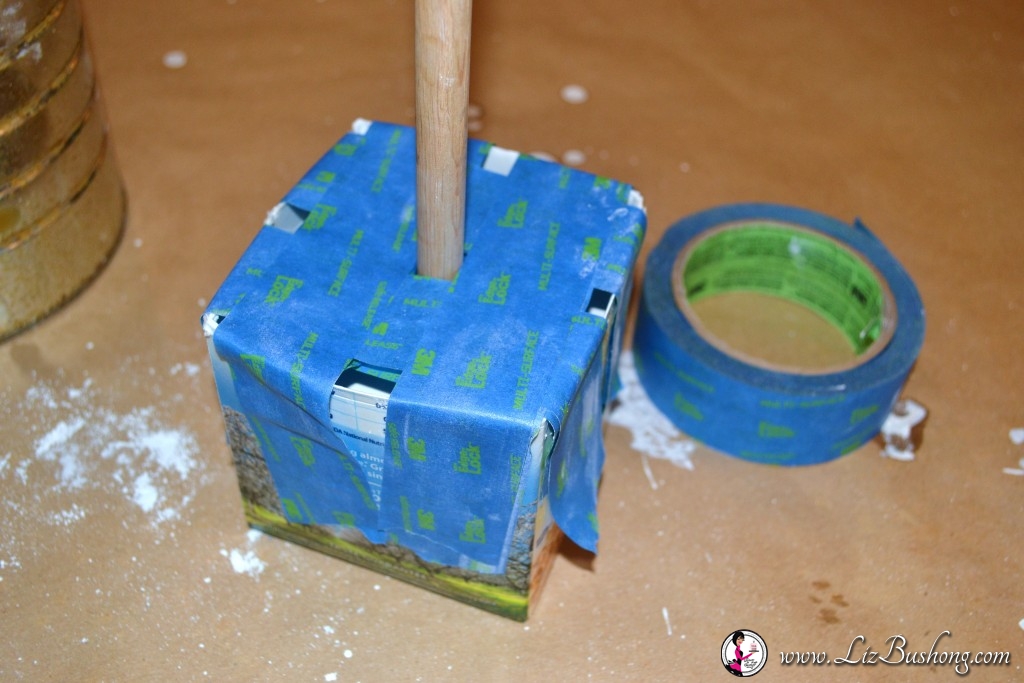 Drill one hole in bottom of each ornament except for the top finial.  Twist off ornament head or eye to reveal the second hole.  Cut the plywood into a round disc the diameter of your container, in my case the urn which was 24″ around.   Drill center hole with 1/2″ drill bit in plywood disc the size of your dowel.  I used folk art black acrylic craft paint to paint my disc.  Paint top and sides of round you won't be able to see the disc once the wreath is sitting on top of it, but it makes a nice finish just in case you need it.
After paris is hardened with dowel, place in center of urn/container.  Next, slide the plywood disc over the dowel and let it sit on top of the urn/container.  Next, position the faux or real evergreen wreath over the dowel and let it sit on top of the plywood disc.
Adding fresh greenery to the faux wreath will give your topiary life and movement.  Add shatterproof red ornaments or ornaments to match your larger ornaments to complete the look of the finished topiary.
 Position largest ornament over the dowel and let it rest on the wreath, thread corresponding sized ornaments over the dowel and end with the finial.  If necessary to hold the finial in position, hot glue the finial to the ornament it sits upon.
 As a finishing touch,  place regular ornaments around the base of the evergreen wreath.  I like to cut fresh pine and other evergreen stems to add to my faux wreath to fill in as well as to make it look real.  Yes the real evergreen will dry out after a few days, but if it is outside it does well.  Replace the live greens if using inside to keep it fresh during the season.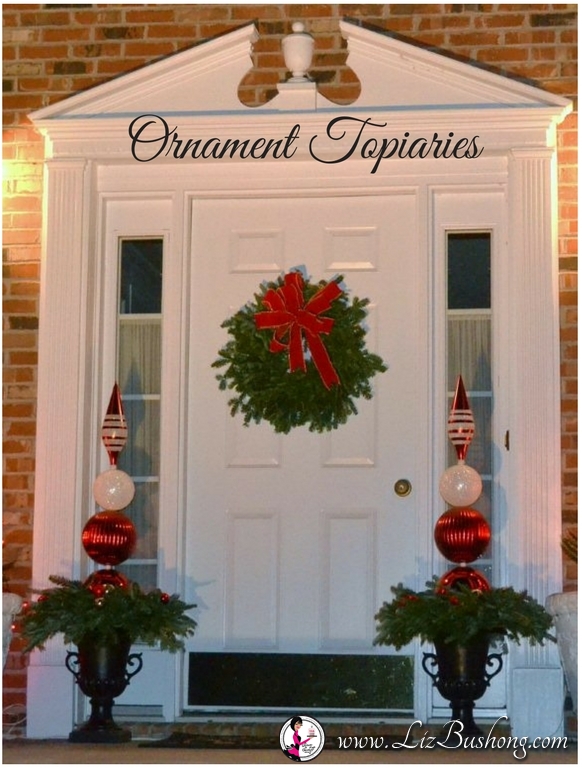 Ta DA! All done and it looks stunning!
More Topiary Ideas
 These are faux pumpkins painted using acrylic craft paint and stencils.  I started with white pumpkins and painted the second one solid black, then with a pencil stenciled the design, and painted design white.  The smaller pumpkin was painted all white and added black dots for the polk-a-dot look.  For these I stacked the pumpkins without the dowel and plaster, but when using three or more in a stack use the dowel and plaster of Paris mold for stability.  Faux painted pumpkins are sitting on black cake stand.
Once you learn how to make these you will be making them for every season.  Easter Eggs  comes to mind for Spring.  Hope you will enjoy making these as much as I have.  Always enjoy Helping you Make a Statement, Make it Sassy and Make it Yours! ®
Send me a note about your creations.  Comment below. 
Best to you!  Liz
This was featured on Good Day Tri-Cities with Morgan King & Whitney Carr as hosts of Good Day, with Liz sharing how to make the topiary.