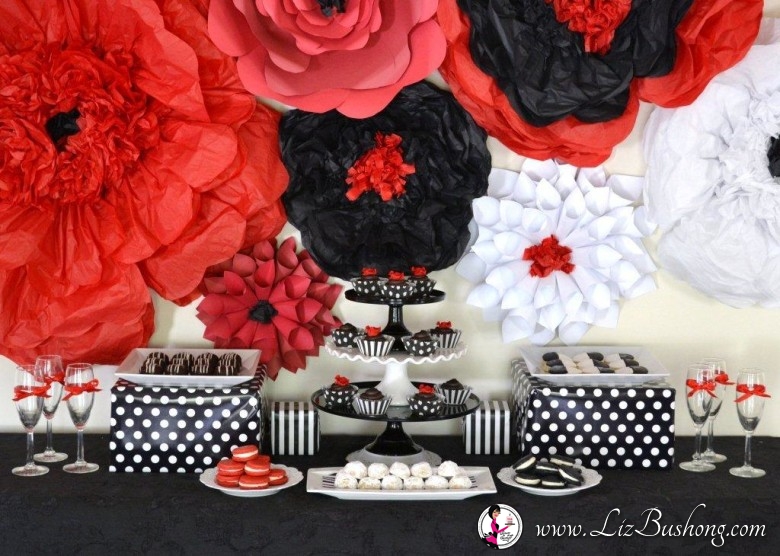 Dessert Table-Ideas| Black, White, & Red|Elegant & Sassy
Dessert Table Ideas for  a Black, White, & Red , elegant and sassy table scape that  is inspiring for any occasion to Celebrate!   Whether you are hosting a graduation party, bridal shower, or anniversary reception, celebrate the occasion with a black, white and red dessert buffet table.  Just for fun,  here is a riddle for you.  What are black, white and red all over?  Are you guessing?  Nope… it's not a newspaper,  it's not a sun-burned penguin, and it isn't Santa.. Well then what is it?  Read more to find out.  
Time to Create a Black, White, & Red – Elegant & Sassy Dessert Table!!!
 Time to Celebrate-It! what-ever the "it" occasion may be.  Black, White & Red  for a reception or party color scheme makes Sassy come alive.  Why not create an elegant and sassy table for your next party!!! Here was my inspiration.
I was writing an article for VIP SEEN magazine and they are celebrating their 5 year anniversary as a regional magazine located  in Kingsport, Tennessee. VIP's headquarters is decorated with black & white and red which is absolutely contemporary, bold and lovely!!!  In celebration of their anniversary and using their color scheme as inspiration, I created a large tissue and card stock flower wall and dessert table to host a dessert reception.  Of course all the food follows the black and white theme with a bit of red as accent.
In this blog post I am sharing the dessert buffet and will post individual posts for the flowers, due to the nature of the blooming beauties being so large, this blog page would go on and on…  who has time for that?   The pictures tell the story.  
Any time is an occasion to host a sassy soiree with simple elegance and delicious sweets as with this dessert buffet.  A dessert table is a festive and fun table that is spread with luscious little bites of small desserts usually in the same color family as the overall color scheme of the event.  There are candy buffets, pie and cookie buffets, chocolate buffets and many other wonderful creative buffets that can be featured as a dessert table.
This dessert table features all décor and food in black and white with accents of red.  Behind our dessert table is a festive wall of hand-made tissue and paper flowers that bloom like a summer garden.  Each flower bursts open with red, black or white centerpieces and arranged on the wall touching each other for impact and drama for the dessert table.
The large tissue flowers are made from tissue paper that is accordion pleated, paper clipped and edges cut to resemble flower petals. Each petal is spread open into a blooming flower and glued to a cake board round for support and attached to the wall with Command Strips.   See post on How to make giant tissue flowers and card stock cone flowers.
Black, White, & Red – Elegant & Sassy Dessert Table
 Tissue Flowers as the background wall display
Black, White, & Red – Elegant & Sassy Dessert Table|Staging the Table
Before I added any food or the wall background,  I determined the placement of the service-serving platters and plates.  Using black and white polka dot and chevron wrapping paper and sturdy boxes made excellent risers for the plates and food.  The center piece which is two different stacked cake stands  and small decorative plate at the base, added the necessary height and dimension to the table.  Under the black pattern on pattern tablecloth is a white longer table cloth that extends to the floor.  This creates drama and elegance to the formal black and white theme.  Go for  balance and various heights in arranging your service ware.  Make sure the boxes are stable and flat before adding any weighted plate of cookies or desserts.
Before adding the food, which in this case is black and white with red accents… create your back wall.  Don't leave the wall blank, you need to jazz it up a bit, it doesn't have to be flowers, it could be pennants, flat sided pom poms or hanging from the ceiling poms, tissue flowers, kissing balls, loop and chain construction paper, as long as it is your color scheme.  No more than three colors per scheme unless you are doing a salsa theme where multiple colors are used.
After you make all the beautiful tissue and card stock flowers, you will need to place them to the wall.  The command strips were a life savor in attaching these to the wall.  Because I used a cardboard round cake board as the base for the flowers the command strips attached perfectly  flat to the wall.   The best part is if you don't like the placement you can easily remove the flower from the wall with out damaging the wall or the back of the flower.   I arranged the wall and rearranged the flowers until I got the look I wanted.  I even texted my  dear friend, Susan Burns to see what her eye said about the placement.  I ended up making a few more flowers and when it was all said and done I had 7 flowers.
Black, White, & Red – Elegant & Sassy Dessert Table|Centerpiece
Two tired cake stands mixed black with white in graduated sizes as centerpiece for dessert table.  Black and white polka dot and striped cupcake liners are used as cupcake plates for a pretty presentation.  The cupcakes are baked in small or mini white cupcake liners.  I have noticed baking in the decorative cups do not come out very pretty.. not all but the ones I had, so that is why I used them as paper plates for the cupcakes.   I love the use of two different cupcake tiered stands.  I had a white ruffled set and a solid black stand, it worked beautifully.  Oh.. under neath the largest stand I turned a small white decorative plate upside down to help ground the stand on the black tablecloth.  Just happened to fit the bottom of the plate perfectly.  Lucky day for me.
Black, White, & Red – Elegant & Sassy Dessert Table|Black and White Cookies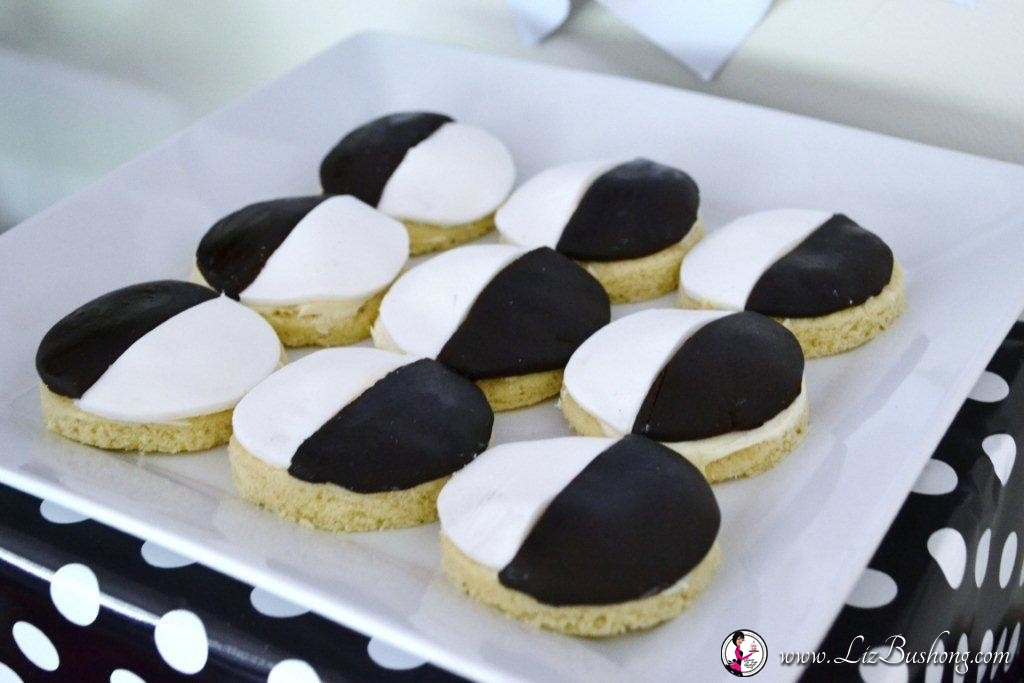 Desserts for this table are variations of the black and white color scheme. Black and white butter cookies were made from cut out butter cookies and frosted with a thin layer of butter cream frosting, then added chocolate and  white fondant in slices.  Click here for the cut out butter cookie recipe, the recipe is called Red High Heel Cookie Recipe, but you can use this recipe for any cut out cookie that you want the shape to stay as it is cut.  This is the best recipe. The cookies will not spread while you bake them.   I used fondarific, which is delicious and comes in many flavors.
Pecan Honey Bites dusted in confectioner's sugar are like the little Mexican wedding cakes only this recipe has honey in it.  See recipe here.  
Red Macrons are sweet little almond flavored cookies perfect for teas, and receptions… dessert buffets.   Macrons can be a bit tricky to make.  You need to sift your almond flour twice to get a fine textured cookie surface.  Room temperature egg whites also make this cookie light and airy.  With this cookie you really need to follow directions to a T to get the right "footing" on the cookies.  I made black macrons and used black food coloring gel to get the color I wanted them to be.  The flavor was vanilla but adding dark chocolate ganache as the filling would have added another delightful flavor.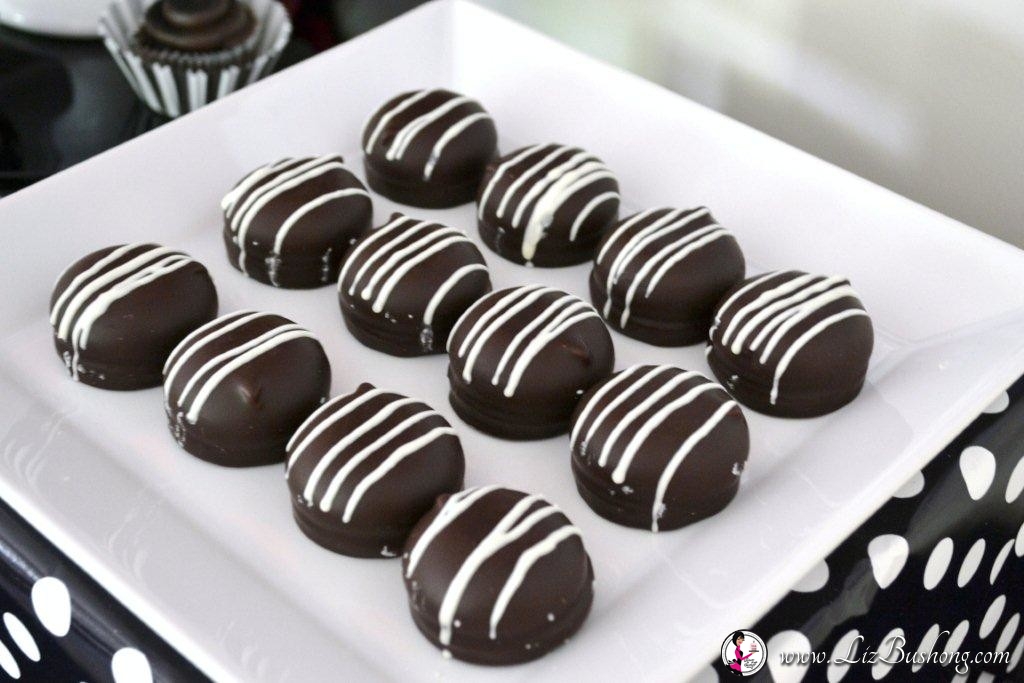 More Black and White Cookies!  These cookies were purchased from a local specialty shop.  They are called Whippet's.  The pure chocolate Whippet, a "cloud-like marshmallow cookie coated in pure dark chocolate".     For dessert buffet I drizzled the purchased cookies with  white frosting for the black, white and red color scheme of dessert table.  You don't have to be a baker or decorator to make everything for your table.  Purchased little treats from your local bakery or specialty shop can be transformed by placing in decorative cupcake liners, paper cups and other decorative containers for a pretty presentation.    Just keep your theme and color scheme in mind and run with it.
Mini Chocolate Cupcakes in these pretty little paper liners and red candy decor roses make the centerpiece pop!  Here's the recipe for the mini cupcakes.
A dessert in small bites and variety keeps your buffet easy and elegant. Three to four mini desserts per person is the recommended serving size if the guests are not eating a slice of cake, as in a wedding.  You don't want to overwhelm your guests with too many choices so offer 2-3 desserts per person with 5-6 dessert varieties.  Serving large cake pieces on the dessert buffet can prove to be messy and unattractive.  To solve this challenge, cut the slices into a 1 X 2 inch slice and serve it up sassy on a special individual small plate or other decorative container.  Decorative cakes are beautiful on a cake stand, but not really practical for a dessert buffet.  Although, it is your party and if you want them to eat cake and see your masterpiece, let them eat cake.  Weddings will have a separate cake table with someone cutting and serving the cake.
Black, White, & Red – Elegant & Sassy Dessert Table|Final thoughts
Presentation for any party is important. People eat with their eyes first so your desserts will need to be garnished with special details and displayed at various heights on the table.  Take the time to think through how the guests will approach the table and how to serve each item.  Provide small plates and utensils if your desserts require the assistance. Decorative paper napkins are appropriate and necessary. Small labels at each dessert will notify guest what the dessert is and if it has nuts or other allergens. These labels can be decorative with flourish and sometimes as simple as chalkboard stickers.
Beverages can be served but on a separate beverage table. Colorful punches, small water bottles with decorative labels and fruit juices make delicious drinks for simple receptions.  Creating a beautiful table for your special events will bring great joy to you and your family and friends.
Celebrate some good times!  Find a reason to celebrate, be a clever hostess and turn an ordinary day into a special occasion; just remember to Celebrate-It with a lovely dessert buffet.
Helping you Make a Statement, Make is Sassy and Make it Yours! ®
See other blog posts with tissue and card stock instructions and watch for VIP Seen magazine article.  Headed to Roanoke Virginia for Daytime Blue-Ridge!  Can't wait to see all my friends in Virginia!
Like my face book page, and Pin these fun pictures on Pinterest.  Many heartfelt thanks!  Liz