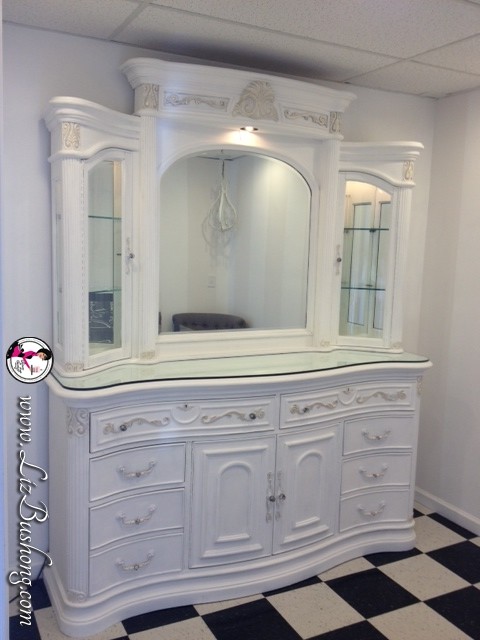 DIY Chalk Paint Pure White Armoire
Normally, Serve it up Sassy serves up tasty edible recipes and gorgeous tablescapes; this week I am serving up a different recipe, a painted furniture piece using Chalk Paint by Annie Sloan.  The color that was used for this beautiful piece was Pure White. I can't wait to share this project with you!  The ornately styled armoire has a large base with many drawers and a heavy hutch top with a center mirror and side mirrored shelves.  Painting the piece white really made the details of the piece pop out. The original color for this armoire was a deep mahogany. We are so glad it was painted white.  Many times people are afraid of painting over deep dark stains, but sometimes you just need to bite the bullet and do it. So glad we did.  Check it out…
The  armoire belongs to my friend Shamail McKenzie with the Art of Beautiful!  She is an outstanding professional make up artist. See her works here, https://www.theknot.com/marketplace/shamail-mckenzie-hair-and-makeup-johnson-city-tn-587148.   I had to convince her that this was a good thing to do.  After painting the piece you could really see all the beautiful ornate details of this stunning piece.  This piece is used as Shamails make up station and was the major element in this room.   I was asked to help design her new studio at Sher Extensions, a fun, sassy lash boutique, http://sherextensions.com/.
Shamail shared many photos of the look she was going for in the room.  She wanted elegant white with lots of bling!!!  Chandeliers, prisms, crystals… lots of clean white- on- white style.  So we painted the walls a white on white satin and flat stripe and this large furniture piece Pure White.  Ok.. lets look at the before photos of the piece.
You can find Annie Sloan Paint on line http://www.anniesloan.com/annie-sloan-products/paints/chalk-paint.html
To shop locally http://www.nestinteriorsandgifts.com/
Before painting with Annie Sloan Chalk Paint
This piece had many drawers I removed the drawers and washed down the entire furniture piece with TSP,  a multi purpose cleaner, Trisodium Phosphate.   http://www.lowes.com/pd_151379-91-10622_0__?productId=3014065.  I did not paint the inside of the drawers they were lined with felt, but I did paint the top and sides of all drawers.  We removed all the hardware-knobs and handles then taped off the mirrors using blue painters tape. http://www.lowes.com/pd_590693-98-2094-SR-24T_1z0s9oe__?productId=50179791&pl=1
You can see the striped wall in the background.  When you use Chalk Paint you don't have to sand the furniture piece, which is a great time saver.  We were going for a solid finish, so I used three coats of the chalk paint.
Here is a close up of the beautiful details on this piece.  Seemed like I was painting for-ever!  When I thought I had each piece painted, I would find another drawer.  LOL.
When painting a shabby chic furniture look, normally just one or two coats do really well using the Chalk paint, but since we were going for a solid look, several coats were needed, plus I was covering a dark piece of furniture.  I could have used Zinssers  or Kilz  as a primer but didn't.. probably would have used less paint if I would have.  http://www.lowes.com/pd_622469-90-285153___?productId=50276499&pl=1&Ntt=zinsser+primer.
I used Battleship Gray Folk Art acrylic paint https://www.plaidonline.com/folkart-acrylic-colors-battleship-gray-2-oz/38/2381/product.htm to paint the details of the piece before painting the white over the top.  We were going for a highlighted look or three dimensional look.  After painting the white over the gray, the gray remained in the deep lines of the carvings.   Once dry, I used Folk Art acrylic paint in Metallic Champagne to highlight and emphasize the details. https://www.plaidonline.com/folkart-metallics-champagne-2-oz/58/675/product.htm
After Painting with Annie Sloan's  Chalk Paint Pure White
After everything was painted and highlighted, I did not sand any paint off to age the piece.  To polish the entire piece, Annie Sloan Soft Clear Wax was used in a rub on and rub off technique.  http://www.anniesloan.com/annie-sloan-products/annie-sloan-waxes-and-finishes/annie-sloan-clear-soft-wax-217.html.  The base piece had a piece of 3/4 inch glass cut to fit the curvature of the base top.
When the delivery guys arrived with the glass piece,  Shamail and I asked them to put the top on the base for us.  It was sooooo heavy, we could not have moved it.  We were grateful for the muscles these guys had.  The glass was actually the kind of glass they use for shower doors.
I will post more photos of the finished room soon.  I made the cutest perfume bottles that I have to share with you.  Can't wait to show you how to do that!
Ok.. here is the finished piece!
Pretty amazing isn't it?  Let me know what kind of Chalk Paint projects you have made.  I love seeing creative works!
We all loved this piece!