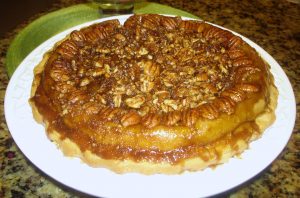 Double Crust Upside Down Peach Pie
Ingredients
1 cup chopped pecans

½ cup packed brown sugar, light or dark

1/3 cup butter, melted

1 (14.1oz) package refrigerated pie crusts, divided

7 medium sized peaches, peeled, pitted and thinly sliced

¼ cup granulated sugar

2 tablespoons all purpose flour

1 teaspoon ground cinnamon

½ teaspoon ground nutmeg

¼ teaspoon salt
Cinnamon Whipped Cream:
1 cup heavy whipping cream

3 tablespoons confectioner's sugar

½ teaspoon clear vanilla or cream bouquet extract

¼ teaspoon of ground cinnamon or more as desired
Instructions
Preheat oven to 375.

Line a double baking sheet with aluminum foil and set aside.

In small mixing bowl, add pecans, brown sugar and melted butter. Stir until combined and spread onto bottom of a 9-inch pie plate. Position one crust over pecan mixture allow excess crust to hand over sides of pan.

In medium mixing bowl, add sliced peaches and next 5 ingredients. Mix to combine. Spoon peach mixture into pie crust, packing tightly and mounding the peaches in the center. Place remaining crust over filling, press both crusts together, fold edges under and crimp.

Place pie on prepared foil lined baking sheet. Cut top of pie crust with slits for steam to escape.

Bake at 375 in middle of oven for one hour or until juices are thick and bubbly and crust is golden brown. Shield pie with aluminum foil if necessary to prevent excessive browning.

Cool on a wire rack 10 minutes. Place a serving plate over the top of pie and invert pie to serving platter. Remove pie plate and replace any topping that is left in the pie plate on top of inverted pie.

Let cool completely. Then serve with vanilla ice cream and caramel sauce.

Serve it up Sassy: Drizzle each plate with caramel sauce, pie slice and mound of vanilla ice cream or Cinnamon flavored whipped cream. Add a sliver of fresh peach to each mound of cream a mint leaf.
Cinnamon Whipped Cream
Whip heavy cream in medium sized chilled mixing bowl. As cream is beating on high speed, gradually add the confectioner's sugar and vanilla. Whip on high until stiff peaks form, then fold in with spatula the ground cinnamon.

Chill whipped cream until ready to serve.

Can substitute fresh peeled and cored apples, Granny Smith or Golden Delicious if you prefer an apple pie.

Apple pie and various flavored Whipped cream recipes can be found in "Just Desserts" cookbook. You can buy the "Just Desserts" cookbook on site or locally at Treasure House, Sparrows Nest and Gracious Designs in Johnson City.