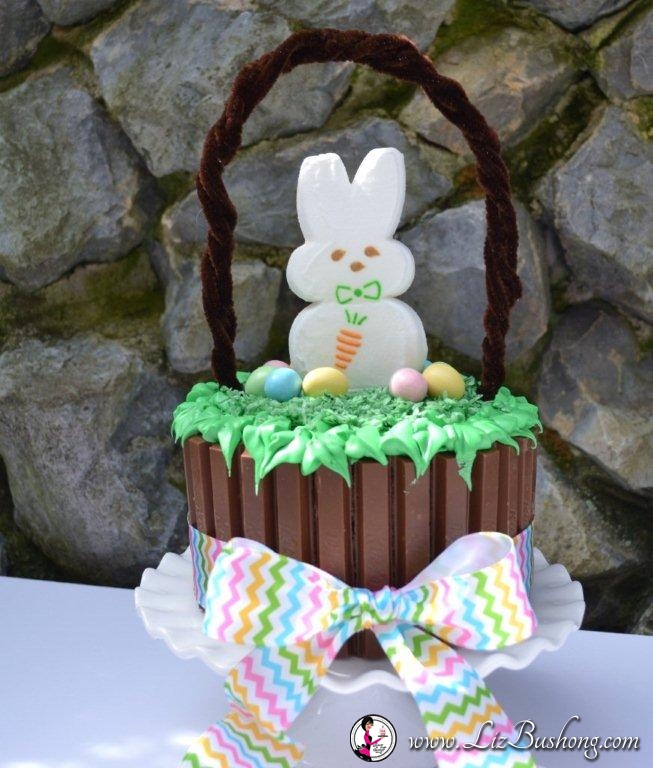 Easter Kit Kat Basket Tutorial
Easter Kit Kat Basket is made with XL kit kat candy sticks on sides of a 6″ round chocolate cake.  Kit Kat's create an Easter basket filled with Marshmallow Peep bunny and Easter Eggs.  Wow.. why not use Kit Kats for the sides of a cake to make it look like an Easter basket.  Add a dark brown pipe cleaner handle and you have a basket!   Tis the season for Easter and Spring!  Your kiddos will love this fun cake and you will enjoy making it.  Read on to see how to create this cute cake.

This cake so very easy to make and a welcome cake for Spring.  Get your kids together for this fun creative cake time.  This is really a fun cake to make.
Gather the following materials for this cake:
Baked and frosted cake
Kit Kat® Crisp Wafers-XL
vanilla frosting tinted green & chocolate frosting
large marshmallow bunny peep
 coconut-tinted green
food coloring gel- green
candy chocolate eggs
dark brown pipe cleaners
chocolate candy eggs or Easter candies of your choice
Easter wired ribbon
Easter Kit Kat® Basket
Easter Kit Kat Basket Tutorial Step 1:  Two Layer 6″ Cakes & Kit Kat's
You can bake your own cakes in a 6 " round cake pan or purchase a 6″ round already made cake.  Either way you will also need a can of chocolate frosting.  The frosting will act like the "glue" to attach the kit kat's.   Recipe for cake http://serveitupsassy.com/black-forest-mini-cakes/
Allow your cake to cool completely before adding the frosting.  Add the crisp wafers, separated sticks and add one at a time to the sides of the frosted cake.  Oh.. place your un-frosted cake to your preferred serving plate.  I used a white scalloped cake stand.   Add small strips of wax paper under sides of cake, but not completely under the entire cake.  You won't be able to remove the paper after it is decorated if you put the paper under the entire cake.
This wax paper strip will help keep your cake plate clean.  After you are finished decorating the cake, you can remove the small pieces of wax paper or parchment strips.
Easter Kit Kat Basket Tutorial Step 2: Grass and Leaves
After you have the kit kats on the sides of the cake, top the chocolate frosted cake top with a thin layer of the green frosting.  To tint frosting, place white buttercream frosting (home made or canned) in a small bowl.  Add a couple of drops of food coloring gel to get desired green color.  You will also tint the coconut by placing in a zip lock baggie with a few drops of food coloring gel.  Shake bag until coconut is fully colored.  Leave in baggie until ready to put on cake.   Place the green frosting in a piping bag fitted with a large leaf tip  #366.   Pipe leaves all around the outer edges of the cake.  Allow the leaf tips to fall over the edges of the cake to soften the look of the cake.  You can use all leaves on top of the cake if you want or do what I did and add the tinted coconut in the center.
Easter Kit Kat Basket Tutorial Step 3: Bunny Peep
Add a toothpick to the underside of the bunny peep and insert in center of cake. I found this large 3″ bunny peep  in a  3 per package at Walmart.  It is amazing what you can find at Walmart.  Anyway,  I wasn't sure if I was going to use the peep or a chocolate bunny. but I liked the peep and he was easy to insert onto the cake.    At this point you can add any Easter candies that you would like for your basket.
Easter Kit Kat Basket Tutorial Step 4: Final Touches
Add decorative wired ribbon and Easter candy to the top of the cake.  Insert a handle.  The handle is made for 12 twisted together dark brown pipe cleaners.  I also wrapped the two ends of the shaped handle with plastic wrap, then inserted into the cake.  Remind little ones not to pick up the cake with the handle.  Ha Ha.
Watch Daytime Tricities Segment for the Kit Kat Basket