Fathers Day Table and Menu Ideas
Need Fathers Day Table and Menu ideas?   Whether your dad is a handyman or not so handy, celebrate dad  with a special Tool-Time Father's Day Lunch that will get everyone geared-up for a fun time.  With this blue print for success you will have the right tools to make this Father's Day event one to remember.
Is your Dad the one who fixes everything that needs to be fixed; from re-wiring lamps that someone  knocked over, to oiling the squeaky front door that swings open and shut more than we can count, or is he the one who removes the drain under the sink to find the friendship ring that  slipped off your finger?   Is he known as Mr. Fix-it- Mr. Handyman?  Here is a plan for to create your own tool time lunch for dad.
Fathers Day Table and Menu Ideas- Centerpiece
For the tabletop, construction blueprints are spread in the center of the table creating the foundation for the tool-themed luncheon.  The themed specifications call for whimsical table accents with red, black, yellow and orange color scheme.
For the centerpiece a tool apron is draped around a small bucket then filled with dads favorite tools and potted red geraniums.   Brand new shop gear makes each place setting a well-equipped table.  A level with T-Square and other measuring tools anchor the blueprint plans and repeat the overall building theme.
Fathers Day Table and Menu Ideas- Steak & Potatoes
This tool-time lunch is fabricated with a man-sized meat and potatoes menu.  Grilled Rib-eye steaks with rosemary and oregano compounded butter and assorted new potatoes are plated on a bed of fresh baby arugula leaves.  The triple colored new potatoes are par-boiled until tender then skewered on skewers and grilled with Persian Lime fused olive oil.*  Sweet yellow cherubs and red cherry tomatoes are sliced for accents and flavor that round out this hearty meal and presentation template.  Recipe for Steak and Potatoes  http://serveitupsassy.com/category/serve-it-up-sassy/main-dishes-and-entrees/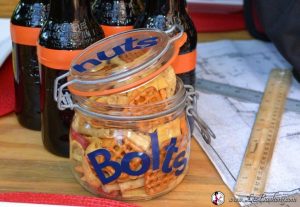 Go nuts over dad with a mixed nut and bolt cracker mix.  A combination of cheese crackers, pretzel snaps, Tostitos rolls, Fritos and almonds is served up sassy in a hinged top mason jar with the lettering Nuts & Bolts.  Silverware is packaged in a separate mason jar labeled Tools.  Paying attention to the smallest details gives this event structure and added dimension.  Recipe here  http://serveitupsassy.com/category/serve-it-up-sassy/appetizers-and-snacks/
Fathers Day Table and Menu Ideas-Napkin rings
My favorite napkin holders are the brand new tools used  as napkin rings, clamps, wrench, and other tools make this an easy and cute decoration.
Red, Orange, and yellow cloth napkins help carry the color scheme, following the color scheme in the tool apron and handles of some of the tools.
Fathers Day Table and Menu Ideas- Grilled Tool- Shaped Cake
Tool shaped cookie cutters create the coolest tool-time dessert.  Quarter inch pound cake slices are buttered and grilled then cut into hammer and saw tools.  A pineapple ring with a grilled cake center is decorated like a circular saw.  Small strawberry pieces are cut to resemble the saw teeth and placed around the edge of a pineapple ring.   To plate this tool- time dessert, the grilled pound cake hammer and saw are positioned on top of the pineapple ring then garnished with home-made whipped cream, fresh blueberries and strawberries.
Bolt Dad over with this Tool Filled Table and Menu!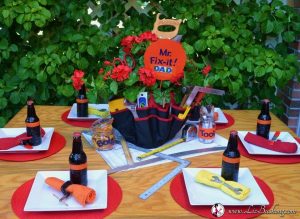 To see published magazine article http://serveitupsassy.com/category/multi-media/publications/
Recipes
 http://serveitupsassy.com/grilled-steak-and-potato-kabobs-with-compound-butter/
http://serveitupsassy.com/grilled-tool-time-pound-cake-with-berries/
http://serveitupsassy.com/tool-time-nuts-and-bolts-snack-mix-recipe/
Persian Lime Olive Oil  https://abingdonoliveoilcompany.com/products/flavored-fused-and-infused-olive-oils/persian-lime
Recipe Development, Food Styling, Photography and Article by Liz Bushong