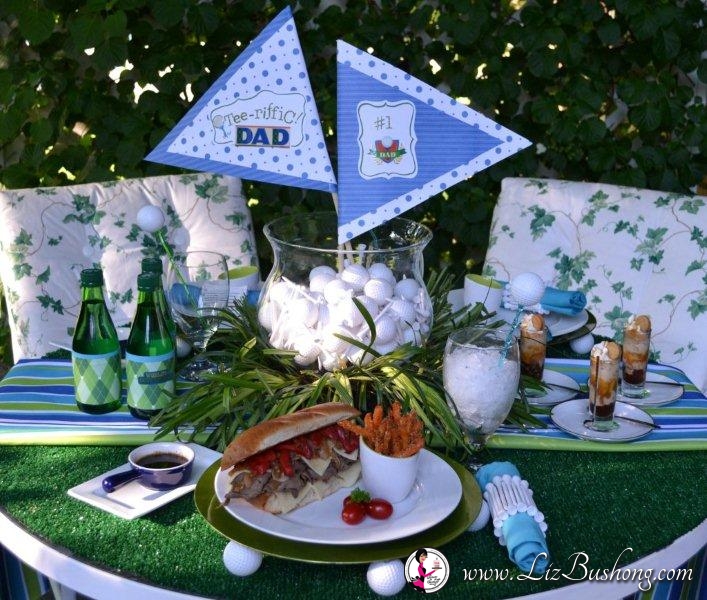 Father's Day|"TEE – RIFFIC" Lunch FORE Dad!
It's Fathers Day, and a little birdie mentioned that all golfers love to "par-tee", especially after the 18th hole.  For all the dads who love the game, celebrate his special day with a "par-fectly" planned lunch. 
The "full course" menu includes a  hearty beef and cheese "club" sandwich smothered with caramelized onions and served with an au jus sauce for dipping.   Seasoned sweet potato fries complement this man-sized sandwich.   The dessert, served in tall skinny parfait glasses, is "Putter" Nutter par-faits, aka home-made salted caramel ice cream layered with chocolate and caramel sauce then topped with fresh whipped crème and crumbled Nutter Butter peanut butter cookies.  To keep everyone in the swing of things, serve your favorite iced tea, perhaps an Arnold Palmer (half tea/half lemonade), and offer coffee with dessert.
Upon arrival, your fairway friends will applaud the pristine course tabletop.  Astro turf, as a putting green, lines a round table.  An arrangement of potted grass, golf balls, and tees are scattered in a large glass urn as a reminder that there are "hazards" in this game.  The pennant flag proudly boasts accolades and Number One Dad which your dad will appreciate and love.  Scrapbook papers were fashioned to create the pennants and drink wraps.Cardboard paper towel tubes are covered with white tees and used as napkin rings.   I am so excited to share this idea with you.  It was so much fun putting together and everyone at the event loved the attention to detail, especially the Dad!
Tee-riffic Lore Dad |Menu
Beef and Cheddar Club Sandwiches-Caramelized Onions with Au jus Sauce
Seasoned Sweet Potato Fries
Putter-Nutter Ice Cream Parfaits
Arnold Palmer's, Ice Tea, Dr. Enuf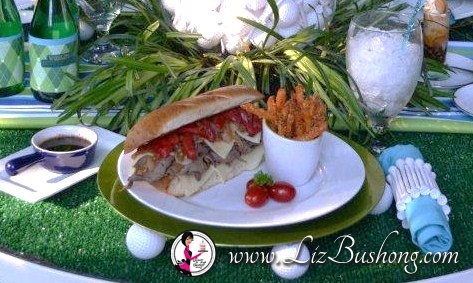 Astro turf, as a putting green, lines a round table. Tee napkin rings were made from cardboard tubes and spray painted white.
 4-Golf balls were glued to bottom of chargers which supports the dinner plate perfectly.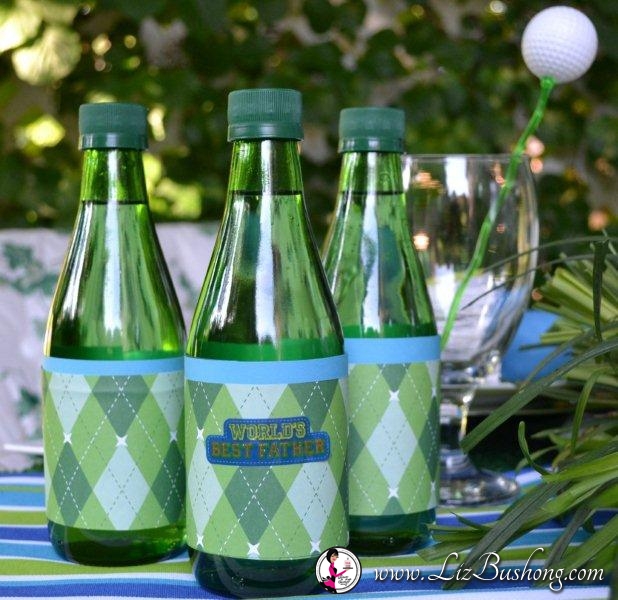 Scrapbook papers were fashioned to create the pennants and drink wraps. Peel and Stick labels were attached that reads
World's Best Father
Dr.Enuf is a regional beverage, The original energy booster filled with B-Vitamins that tastes like a Sprite or Seven Up.  They have many flavors and varieties, so for this event, I selected the original, plus the bottles are green and went with my theme.  ha ha.  Got a stick with the color scheme when creating visual table tops.
Notice the cute stir-stick  in the background with a golf  ball attached. These are lightweight practice balls and work perfectly on the top of these plastic stir sticks.  I also used these balls to the base of each green charger and as centerpiece filler.  The balls were attached with hot glue on the bottom of the chargers.
Tee-riffic Lunch Fore Dad |Centerpiece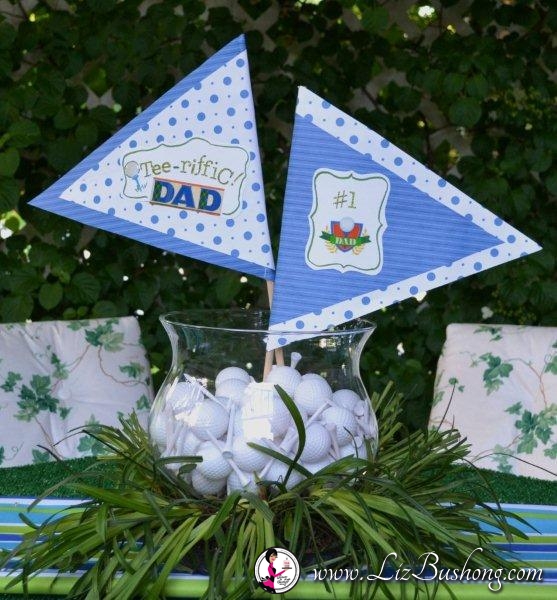 Potted  lirope grass,  golf balls, and white tees are scattered in a large glass urn in keeping with the overall theme of the luncheon.    The pennant flags proudly boasts accolades and Number One Dad!   A striped runner plays well with the color scheme of  turquoise blue, navy, lime green, and white. After the luncheon be sure to plant your lirope as a border for flower beds or within your landscaping.  A  plastic lined pie plate was filled with potting soil to keep the grass looking good.  No worries the centerpiece was well contained like a flower pot with no dirt spilling over onto the table top.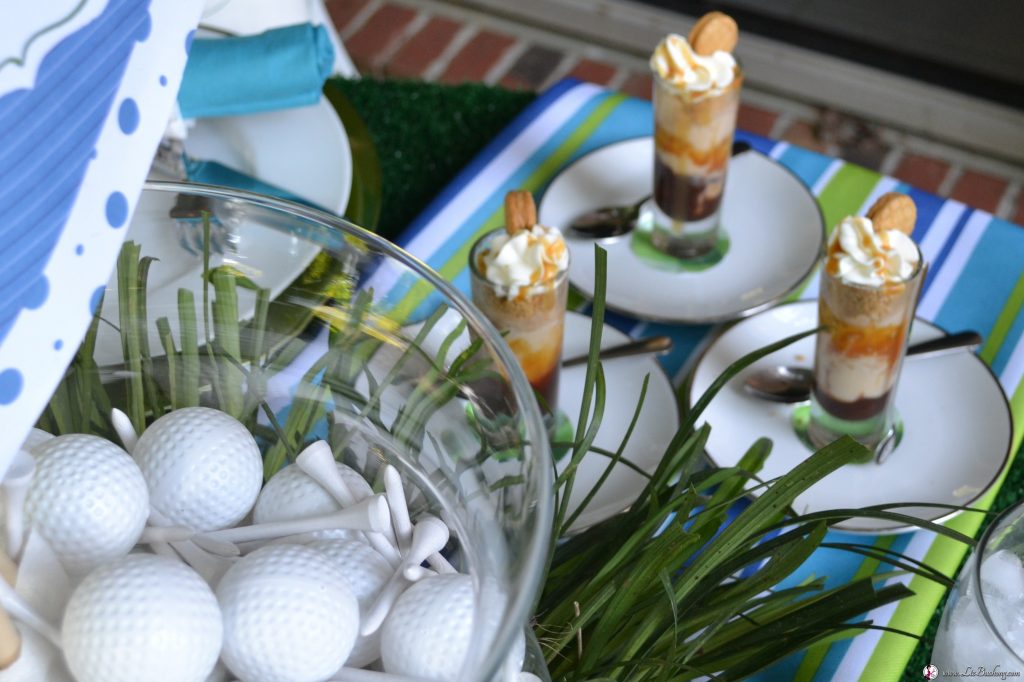 Tee-riffic Lunch Fore Dad |Putter Nutter Parfaits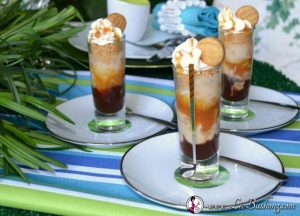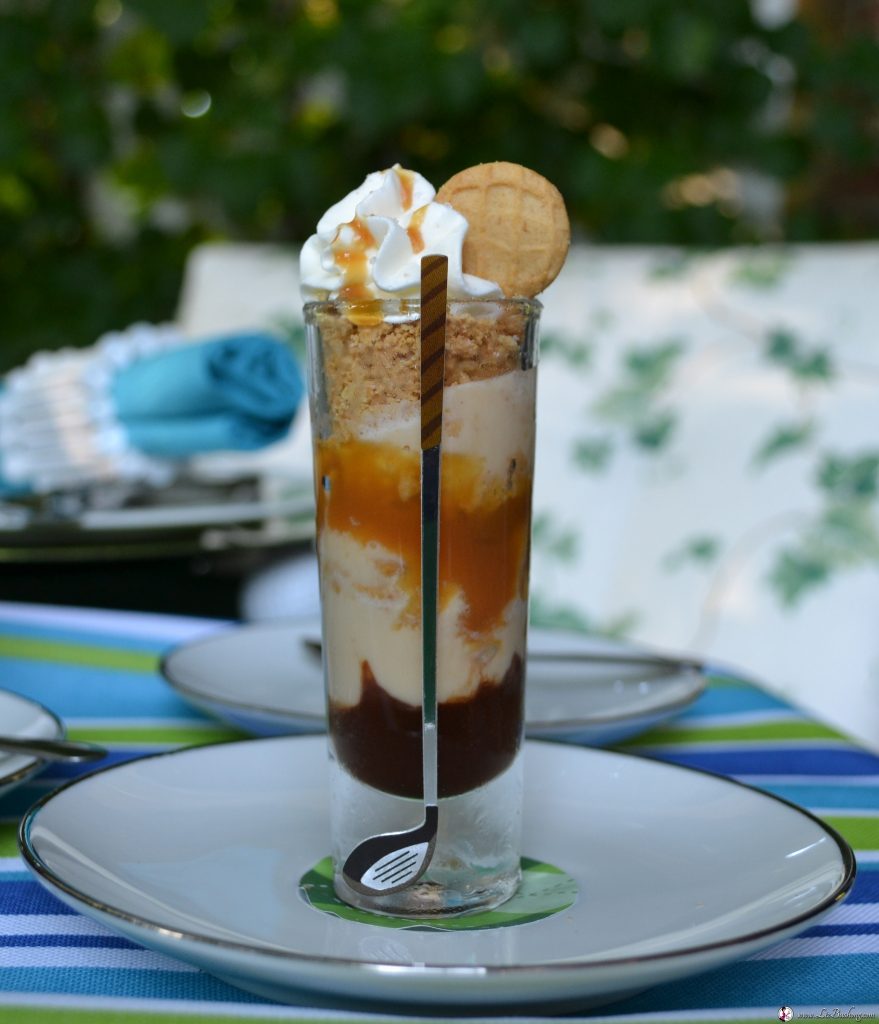 Father's Day|"TEE – RIFFIC" Lunch FORE Dad! "Putter" Nutter Par-faits
Salted Caramel Ice Cream with Peanut Butter cookies is the content of this dessert. Putter Nutter was added because I used Peanut Butter Nutter Bars in the recipe and added a scrap-booking miniature golf club to the side of the glass parfait.
If you don't want to make home made ice cream, purchase your favorite ice cream and layer in parfait glasses. Pick your dad's favorite flavor.
Ingredients
3 ½ cups whole milk
1 can sweetened condensed milk-tested Eagle Brand
1 cup prepared caramel or butterscotch ice cream topping
1 3.4 ounce package instant cheesecake pudding mix
1 teaspoon vanilla extract
½ teaspoon sea salt
2 cups coarsely chopped nutter butter cookies-divided
Garnishes:
Chocolate and caramel sauce, whipped cream, ½ cup cookie crumbs, coarse sea salt.
Instructions
In medium bowl, place first six ingredients.
Whisk until well blended.
Cover and chill mixture overnight
Pour mixture into freezer container of ice cream maker and follow instructions.
(Instructions and time may vary).
Before further freezing, stir in chopped cookies
Store in freezer in an airtight container until ready to serve.
Serve in parfait glasses.
Alternate chocolate sauce, ice cream, caramel sauce, ice cream, end with cookie crumbs
Top with whipped cream, caramel drizzle,and cookie crumbs
Sprinkle with coarse sea salt.
Serve with mini Nutter Butter Cookies
Notes
Sorry I don't calculate fat and calories, so use your good judgement on what you can or should eat. This is not sugar free. xo
http://serveitupsassy.com- http://lizbushong.com
Tee-riffic Lunch Fore Dad |Simple Golf Terms
For those who are not familiar with the game of golf, here is a helpful guide to common golf terms. http://www.waggle.com/golf-terms/ 
Birdie – A hole played in one stroke under par.
Fore – A warning shout given when there is a chance that the ball may hit
          other players or spectators.
Par – Standard score for a hole (defined by its length).
Tee – This is the wooden (usually) peg which is used to hold the ball up for driving. It is also the term for the area where play begins on a particular hole (i.e. the third tee is where the third hole starts).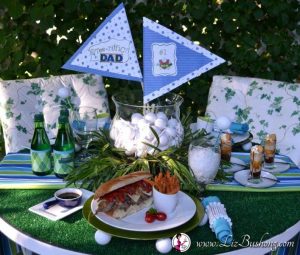 While your dad discusses handicaps, strokes of the game, and the holes-in-one, sit back, and savor every moment that you have with your dad.  Just "fore" the fun of it, tell your dad how special he is and that you think he is  really "tee-riffic!"