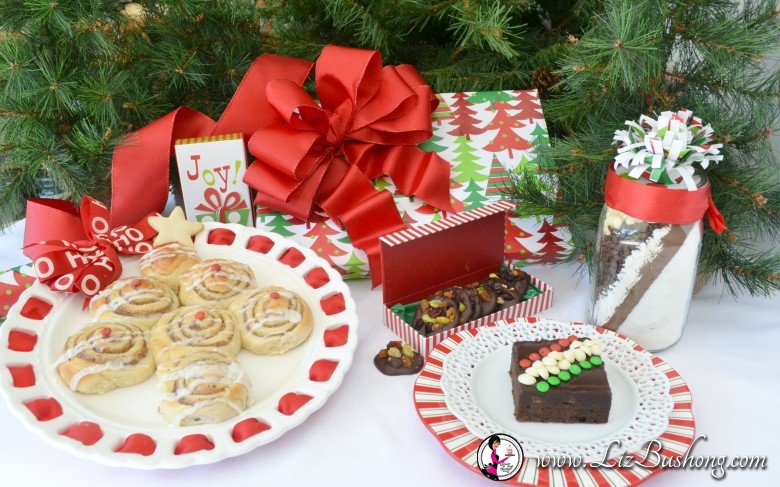 Home-Made Food Gifts
Home-made food gifts  for Christmas will make everyone's holiday merry & bright. Chocolate Stained Glass candies, Almond breakfast rolls served on a pretty plate, and packaged brownie mix makes gift giving a breeze.  Take some time to make and bake, you will be happy your did.  These ideas were featured in December issue of VIP SEEN magazine  and Daytime Blue Ridge , Roanoke Virginia. 
Home-made food gifts don't have to be hard.  The chocolate stained glass candies take a minute to make, it is just melting a good chocolate, adding some diced dried fruits like cranberries or cherries, and pistachios.  I used Ghirardelli Chocolate Wafers as my dipping chocolate.  Check out recipe here http://lizbushong.com/christmas-cookie-countdown-stained-glass-chocolates/
Home-Made Food Gift|Stained Glass Chocolates
The Almond Sweet Rolls might take a bit more time and you need to know how to bake with yeast, but if you don't want to make your own yeast dough, purchase a frozen bread loaf , allow to thaw, then roll out into a large rectangle, and fill with Solo Almond Filling.  The filling comes in a can, so all you need to do is open the can and spoon down the center of the rolled out dough.  Roll the dough tightly into a log, slice and cut log into 1″ slices, allow to rise until double in size, then bake .  When cooled down, glaze with an almond flavored buttercream frosting.  Recipe follows photo.
Home-Made Food Gift|Almond Sweet Rolls
Sweet Almond Roll Recipe
Ingredients:
4 cups all purpose flour
2 Tablespoons sugar
2 teaspoons sugar
1 package active dry yeast
1-teaspoon salt
½ cup butter, softened
2 eggs
¼ cup warm water-110 degrees
1-cup evaporated milk
Instructions:  
Heat water in a microwave safe bowl 30 seconds until temperature is 110 degrees.  Add 2 teaspoons sugar to water, stir to mix, add dry yeast.  Let yeast sit until it proofs.  Meanwhile, sift flour with 2 Tablespoons sugar and salt and place in a large mixing bowl. Add softened butter to flour mixture, toss with pastry blender or hands until mixture is mealy or well blended like the size of peas.  Add proofed yeast and evaporated milk to flour, add eggs.  Mix well until smooth.  Do not over mix or beat batter. Cover batter with plastic wrap and chill dough over night or at least 2 hours.
Assemble rolls:  Cut dough ball in half. Roll out one half of chilled dough on floured surface to a 9 x 12-inch rectangle. Spread half of the almond filling over the center and to the edges of the rolled rectangle.  Starting on long side of rectangle, roll dough tightly into a jellyroll.  Seal edges and slice roll into 1" slices.  Place rolls on parchment lined baking sheet, Allow rolls to rise double in size, then bake at 350 for 15-20 minutes or until golden brown.   Cool rolls before glazing.  Glaze: ½ cup confectioners sugar, 1 teaspoon evaporated milk, ¼ teaspoon crème bouquet or vanilla extract, mix to desired consistency. Drizzle over rolls before serving or presenting.
Home-Made Food Gift|Brownie Mix
Gift giving doesn't have to be hard or time consuming.  Just think about what kind of gift you would like to receive and make that.  Here is the recipe for the Brownie Mix.
Home-Made Food Gifts|Brownie Mix
The dry mix is given to the recipient in a decorative jar with an attached recipe card for them to bake with a few added ingredients. Giving a baking pan with the mix and recipe would be a great package.
Ingredients
Layered Mix
2-cups sugar
½ cup special dark cocoa-tested Hersey's
1-cup all purpose flour
¼ teaspoon baking soda
¼ teaspoon salt
1-cup white chocolate morsels
1-cup semi-sweet chocolate morsels
Add-Ins
1-cup butter, melted
4 large eggs
1-teaspoon vanilla
Instructions
In large jar or quart mason jar, layer sugar, cocoa, flour, baking soda, salt and white morsels, then chocolate morsels at an angle.
Tilt the jar and add each ingredient through a paper funnel while the jar is tilted.
Stand up right and cover with lid and band.
Recipe card text:
To make brownies, place mix into large bowl
Stir in 1 cup melted butter; add 4 eggs and 1-teaspoon vanilla. Blend well.
Spread batter in a lightly greased 13 x 9-inch pan.
Bake at 350 until done, 40-50 minutes.
Cool well and refrigerate before cutting.
Frost brownies with chocolate buttercream frosting if desired.
Decorate with red and green mini M & M's and white chocolate chips.
http://serveitupsassy.com- http://lizbushong.com
Make some Merry this Christmas!  Have fun in the kitchen with your kids or why not put on the Christmas music and bake some magic for yourself. 
Helping you Make a Statement, Make it Sassy and Make it Your's! ®
Merry Christmas!!!