Hosting a Wedding Garden Party with Pansies
Planning a Spring Garden wedding party…consider Pansies!  They are always blooming somewhere in the country and are readily available at your local garden center.  They can be planted in numerous pots and containers even as a living wreath.  For this wedding garden party, we have used purple and white pansies with yellow centers, some with center penciling and some with a pretty white face. Pansies are powerful punches of color and mean "thoughts of remembrance."  It's Pansy Power time, time to create a stunning garden party for the bride-to- be and groom if he is so inclined to attend. Shades of green compliment the deep purple pansies. I always like to look at nature for inspiration, it is always perfectly coordinated. Planning an outdoor garden party can be a bit tricky due to weather inclinations.  You don't have to hold the event outdoors instead deck out your dining room with paper pansies in a wall backdrop.  The backdrop can be used for photos or as a screen behind a dessert/tea buffet.
Get creative with Pansies!  To help the bride stay focused on her color scheme, we created a color inspiration board or "dream board" about what she visualizes for her perfect wedding day.  Using this board as the inspiration her family was able to create a garden party in keeping with her wedding vision.
Having an inspiration board keeps everyone on the same team with no surprises.  If you are hosting the bride and groom for a garden party, but you have an idea that is not on the board, don't do it.  If the bride doesn't have an inspiration board, you will need to ask her a lot of questions and you may want to ask her to create a board.  Pinterest is a great place to start to gather ideas, chances are she already has one that she can share with you and her wedding planner/coordinator.
Tip:  Ask bride a lot of questions about her Wedding color scheme and stick with her theme.
Inspiration Board| Purple & Green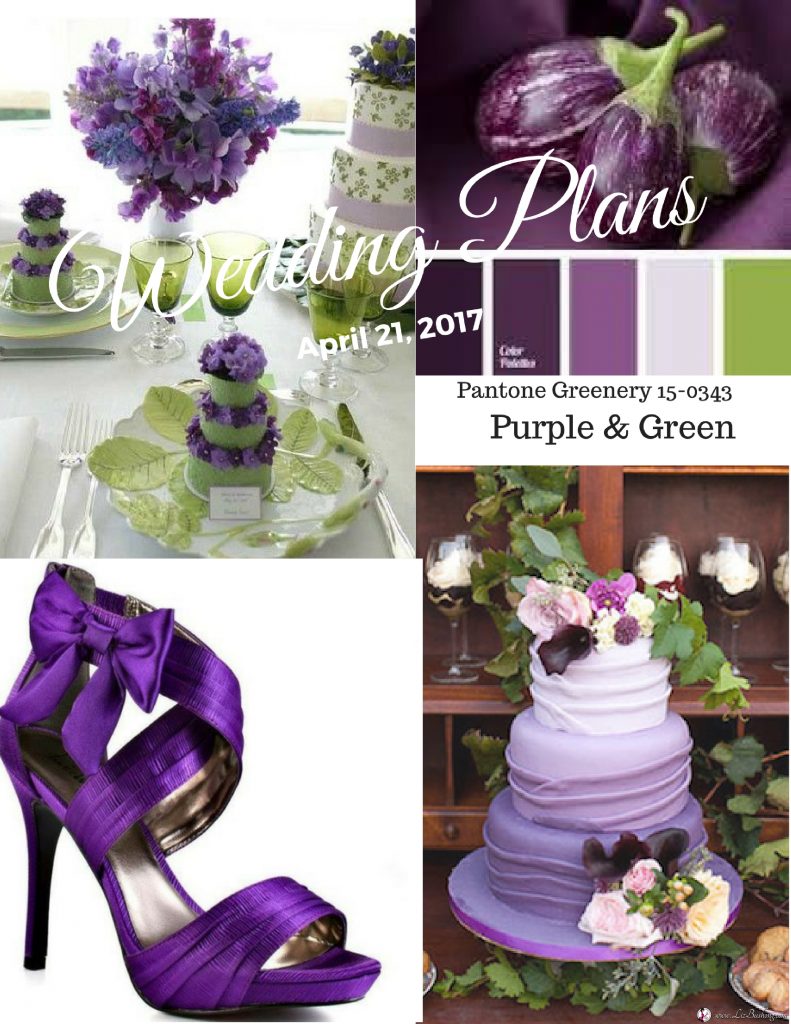 Hosting a party can be taxing, very time consuming, and expensive.The host of a shower or engagement party are generous souls who open their wallets as well as their homes to enrich the wedding experience for the couple, family and friends.  It is a time of celebration but without breaking the bank to do it.   With careful planning and advance preparation the event  makes will be easier to manage and you will actually get to enjoy the Party!
Inspiration| Garden Party-Placesetting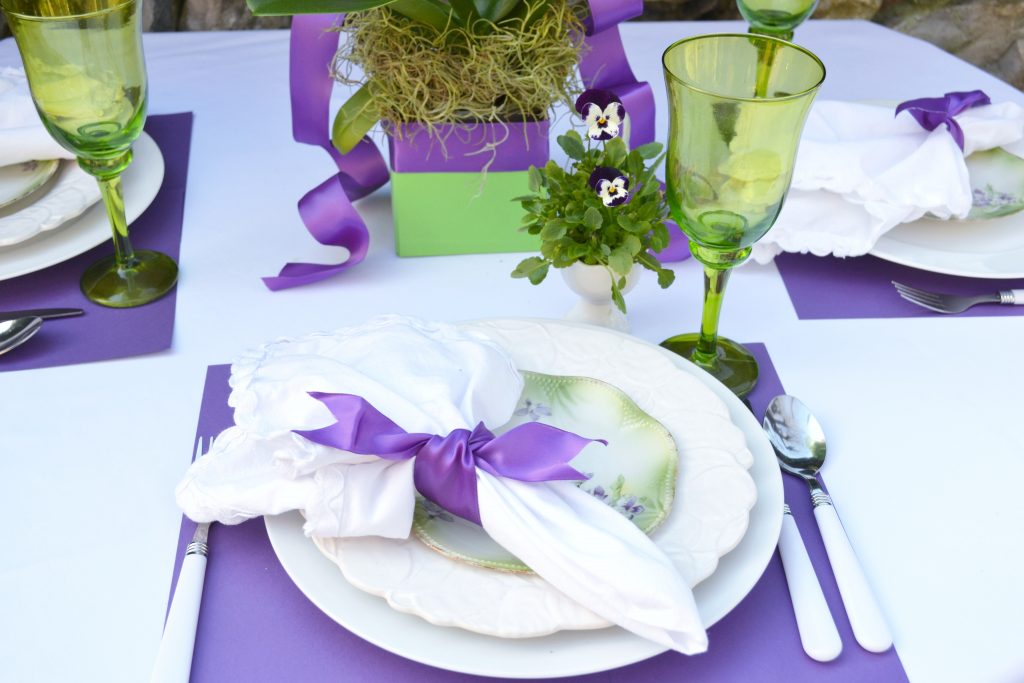 Make a place-setting memorable  by using your families hand painted heirloom dessert plates or if you don't have any heirlooms to speak of, purchase some new purple and green plates so the bride can begin her own heritage.  These plates were hand painted and passed down through the generations making this garden party one to remember.  White ruffled napkins with a simple ribbon napkin ring helps support the overall color scheme.  The classic white dinner plate is the charger and another tone on tone leaf engraved white salad plate holds the colorful dessert plate.  If you don't have purple place-mats, use purple card-stock.  It is pretty, sets the tone for table and can be tossed out after the luncheon.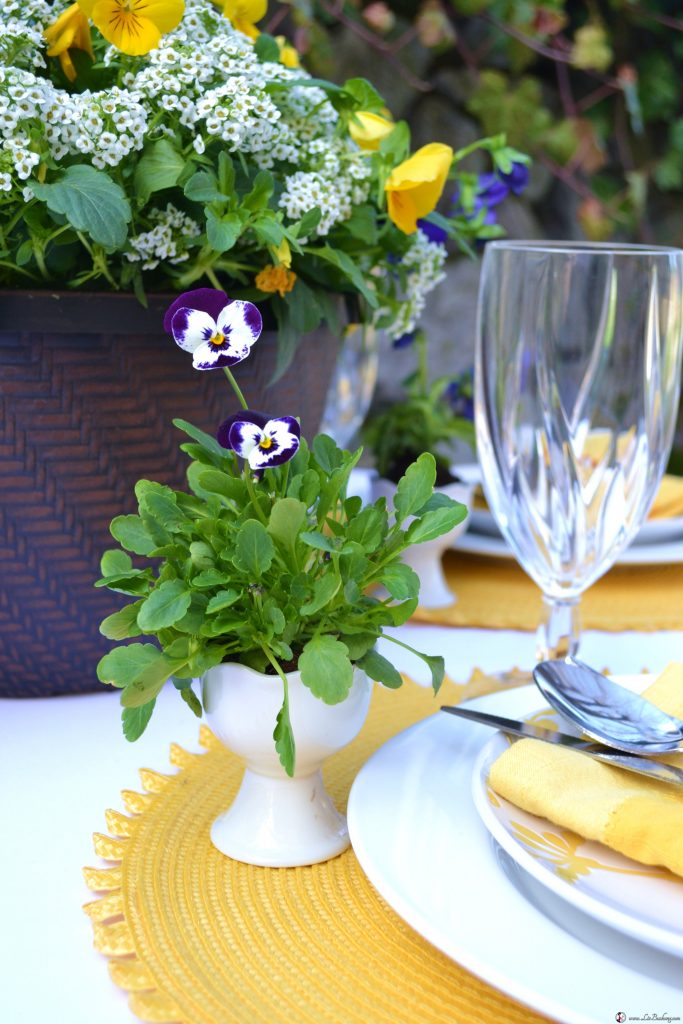 The little viola in the small egg cup makes a perfect take-home-gift at each place-setting.  Every guest who are attending this small garden party will be thrilled to have this special gift from the bride.  Other options could be a small potted pansy wrapped in purple cupcake liner or purple cellophane.  So many ways to use pansies and their smaller companion, the viola.
Pansies are edible and are used to embellish confections like cakes and cookies or small tarts.  Make sure you use organic edible flowers for food to ensure safety from pesticides or other chemicals.
In keeping with the purple and green color scheme you can introduce a white orchid for a pretty centerpiece if you choose to have height at your tables.  Orchids are elegant and tall enough for a centerpiece so guests can see through the arrangement.  A simple ribbon bow with long ties adds  the necessary balance to the arrangement.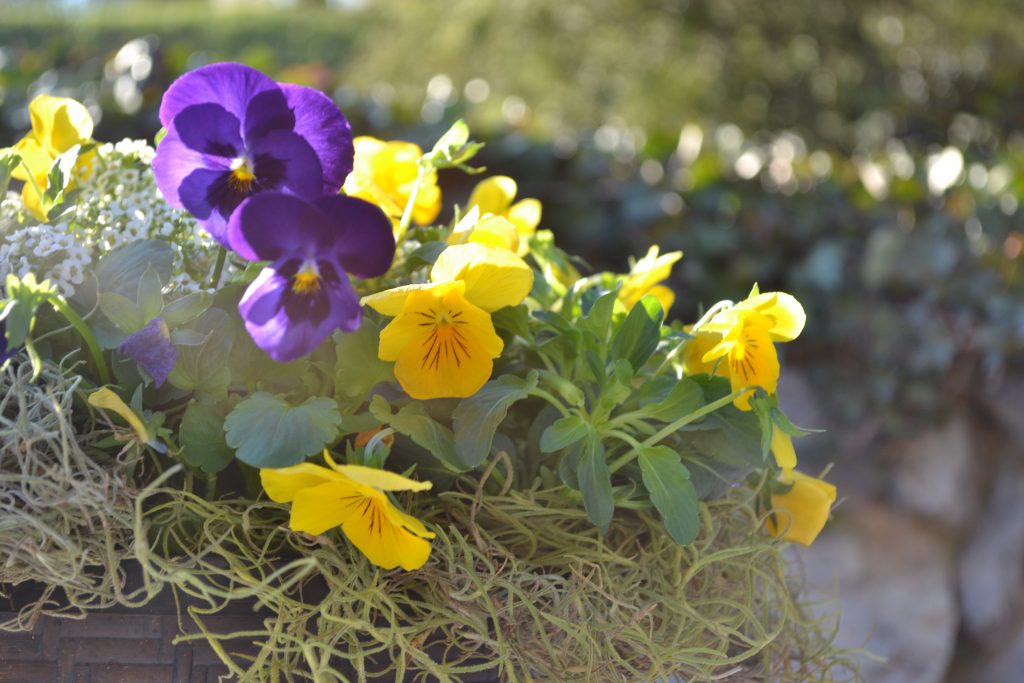 Pansies are Pretty!  Use your imagination on how to create a pretty garden party for your bride and groom.  For more ideas about using Pansies for a Wedding, see Wedding Floral Backdrop, How to Make Pansy flowers and Living Wreath.
Taking the guesswork out of party hosting with inspirational ideas like the wedding plan collage and step by step instructions on how to create dining and decor,  Hosting Wedding Party Idea Series will help you make it happen.  Tune in to Daytime Tri-Cities or watch the video for more inspiring ideas.