Here are a few Hot Chocolate Bar Ideas for easy entertaining friends and family.  It was fun putting this event together and pretty simple to serve.  Start with a color scheme to help set the tone of your hot chocolate bar.  Because I have a lot of black and white mugs and accessories this color scheme was perfect for my bar.   The fun part was the toppings and the containers to hold them.  This was Featured on Wayfair.com.
Hot Chocolate Bar Idea- Select Color Scheme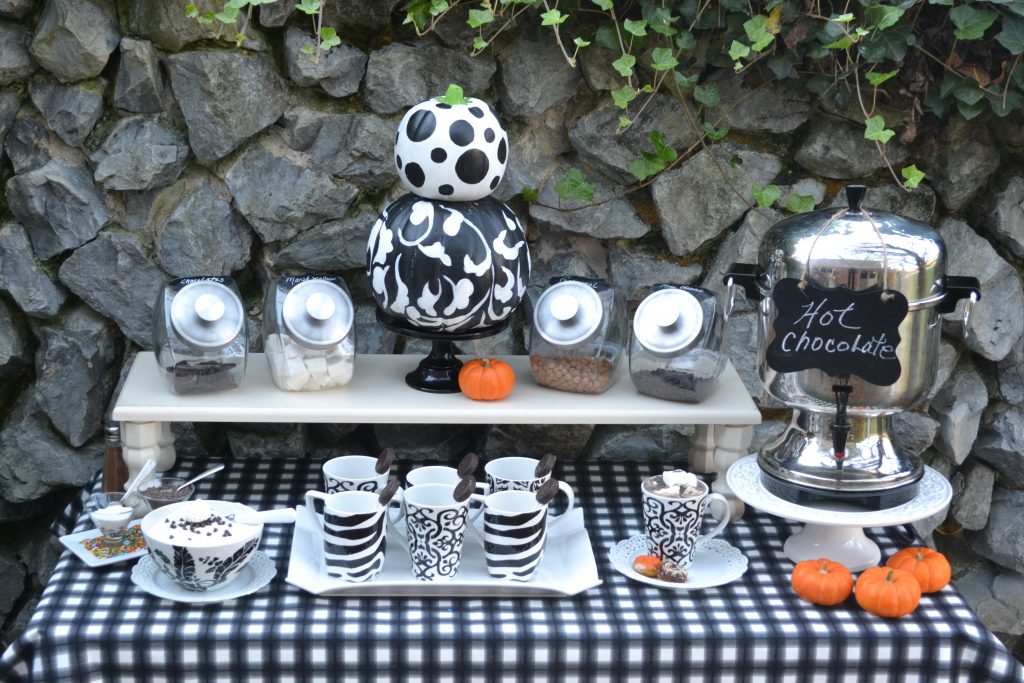 Idea # 2 Select Centerpiece- Black and White Topiary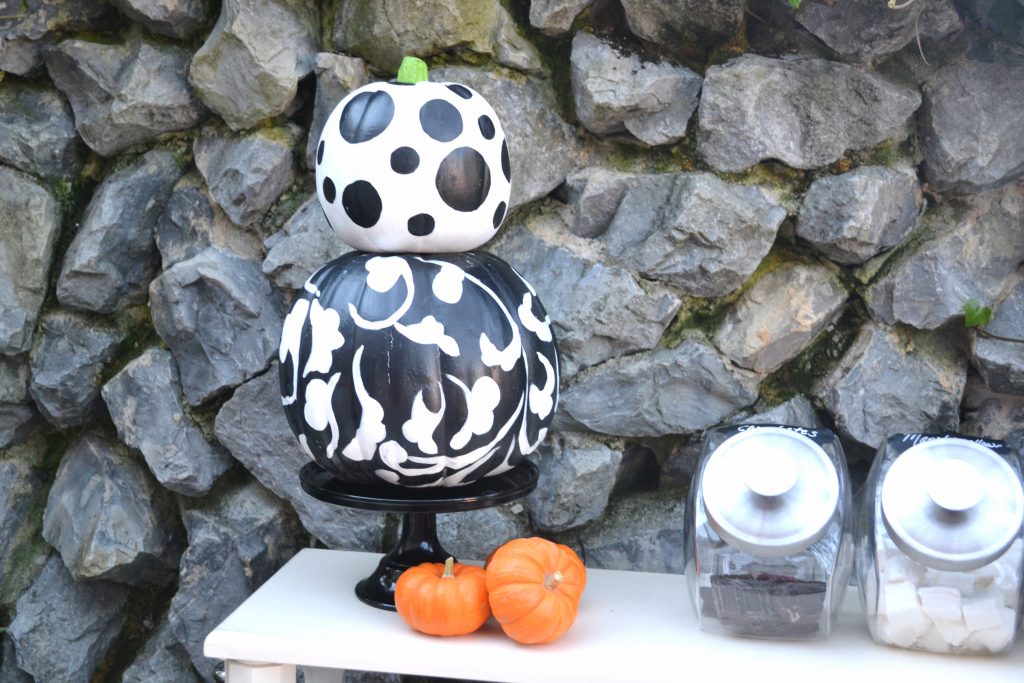 Two faux pumpkins were painted, one black and one white, then decorated with hand painted dots and swirls.  I had these from another event and thought the black and white  would look great with my table.  The two mini orange pumpkins added a pop of color and whimsy to the tablescape.  Click here for the Black Cake Stand.
Idea #3-  Container for Toppings
Decide upon the toppings you want to serve on your Hot  Chocolate Bar to determine how many containers you will need.  The small candy canisters with the lid on the front were found  at Walmart in the home good section.  They were filled with mini chocolate chips, homemade marshmallows, mini caramel bits, and  Hersey chocolate bars.     Each jar was labels with an adhesive chalkboard sticker.  I used a special chalk paint pen to write on the sticker.  I could have used chalk, but it always smears and my printing doesn't always turn out great.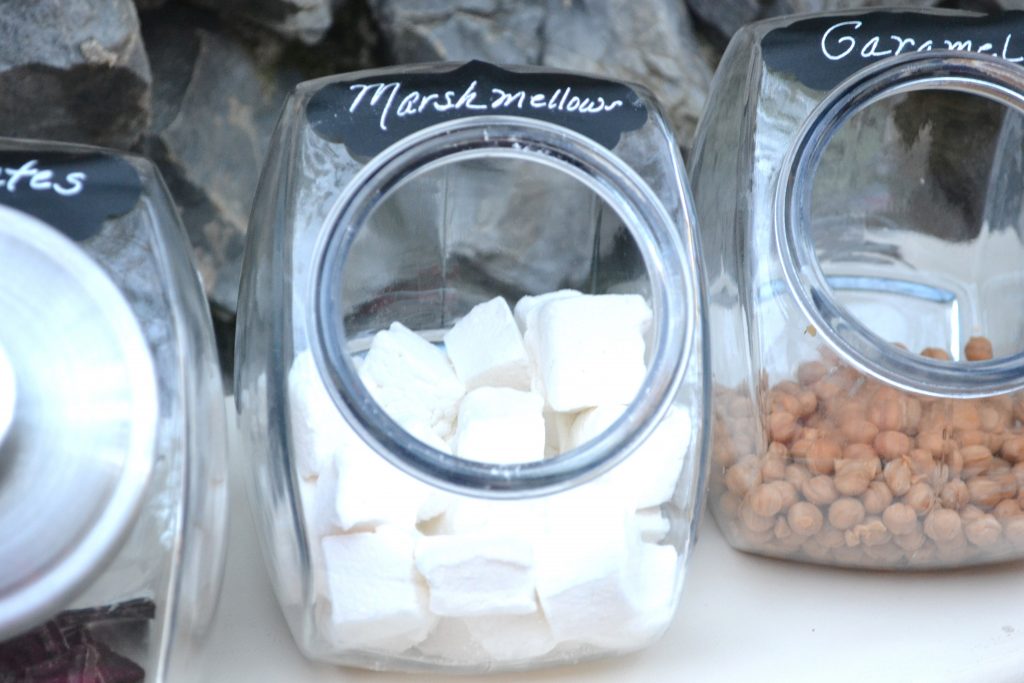 The caramel bits by Kraft are really good.  You don't have to unwrap to melt.  Just pop them in your Hot Chocolate and they melt after a few stirs.
Idea # 4- Mugs in Black and White with Stir Sticks
For a fun treat,  I used York Peppermint Patty on a stir stick as a garnish for the Hot Chocolate.  Regular coffee plastic stir sticks were used.  The Peppermint Patty melts slowly as you stir your chocolate, if you can actually keep it long enough to stir in.  Eating it first is always refreshing and good.
Idea # 5- The Dark Chocolate Recipe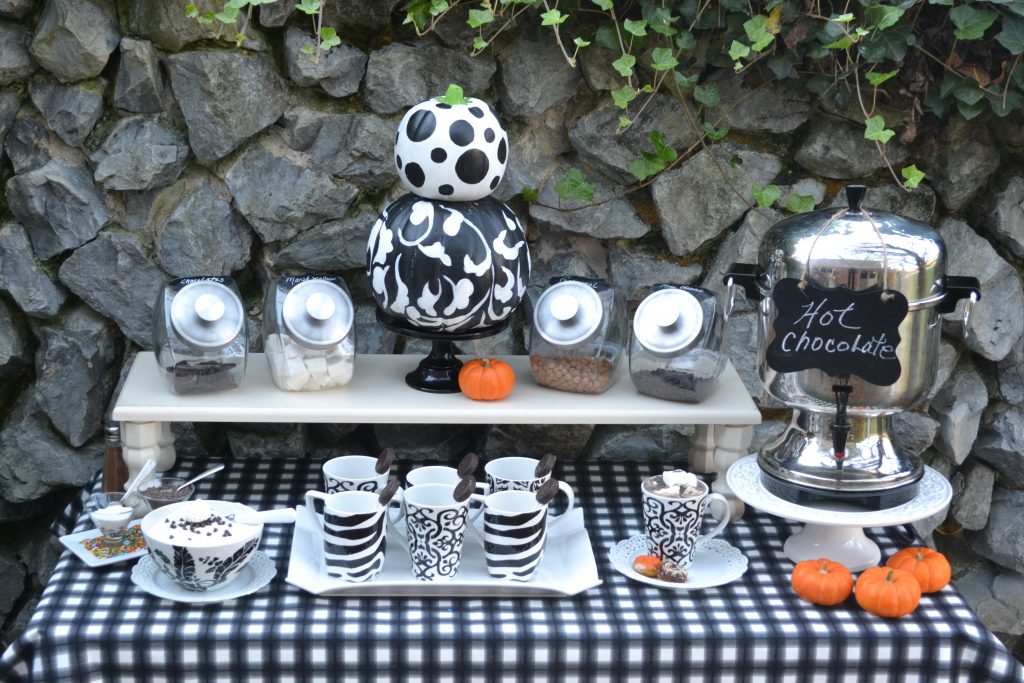 Idea # 6- Serve a small bites to balance the sweet
I made these mini pumpkin donuts for this event and they were a bit hit.  The donuts will not last more than a day so make them earlier in the day.  They take 7 minutes to bake and to decorate will take a few extra minutes.  Have your  toppings ready to frost and dip, the pumpkin donuts cool pretty fast.  You can bake a day ahead and freeze them.  But they will get wet after thawing.   Here is the recipe for the mini donuts
Idea #7  Have a fun time!
I presented this bar idea on Good Day Tri-cites and we all had a great time.   When I get the link I will post the segment for you.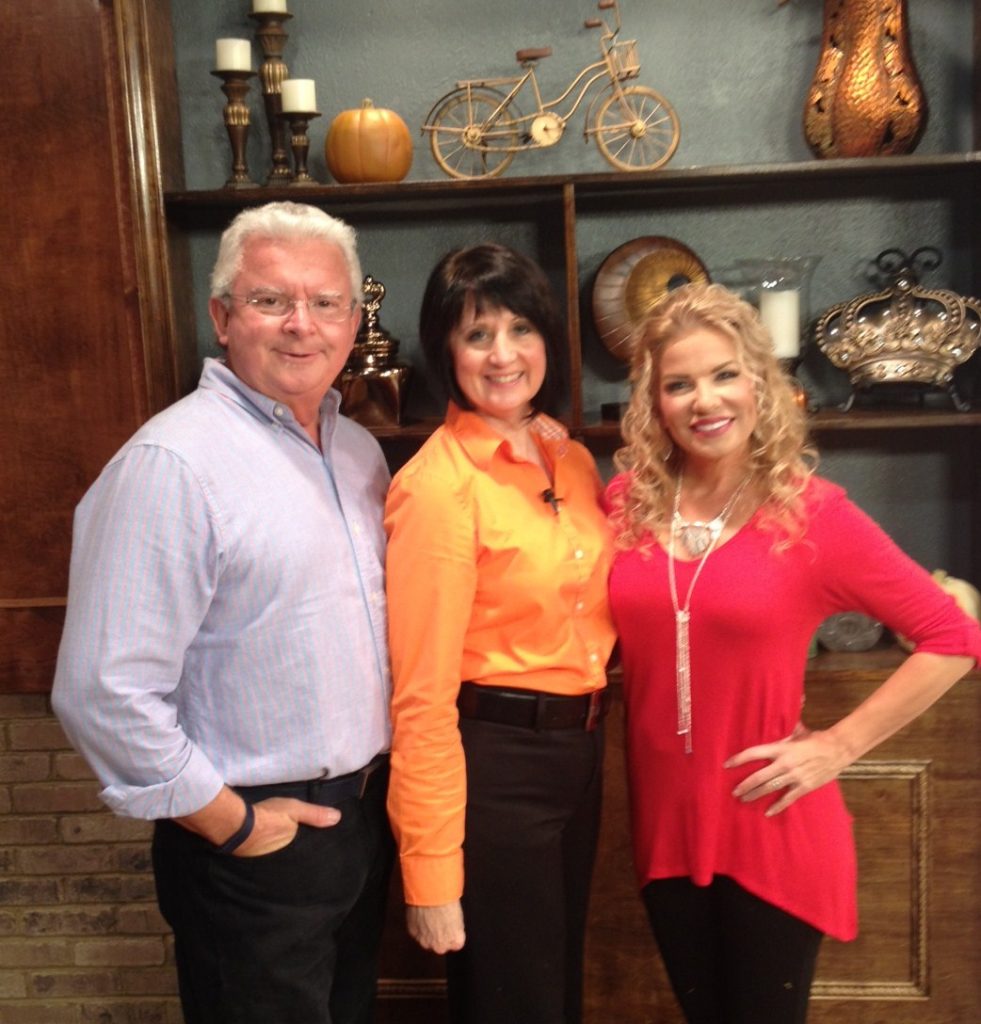 I was so thrilled to be featured in Wayfair .com.  Here are a few highlights.
What's your favorite color for tablecloths in the fall?