Bake a batch of Houndstooth Mini Cakes for an impressive Valentine Dessert!  This recipe features mini dark chocolate cupcakes with truffle filling and black and white houndstooth wafer paper.  Assemble two inch cakes upside down on a white serving platter and attach small rounds of houndstooth wafer  paper with corn syrup.  Decorate the platter  with Raspberry coulis and sour cream string of hearts.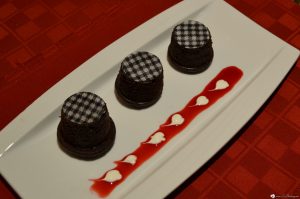 Print
Houndstooth Mini Cakes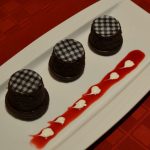 Chocolate 2″ cakes are baked and turned upside down and decorated with black and white houndstooth wafer paper and raspberry sauce with string of sour cream hearts.
Author:

Liz Bushong

Yield:

24 Mini Cakes
Ingredients
1-18.25 ounce package dark chocolate fudge cake mix
1-3ounce package chocolate instant pudding and pie mix-dry
1 1/3 cup water
½ cup vegetable oil
3 large eggs
1-teaspoon vanilla
1 recipe for chocolate ganache for truffle filling:
1 recipe for raspberry sauce
1 recipe for sour cream sauce
2- 8 ½ X 11 inch edible wafer sheets- *
½ cup light corn syrup
Dark Chocolate Truffle Filling 
2/3 cup heavy whipping cream
2 cups mini chocolate morsels
½ teaspoon orange extract
In glass measuring cup pour heavy cream and microwave for 20 seconds until warm, but not boiling.
Add chocolate morsels & orange extract, stir to melt and has smooth consistency.
Place in refrigerator to harden. Once mixture is firm, form into a 1-inch round ball. Refrigerate until ready to place in cupcakes.
Raspberry Sauce:
1 -20 ounce package frozen unsweetened raspberries or strawberries, thawed
4 tablespoons sugar
1 teaspoon lemon juice and orange extract
Sour Cream Sauce:
½ cup sour cream
2 teaspoons water, just enough to thin cream slightly
Instructions
Preheat oven to 350 F. Prepare mini cupcake pan with mini liners or spray 2" mini cake pans with cooking spray.
Combine first 6 ingredients. Beat batter for 2 minutes to blend. Fill plastic zip lock bag with batter, clip end of bag to ¼ – ½ ".
Pipe half the batter into cupcake liners or mini 2" cake pans. Place shaped truffle into batter, then cover truffle with remaining cake batter.
Bake cakes 20-25 minutes. Remove from oven. Let cool completely. You can frost or use wafer sheets for garnish.
Set to Serve: Assemble cakes upside down on a white serving platter of choice. Cut out wafer paper to the size of the mini cakes, Brush cake  bottoms (which are now the tops) lightly with corn syrup. Place the wafer cut outs on top of the cakes.
Place three mini cakes on a serving platter. Beside the cakes drizzle a line of raspberry sauce on to plate. Drop thinned sour cream in dots on the sauce. Take a toothpick and run the pick down the center of the white cream dots to form your string of hearts design.
Notes
Wafer paper comes in several designs and images.
Edible Icing Image & Made Out of Sugar; One Time Use

Found at Cake Decorating Shops or online.   
Some grocery store bakeries also carry Edible wafer paper.