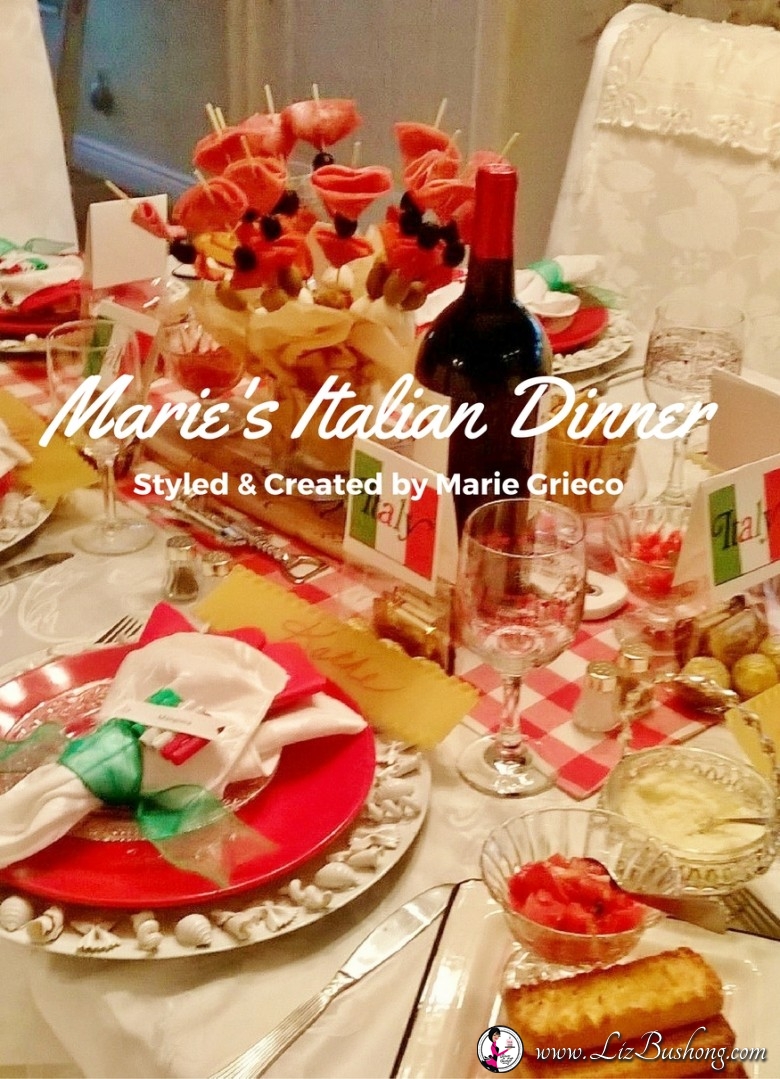 Marie's Italian Dinner Party Ideas
Marie's Italian Dinner Party Ideas were developed and created by Marie Grieco, a dear friend of mine that I met while decorating the White House for Christmas.  She had asked for a few table-scape ideas for her upcoming Italian dinner party so I sent her a few suggestions.  She took those ideas, along with her own and ran with it!!!!  She inspired me so much that I wanted to share what she created with all of you.  Marie is the reason I love to create and share ideas with all of you,  my purpose is to inspire and show you how to  create beautiful and memorable moments entertaining family and friends; to help you Make a Statement, Make it Sassy and Make it Yours!… "Make You Shine".  as Marie says.   She hit this party out of the ball park!  Take a look…
Marie's Italian Dinner Party Ideas will inspire you !
Marie is very creative and is a fabulous cook and caterer, she has in the past few years served celebrities for the Macy's Day Thanksgiving Parade with breakfast, snacks and treats the morning of  the parade as well as many other successful large and small events.    She sent me these photos and the rave reviews she received after the Italian Dinner Party.
Here is what she shared…
"Last night was the dinner party.  Told them all about you and how we share ideas.  There were 4 priests and the church singer.  They took home the lasagna name tags.  Father Stephen wanted to put it on his desk!!! They loved the ziti flags and asked me how I made the charger plates.  I said I like to keep busy when I watch tv.  Some people knit or crochet, I glue pasta on plates!   The homemade manicotti was a huge hit along with the ravioli.  We had to pace ourselves between the 4 courses.  I should have taken a picture of the desserts but was too busy and didn't think about it. We played games and one priest was the judge and kept score.  They all went home with prizes. Starbucks frappacino,  Italian imported cookies and imported balsamic vinegar. Thank you sooooo much for once again making me shine!"
This makes me so excited to know that she loved the ideas and implemented them into her party.  While we didn't share recipes we are sharing table-scape ideas.  Maybe  she will share her menu with us down the road, but  take a look at the details of her  festive colorful Italian table.
Marie's  Italian Dinner Party Ideas| Pasta in Play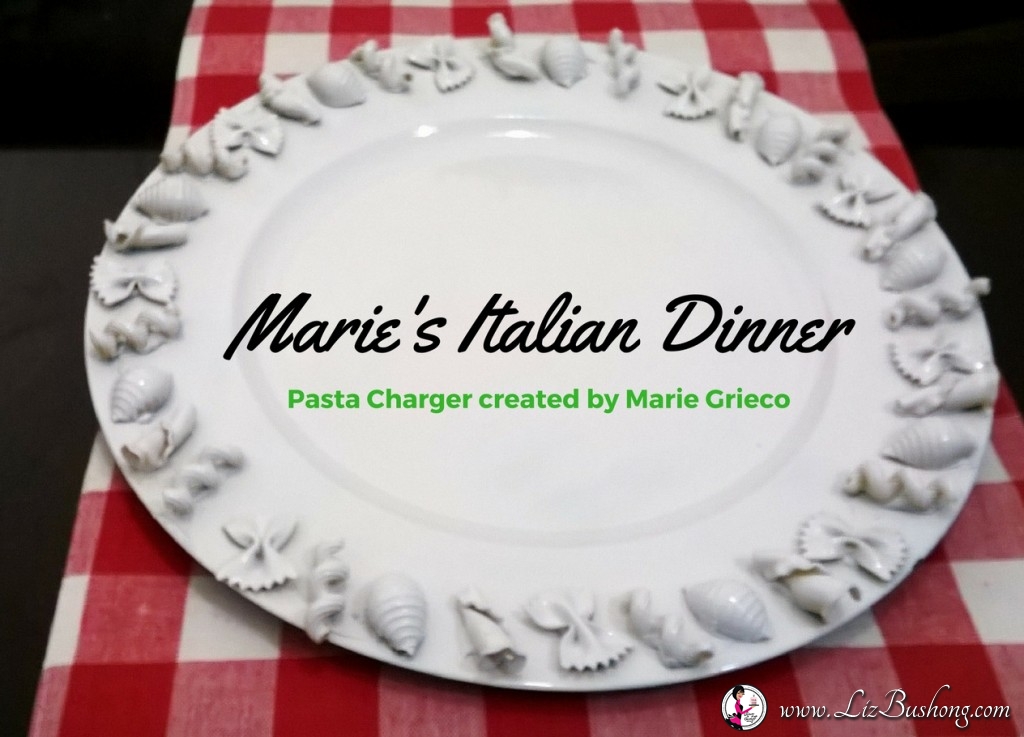 Marie took regular chargers and raw various shaped small pasta to hot glue to the rim of the chargers then spray painted the entire plate with glossy white spray paint. It looks fabulous!  Why do we use chargers for a table setting?  Chargers frame the dinner plate and add a touch of elegance to every setting and to the meal itself.  The charger is not removed during the dinner, only the dinner plate and other plates are removed or added during the course of the meal, so guests can enjoy as well as protecting the table and covering.
Notice the red and white large checked table runner, perfect for the Italian colors of red, white and green.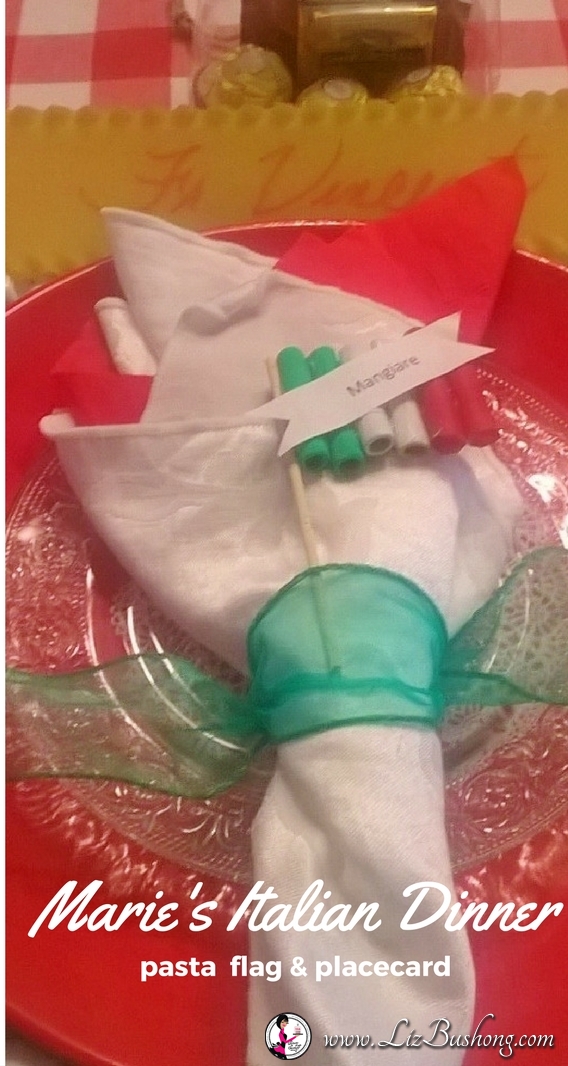 Next she used a raw piece of lasagna as the place card holder.   Playing with pasta is fun and check out the Italian flag she made with the painted rigatoni in the green, white and red Italian flag colors.   Here is a brief primer on pasta types and shapes.   Her napkins are red and white with the red napkin placed inside the white.  A pretty green sheer ribbon cinches the center of the casual bouquet napkin fold.
Ok.. did you see the word Mangiare written on banner of the flag?  If you are not Italian it means  "to Eat" or  "Dinner is Served". There are other variants such as mangiamo, which means  "Let's Eat", or mangia tutti which means  "Everybody Eat".    This was was just perfection.   ( I am not Italian so I had to look up the meaning.  I did have an Italian aunt who has  recently moved to heaven, although I didn't get any of her recipes.. so disappointing).   WE love Italian food as I am sure you all do too.
Marie's Italian Dinner Party Ideas|Antipasto Centerpiece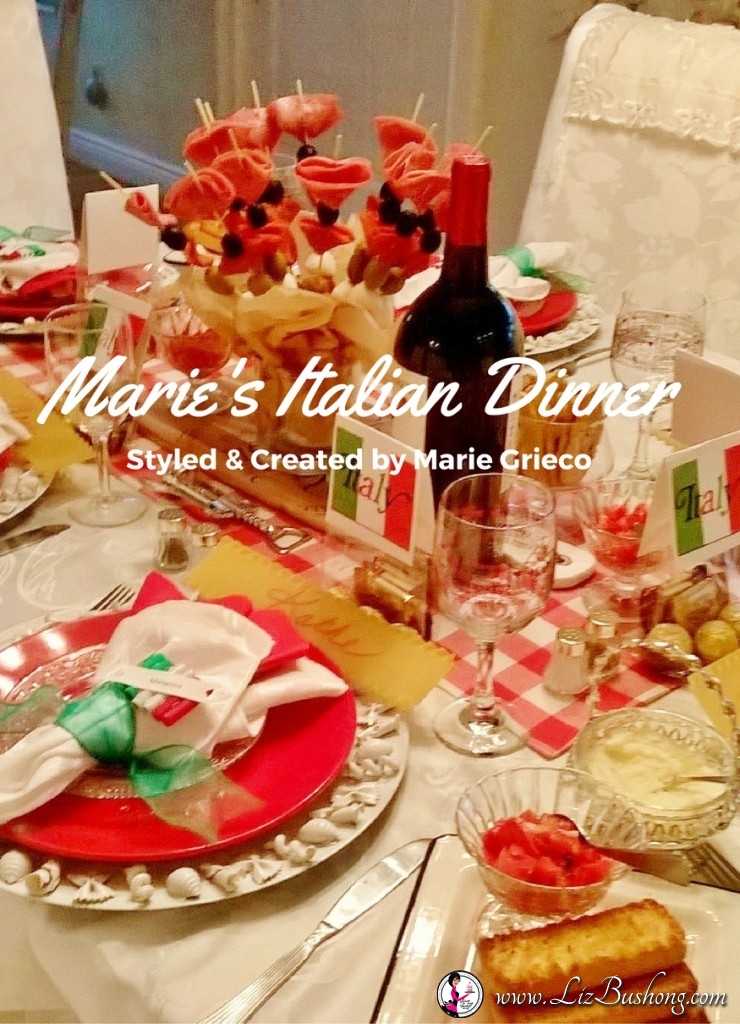 The centerpiece is made with parchment paper stuffed into a glass to anchor the antipasto skewers. The antipasto on the skewer was Genoa salami, followed by a pitted black olive, then slice of pepperoni, a green olive, mozzarella ball  and cherry tomato.
I love how the centerpiece is compact, colorful, in theme and edible!  Guests are curious about eating the centerpiece.  Great idea Marie!!!
Marie's  Italian Dinner Party Ideas| Place-setting Details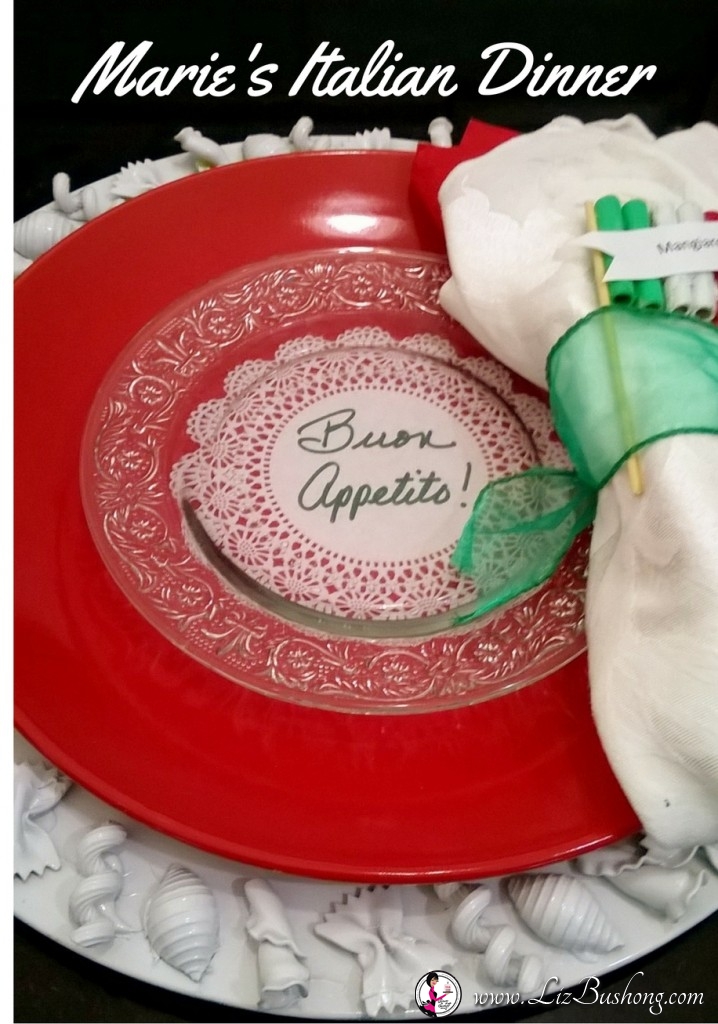 The center of the glass salad plate has a printed paper doily on top of one glass plate with another glass plate over the top of the doily so you can read the message, Buon Appetito!    " Enjoy your Meal".   I am sure they did.. This is so inviting.  Did you know red stimulates the appetite?  Those Italians know!!!
Marie said this was a 4 course meal.   Here is  a sample of her colorful dishes.  The Balsamic Caprese Salad. Sliced mozzarella, fresh basil and sliced red ripe garden tomatoes drizzled with a rich dark balsamic vinegar.  Oh my goodness!!!!  I want some right now!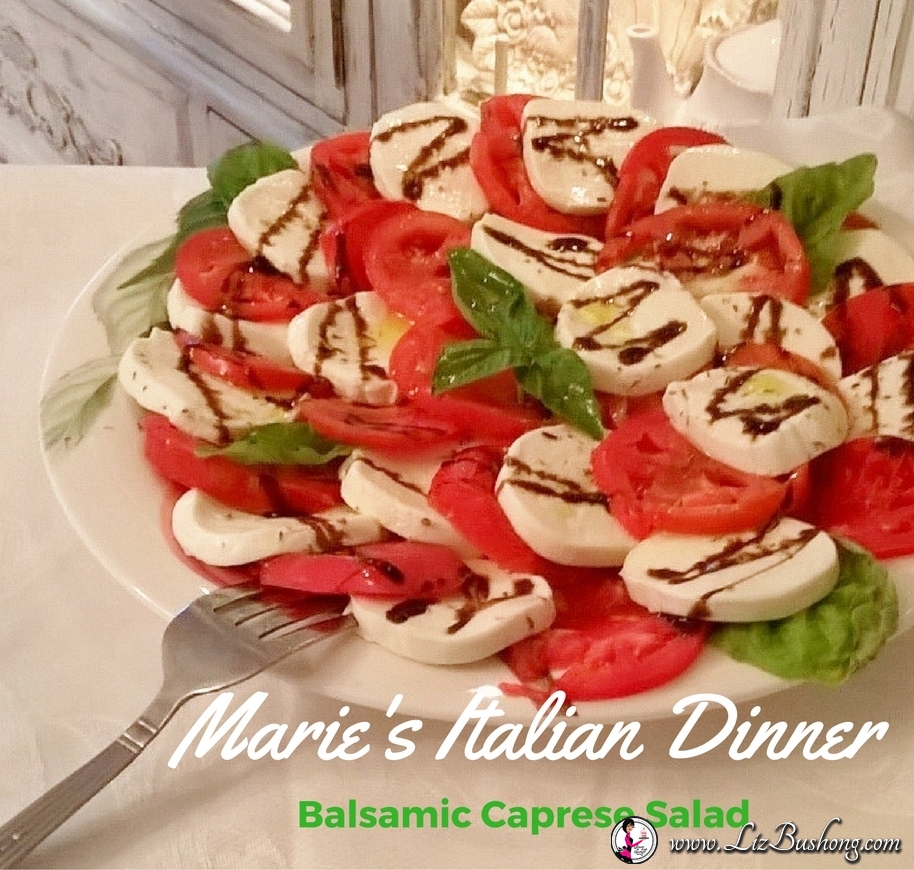 Here is the take home favor!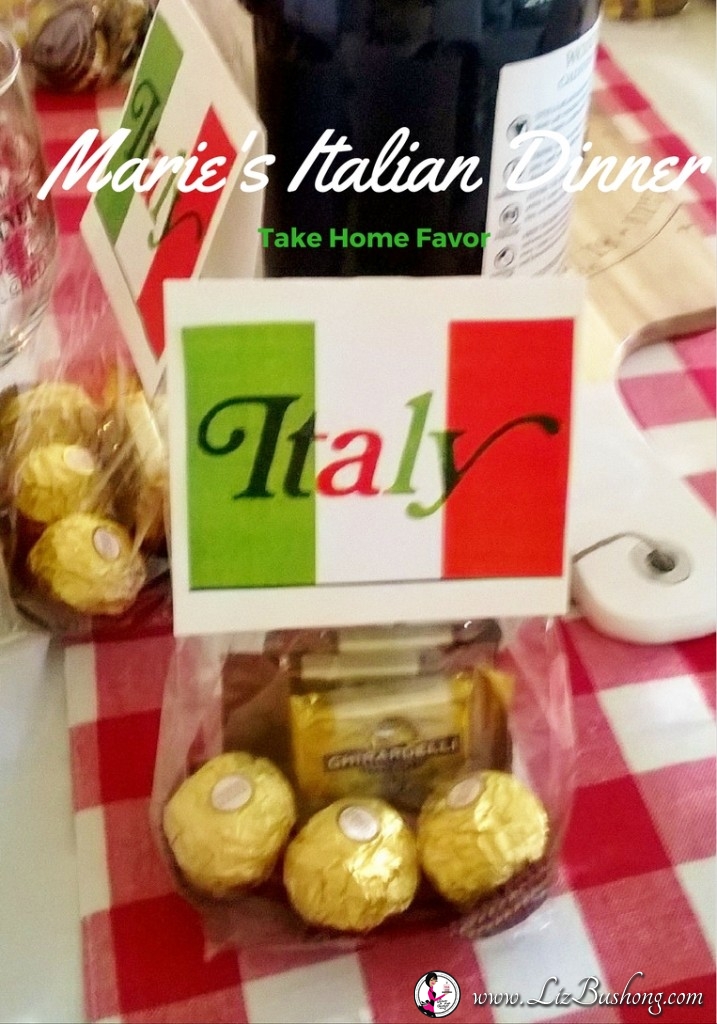 What a lovely dinner party with friends!  Marie said …"They all went home with prizes. Starbucks frappuccino, Italian imported cookies and imported balsamic vinegar."   A perfect ending to memorable gathering with friends!
As a side note,  I know Marie makes over 70+ gift packages with goodies for every major holiday for her friends and neighbors.  She is a rare treasure and has a heart of gold!  So Grateful we are friends!
Thank you Marie for sharing your dinner with us.  We feel like we were right there with you!
 Helping you Make a Statement, Make it Sassy and Make it Yours! …
"Make you Shine!"  
Liz