Lemon Marshmallow Easter Hat Cake Recipe
Celebrate Easter with this lemon creme and marshmallow filled cake fashioned  like a Spring time Straw Hat.   The  12 inch round cake is layered with lemon pastry creme with  a hollowed cake "crown " filled with marshmallow, cream cheese and whipped cream .   The cake is frosted with lemon frosting. A dot and drag icing technique decorates the sides of the "brim" of the cake while a few purple pansies sit pretty around the "crown"  along the lavender ribbon band and bow. You can make this too and just in time for Easter Dinner.Lemon Marshmallow Easter Hat Cake can be made ahead and you will want to make it ahead.  There are several successful techniques that you should follow and that requires freezing time.  This cake had been on my mind for awhile and thought Easter would be the perfect time to dress it up like a hat.  I couldn't decide if I wanted to use edible pansies or the faux ones and I also wasn't sure about how the crown being hollowed out and filled with marshmallow creme.  I would have to order the pansies and then the only ones I saw had a mix of colors.  My color plan was solid purple with a bit of white and yellow centers since my frosting and cake was lemon.  A light yellow and deep purple are so pretty together and that was the goal of the cake.
Next decision, was the size of the cake, do I make the cake fit my 10″ cake stand or do I want to make it larger and find another way to present it.  I had the 10″ and 12″ cake pans as well as the ball pan to make the crown. The challenge with the smaller cake I would need to have a smaller crown.  I could have baked less cake in the half ball cake pan for a smaller crown, but the dimension was off when placed on the 10″ round cake.  The decision was determined when I saw how the 10″round was really just too small.
Yeah! we have a winning combination, the 12″ round cake pan with the half ball pan.  Knowing that the 12 inch cake would make several servings I decided to only make one layer of the cake and split it horizontally to fill.  That way my cake or brim of the hat would be 2″ and not the standard 4″.
Next decision, what kind of filling should I make or use?  I decided to purchase lemon pastry creme instead of making it or using lemon curd.  I wanted to make this an easy cake to bake and focus on the decorating so everyone could make this cute little cake.   This lemon filling yields 3 cups of filling and will not soak into the cake.  After opening the packet make sure you refrigerate, it will last for 3-6 months.   I also decided to use canned Lemon Frosting.   It was the perfect consistency for the dot and drag icing technique too.
Lemon Marshmallow Hat Cake|Baking Cakes
Prepare cake recipe,  I used two boxes of Lemon Cake Mix for one 12″ round cake, one half ball round cake and 12 cup cakes.
Tip:  Use solid shortening to grease and flour the half ball round cake pan , makes it a dream to come out of the cake.  You can use parchment paper for the 12 inch round and cooking spray or grease and flour, whatever you prefer. 
At this point, wrap both cakes separately and place in freezer for about an hour.  This will make the cakes easier to slice.
Tip:  To slice a horizontal layer  use a serrated paring knife,  position point of knife into middle of  cake, and make or score a line around the outside of the  entire cake as a guide for cutting.  Then insert the blade of your knife into the cut and slowly cut horizontally with a saw type motion through the center  of the cake to make two layers.  This is easy to do when the cake is frozen.  You will not have a lot of excess crumbs with this method.
Tip 2: Use two cardboard cake circles to invert cakes from cooling rack after you cut the cakes.  One on the top of cake and after turning over the other board on the bottom.  Wrap the cake layers and freeze again for 15 minutes.. makes filling a breeze.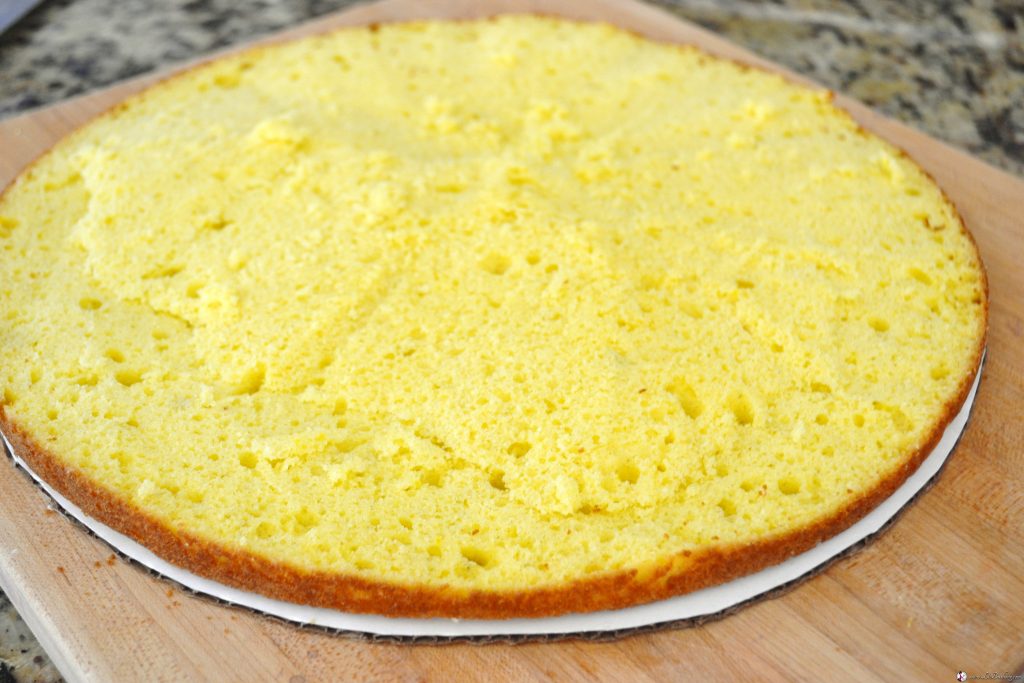 You can see in the photo that the cake has excess cake in the center.. Its ok if this happens, just trim the excess and save it for a lemon creme trifle.
Lemon Marshmallow Hat Cake|Filling Cakes
Using a pastry bag or zip-lock bag fill with lemon frosting.  No need for a tip, just cut off end of bag and pipe a large band of frosting around the outer edge of the cake.
Tip:  The frosting band keeps the lemon filling from spreading once the top layer is positioned.  Also note that the frosting band is not all the way to the edge of the cake.  This also keeps the frosting band from oozing out the layers of the cake. 
At this point take the cardboard cake round and press on the top of the cake to compress it gently and place in refrigerator to set.
Tip:  Refrigerating the cake will make it easier to frost with no crumb coating.  
To fill the crown of the cake with marshmallow, cream cheese and whipped cream, blend that mixture together and refrigerate until ready to fill the cake.
To fill the cake,  use a large round cookie cutter and serrated knife to hollow out the cake making sure you leave a 1″ edge around the cake and don't go too deep inside the cake.   Keep a thin slice of cake to use as a cover once the cake is filled with marshmallow cream. Place the cream mixture in a disposable pastry bag or zip lock and pipe the cream mixture 3/4 full.  Leave enough space on the top of the cream to add back a thin layer of cake that was removed.   Wrap and freeze this little cake until ready to frost.
Lemon Marshmallow Hat Cake|Frosting & Decorating Cakes
Using the canned lemon frosting  and flat spatula frost the base of cake.  Frost half round cake separately and add to the base of the cake, positioning in center of 12 inch cake.  Now you have a hat with brim and crown.
Tip:  To make the drop and drag technique- place lemon frosting in a pastry bag fitted with a large round tip #12.  If you don't have a tip, no worries, just cut off end of piping bag and pipe a full dot of frosting as shown in the photo.  Then using a flat edge spatula, place the side of the spatula into the center of the frosting dot and drag it to the right, with out lifting the spatula. easy as pie.. or should I say.. its a piece of cake! 
Decorate the cake with a lavender ribbon as a band and make a pretty bow, you can attach with frosting right before serving cake, add faux cleaned and dried pansies.  or add the edible flowers of choice.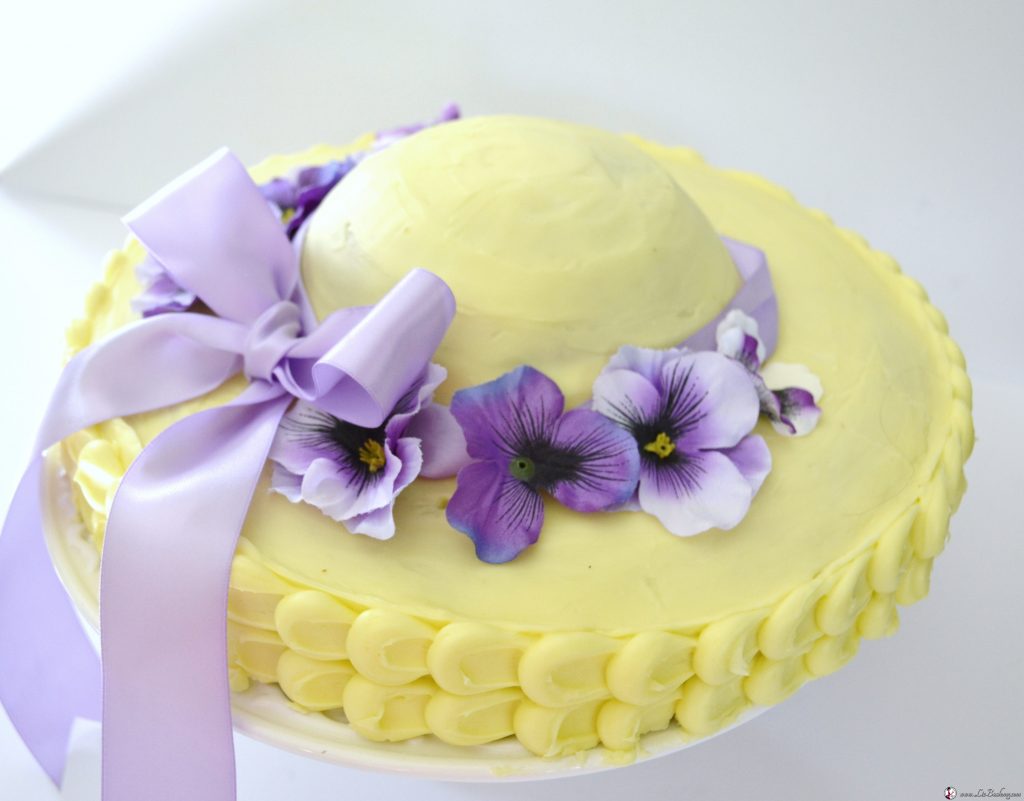 Guess you would like the recipe?
Tip:  Use a firm cake to make this hat, the consistency as a pound cake.  Also use a cardboard cake round on the bottom, no need to use dowel rod or straws for the crown cake.  Keep cake refrigerated until ready to serve.  It is delicious and my own creation!  
Lemon Marshmallow Easter Hat Cake Recipe
Freezing the cakes before slicing, filling and frosting will make this cake easy to create.
Ingredients
1-18.25 ounce package lemon cake mix
1-3 ounce package lemon instant pudding/pie mix-dry
1 1/3 cups water
½ cup vegetable oil
3 eggs
1 teaspoon lemon extract
2 cups lemon pastry filling*
1-7-ounce marshmallow crème
1-4 ounce package
1 cup heavy whipping cream-whipped
4 tablespoons confectioner's sugar
1 teaspoon crème bouquet extract or vanilla
3-cans Lemon Frosting or 3 cups buttercream lemon frosting
Instructions
Preheat oven to 350.
Lightly spray with cooking spray 12-inch round and half- round baking pan.
Sprinkle half round pan with flour to coat pan.
Line bottom of 12-inch pan with parchment paper, lightly spray with cooking spray. Set aside.
In large mixing bowl, combine cake mix, pudding mix, water, oil, eggs and extract.
Beat on medium speed 2 minutes.
Divide batter between the two pans and fill half full.
Bake 12-inch cake for 25 minutes and half round 15-18 minutes.
Remove cakes from oven to cool 5 minutes, invert cakes onto cooling rack.
Wrap cakes in plastic wrap and freeze for one hour.
Meanwhile, whip heavy cream, confectioner's sugar and extract to firm peaks.
Place whipped cream in separate bowl.
Whip marshmallow crème and cream cheese together in mixing bowl until smooth.
Add whipped cream and cheese mixture until combined. Set aside.
Hat Assembly:
Remove cakes from freezer and cut 12-inch cake in half making two layers.
Leaving a one-inch edge around the half round cake cut a center well for marshmallow filling. Save top slice of the center cake to replace over the crème.
Fill well with marshmallow cream cheese mixture, plug opening with reserved cake pieces. Place in freezer to firm while preparing 12-inch layer.
Separate 12-inch layer in half horizontally.
Place bottom half of cake on 10 or 12 inch cake board,.
In piping bag with or without a tip, fill with lemon frosting.
Pipe a wall around the outer edge of cake.
With lemon pastry filling, fill cake top inside the wall of lemon frosting.
Top with remaining cake half.
Place in refrigerator to firm for 25 minutes.
Frost top and sides of 12-inch layered cake with lemon frosting.
Frost half round cake with frosting before adding to base cake.
Place filled half round cake in center of 12-inch cake to resemble a hat.
Add additional frosting around brim to fill in any gaps.
Tie decorative ribbon around the base of the crown of cake as a band and bow.
Attach edible flowers or clean faux flowers or pipe buttercream flowers to decorate.
http://serveitupsassy.com- http://lizbushong.com
This cake was featured on WSLS- Daytime Blue-Ridge, Roanoke, Virginia.