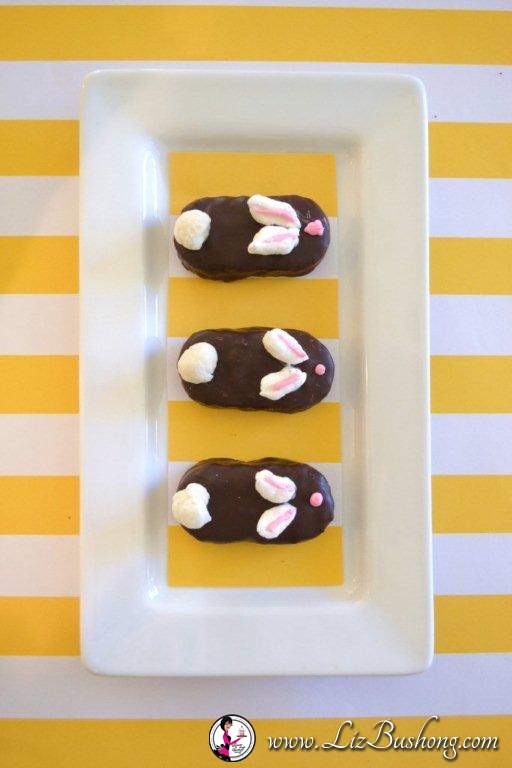 Mini Mound's Bar Bunnies
Mini  Mound's Bar Bunnies are made from mini Mounds Candy bars decorated like a bunny with marshmallow ears and pink frosting nose. Cute at each place setting on your Easter table, in the Easter basket, on a decorative plate for a Sunday brunch.  
Mini Mound's Bar Bunnies
Dark chocolate coconut Mound's bar is the base of this cute little bunny, adding ears, nose and tail using mini marshmallows and pink frosting add the details.  Make your Easter place settings pretty with this special bunny treat.  Takes seconds to make so make extra.  Your guests will want more than one!  Enjoy!
Mini Mounds Bunnies are quick and easy to create for individual place settings, Easter baskets, or as a garnish for cupcakes.
Information about decorating for Easter and recipes www.serveitupsassy.com.
Ingredients
10 mini mounds bar candies
½ cup vanilla frosting-divided
Pink food coloring
20 mini marshmallows
Instructions
Unwrap mounds bars and place on serving platter.
For Bunny ears and nose, mix ¼ cup vanilla frosting with small amount of pink food coloring, stir to desired pink color. Cut 10 mini marshmallows in half and form into a bunny ear. Roll 10 marshmallows into a ball for the tail. Place pink and vanilla frosting into two separate piping bags fitted with small tip 5. Use white frosting to pipe dot for ears and tail. Position marshmallow ears and tail in position. Using pink frosting dot for nose and line inside marshmallow ear for the inner lining of the ear.
http://serveitupsassy.com- http://lizbushong.com
JJ is my real live bunny rabbit.  He is about 3 years old and loves to help me around the house.  He thinks he is in a flower garden with this decorative tulip wreath.  No worries, I made sure he didn't eat any of these faux tulips.
If you would like to see more about this bunny treat and more Easter Ideas be sure to check out the link attached.  This was featured in VIP SEEN magazine along with more easy dessert ideas for Easter.
Bunny Tales, Tulips and Treats article feature the Mini Mound's Bar Bunnies and other Easter tablescape ideas.  http://serveitupsassy.com/category/multi-media/publications/
Recipe Development, Food Styling, Photography and Article by Liz Bushong