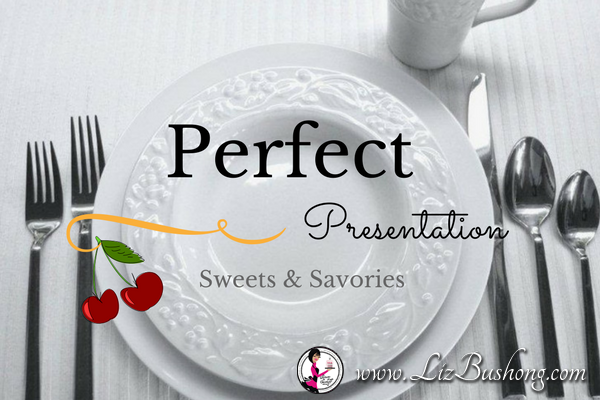 Perfect Presentation Sweets & Savories
Creating food for teas, showers, or other important celebrations have two things in common guests like bite size pieces and a pretty presentation!  Pleasing the eye and the palate are twin companions when serving sweets or savory menu items.  Simple garnishes can add both flavor and beauty to each cup of soup or a tiny tea cake. Here are a few Sweet & Savory Ideas to make every plate a Perfect Presentation.Savory garnishes include vegetables and herbs, like cherry tomatoes, cucumber curls, carrot roses, radish slices, to chive stems, dill, basil leaves and parsley springs.These garnishes will add flavor, texture and color.  I like to use herbs or vegetable garnishes that are in the recipe so guests will know before they take a bite, that vegetable or herb is in the dish.
Tips for Garnishes|Savories
*Select fresh and unblemished raw herb leaves or cut vegetables into cut out shapes     or slices.
*Match the herb or vegetable to the flavor of the dish.
*Use bright garnish to perk up a light colored food, like Chicken Matzo Ball Soup         paired with green chive or green onion stems.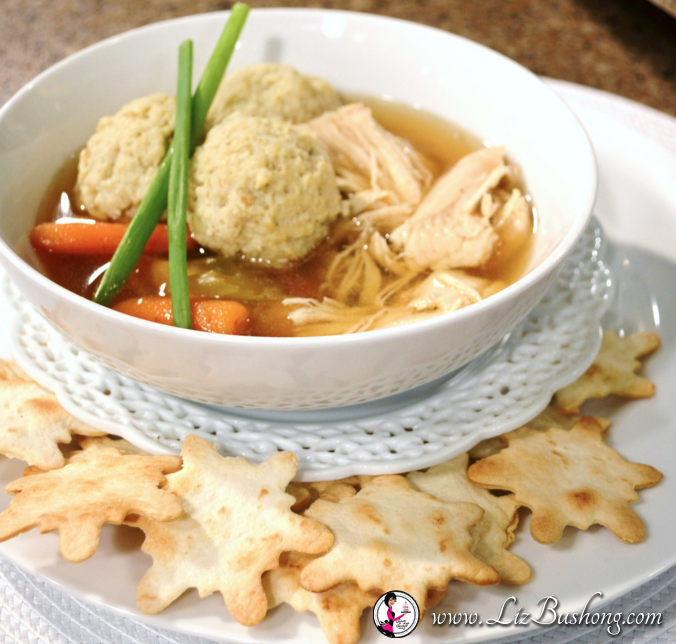 Ingredients in the soup are left whole instead of being diced into small pieces to create more interest and texture to the dish.  Large matzo balls are cooked separately in chicken broth so that they keep their shape for the presentation. 
*Accent a soft textured food with a crisp garnish, like Boursin cheese with grapes or vegetable sticks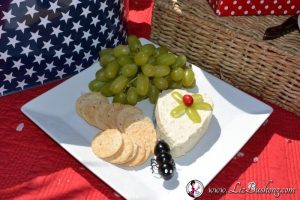 *Garnishes should enhance not overshadow or hide the foods beauty and flavor.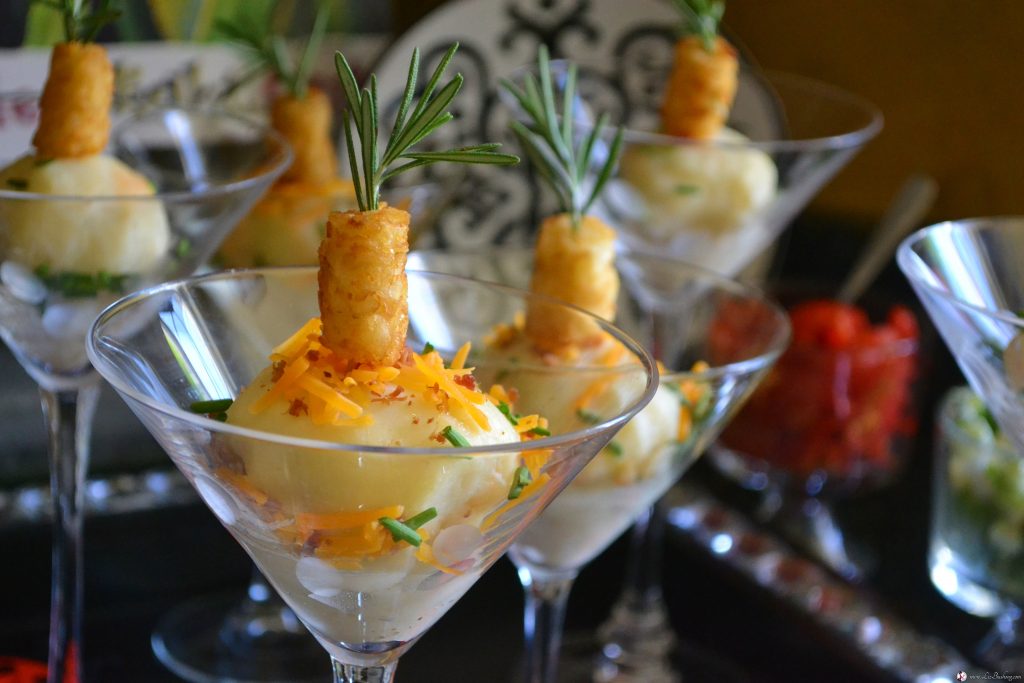 Garnish for these mash potatoes are baked Tater-Tot with fresh rosemary sprig as the skewer.  Diced chives add the green touch on top of the cheddar cheese and bacon bits. 
* Use citrus like lemon slices, orange wedges and limes to garnish beverages.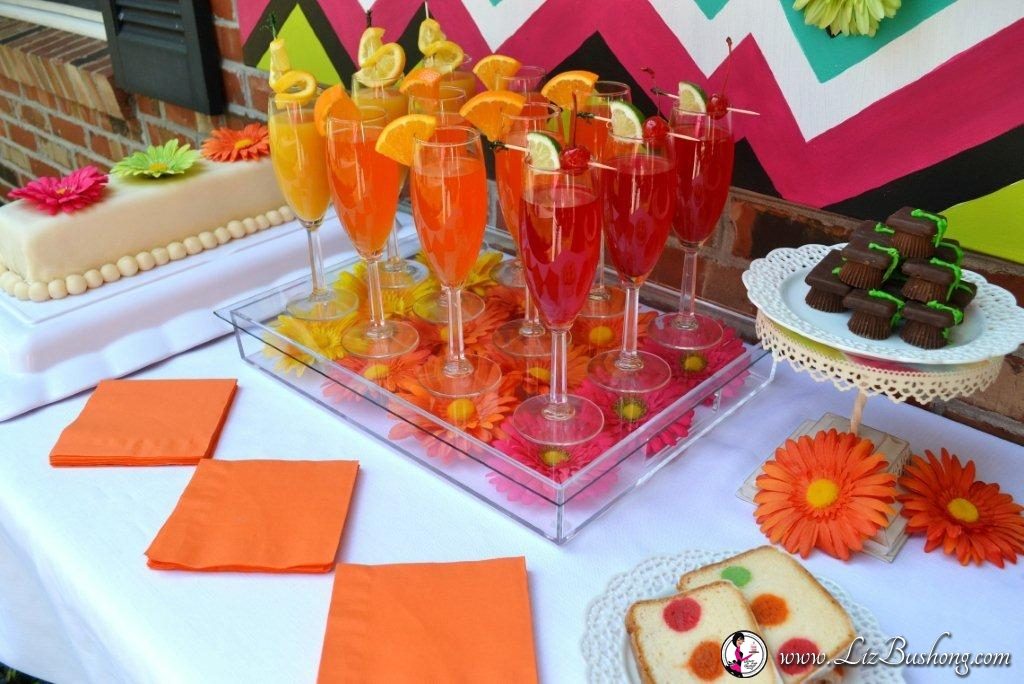 These beverages are colored coded using the garnish as a clue to the flavor of the drink as well as coordinates with the Gerber Daisy in the acrylic tray.   Lemon for lemonade, Orange for orange juice, Cherry with Lime for cherry juice.
* Make sure your knives are sharp when cutting citrus, fruits and vegetables.
* Pickles and black olives on a  frilly toothpick or skewer makes a pretty garnish for sandwiches.  Not only does the pickle and olive add flavor and color it alerts the guest that it is held together with a pick of some kind.  
Bread provides the pocket for the filling and roast beef that is garnished with fresh arugula and diced tomatoes. This is a pretty presentation in one. 
Tips for Garnishes|Sweets
When embellishing a cake or sweet little tart this is the time to shine with garnishes. Easy and simple berries and herbs will be used the most for sweets.  Consider what is in season, mint or lavender and seasonal fruits like strawberries, blueberries, raspberries, kiwi, apple wedges, lemon, lime  any kind of citrus peel or grated into a zest.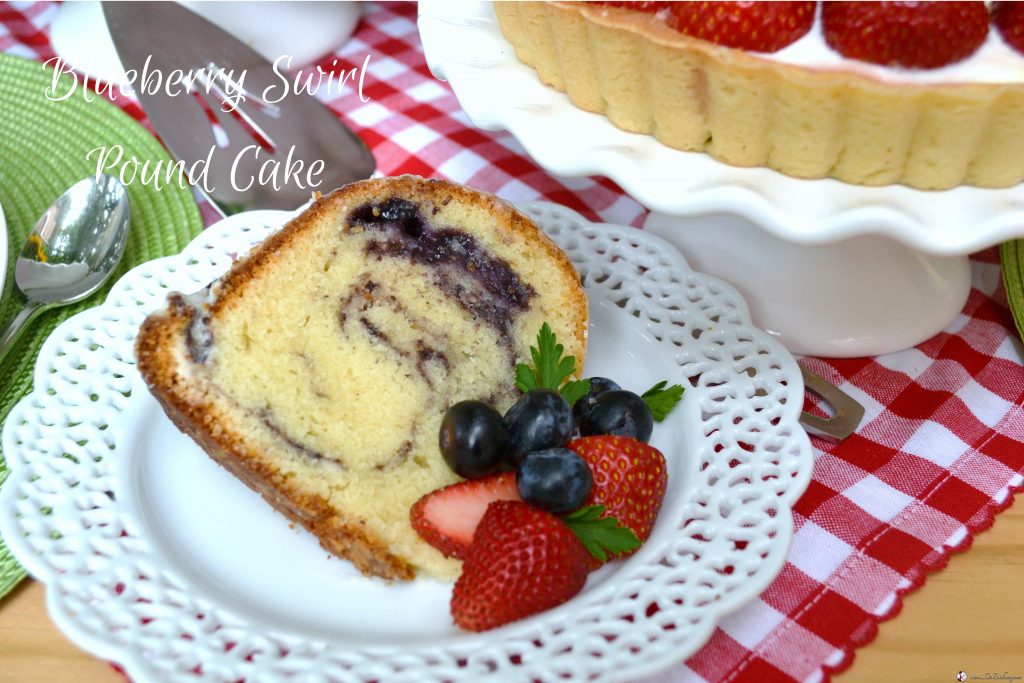 Nutmeg and Cinnamon for ground garnishes and even ice cream.
Garnishing Desserts are fun and always festive.  Don't forget chocolate shavings, mini morsels, white chocolate even little chocolate baskets filled with custard and edible flowers like pansies, nasturtiums, violets. There are many more edible flowers to choose from and places to order online. Not all flowers are edible, so be careful to select edibles from organic farms or specialty shops.  If you can't find edible flowers use buttercream frosting to make your own for cake or dessert garnishes.
Tips for Garnishes|Sweets Continued
* Clean fresh unblemished fruit with vinegar water but do not soak.
* Keep fruit garnishes fresh, wrap them in plastic wrap and store them in the refrigerator.  When working with apples or other fruits that darken when cut, brush the cute fruit with lemon juice before wrapping and refrigerating.
*Place garnishes that need to dry or firm up in a cool dry place for several hours or overnight.
* Ice water will add extra- crispness to cut vegetables, but do not soak overnight. After crisping for about an hour, drain water and ice, pat dry and wrap in plastic wrap then refrigerate.
Think about what your menu will look like and then think about how to garnish. Everyone will love your attention to details and appreciate how lovely everything looks.
If you would like more about garnishing and how to create some simple looks, leave a comment below.  I could do a post with techniques sometime.
Enjoy!
xo