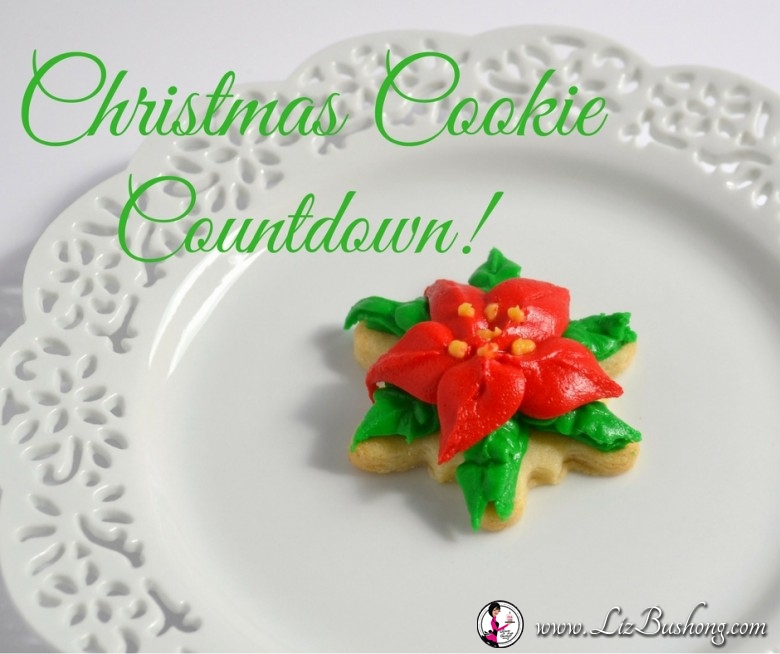 Poinsettia Cookies Recipe
Poinsettia Cookies are cut-out butter cookies that are baked and cooled then decorated  like a poinsettia using red, green and yellow buttercream frosting. The Poinsettia Cookies are the first cookies in the Christmas Cookie Countdown. We will be baking together in advance, like 15 weeks ahead to get a jump start on Holiday Baking.  All of the recipes I will be sharing are recipes that can be made-a-head and frozen undecorated.  This baking series include roll out, shaped, pressed and slice and baked cookies.  We will add a few surprises to make your holiday cookie trays present well and taste delicious!  Get ready our first cookie of this series is the Poinsettia Cookie! 
Poinsettia Cookie Recipe|Butter Cookie
For this cookie, you will need a great butter cookie recipe that will not spread during baking.  Here is my favorite butter cookie recipe http://serveitupsassy.com/red-high-heel-cookie-recipes/.  I used a small snowflake cookie cutter, but you can use a larger cutter for a larger cookie.  The snowflake cutter has a similar shape as a poinsettia.
Successful Tips| Butter Cookie Ingredients
To make great cookies, use good ingredients such as real butter and not margarine for this recipe.  Also flavor the cookie with creme bouquet extract. It is a concentrated flavor that tastes like lemon, orange and almond all mixed together.  Locally you can purchase the extract at The Gazebo . Mix the dough gently until it barely forms a ball in the mixer, then shape the dough with your hands and wrap in plastic wrap.  Chill the dough for 15-30 minutes before rolling out.  You can roll the dough between two sheets of parchment paper, place on a baking sheet then chill dough before cutting out shapes.  If you have room in your refrigerator to do that technique it does safe time, but it is optional.
This butter cookie recipe will not spread during baking.  Whatever shape you cut out of the dough, that will be the shape after it bakes.   You will love this recipe!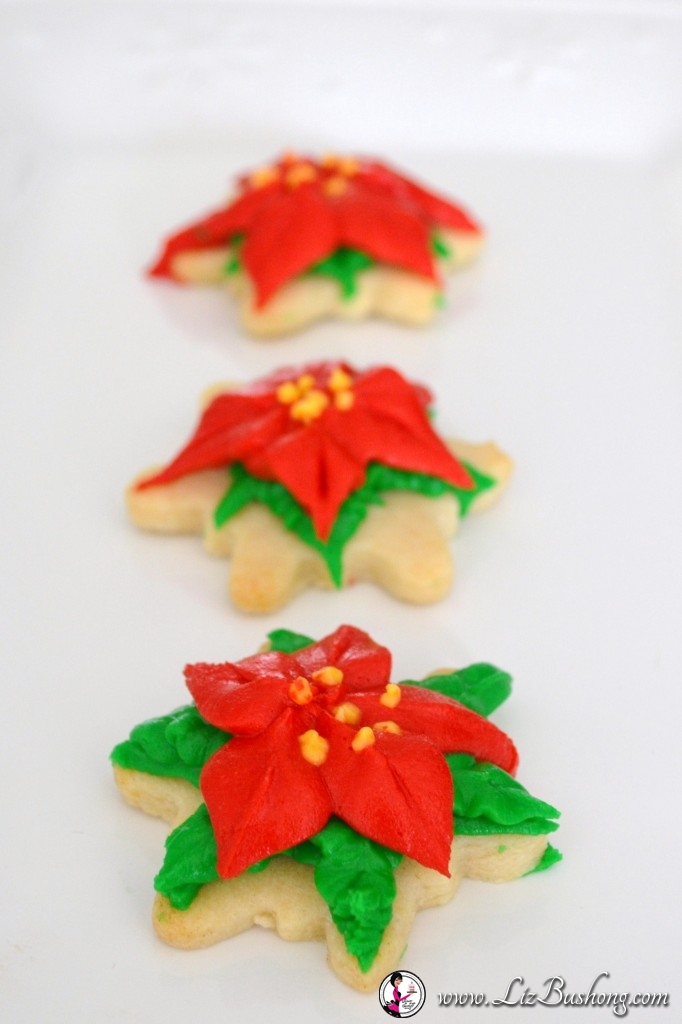 Poinsettia Cookie Recipe|Frosting
The cookie is frosted with buttercream frosting and decorated like a poinsettia.  I like mini cookies because you can eat more and they are really cute on a cookie tray.  Also these cookies are quick to decorate.  You make-a-head the frosting so the color will saturate and you can store the frosting in disposable decorating bags with the tips in a zip lock bag a few days before you serve the cookies.
The Poinsettia Cookie Recipe was adapted from crouton crackerjack's.  He used a larger cookie and more frosting leaf layers to create a beautiful cookie.  Thank you crouton crackerjack for this inspirational cookie.  They are so much fun to make.
I made the cookie dough and baked the cookies, then froze them.  The baked cookies can be frozen up to 3 months, just be sure to wrap in zip lock baggies and lay flat in the freezer.  Don't forget they are in the freezer and put a gallon of ice cream on top of them, LOL.. You might want to designate one shelf in your freezer for your baked goodies.  Be sure to tell your family not to put things on top of that shelf.  ha ha
Here is the buttercream frosting recipe and instructions on how to decorate the cookies.  I will have a video for you soon from Daytime Tri-Cities demonstrating how to decorate these cookies.
Poinsettia Cookies Recipe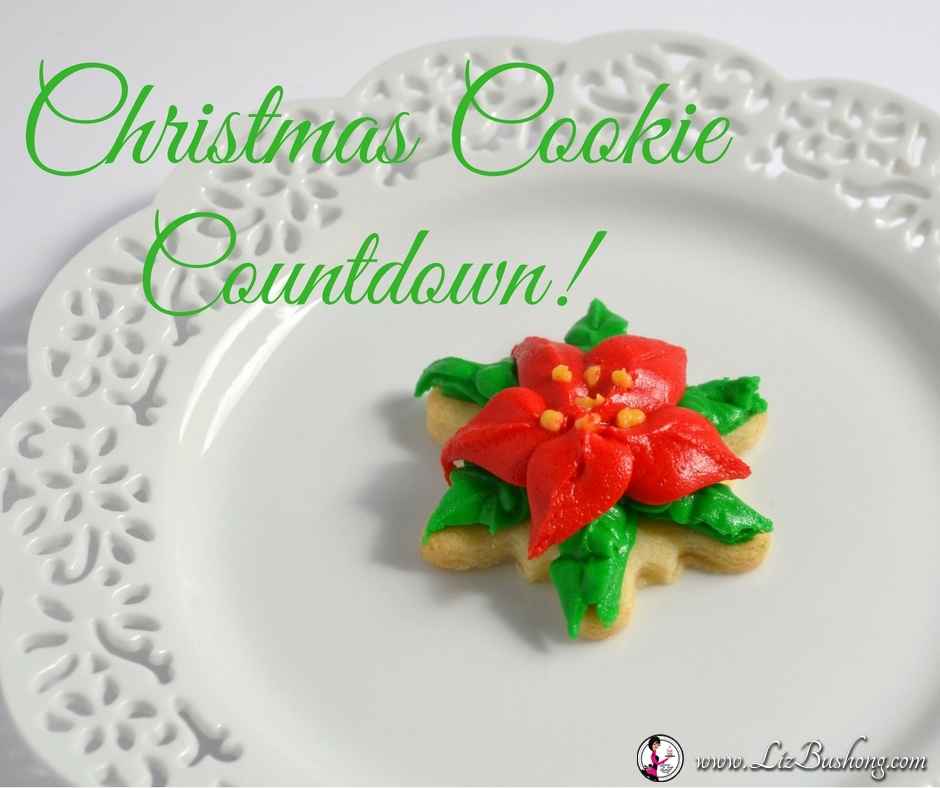 The butter cookie recipe, link above, will not spread during baking. The size you cut out will be the size you get. You can bake these cookies ahead and freeze up to 3 months undecorated. Enjoy!
Ingredients
24 small baked cut out butter cookies- snowflake cutter
Butter cookie recipe- http://serveitupsassy.com/red-high-heel-cookie-recipes/
2 cups butter cream frosting- Americolor -gel color
Decorating leaf tip- large #366 for poinsettia leaves- small #352 green leaves
Butter Cream Frosting Recipe
1/4 cup butter- softened
1/4 cup vegetable shortening
1 tablespoon half and half
1 teaspoon crème bouquet extract
2 cups confectioner's sugar
Americolor, Lemon Yellow- 1 -2 drops
Americolor, Leaf Green- 2-3 drops
Americolor- soft pink 3 drops first, then add 3-5 drops of Super Red
Instructions
Cream together the butter and vegetable shortening.
Add in half & half, crème bouquet and ¼ cup powdered sugar.
Beat until creamy add remaining confectioner's sugar
Separate frosting into three bowls with ¼ cup frosting tinted yellow, divide the remaining frosting in half, tint one half with leaf green and the other half with soft pink and super red.
Stir to combine.
Cover frosting bowls with plastic wrap and allow to rest at room temperature over night to deepen the colors.
To Decorate:
Fill red frosting in disposable decorating bag fitted with large leaf tip # 366.
Fill green frosting in disposable decorating bag fitted with small leaf tip #352.
Fill yellow frosting in disposable decorating bag with small clip off end of bag, no tip necessary.
Pipe green frosting on long points of snowflake cookie, pipe red frosting over remaining points forming 5 long poinsettia leaves, add yellow dots to center of cookie for the stamens
http://serveitupsassy.com- http://lizbushong.com
Tune in to Daytime Tri-Cites on Thursday September 8th on WJHL TV 11 to see how to create these cookies.  Video will be posted after the segment.
Be sure to join us for our baking series.