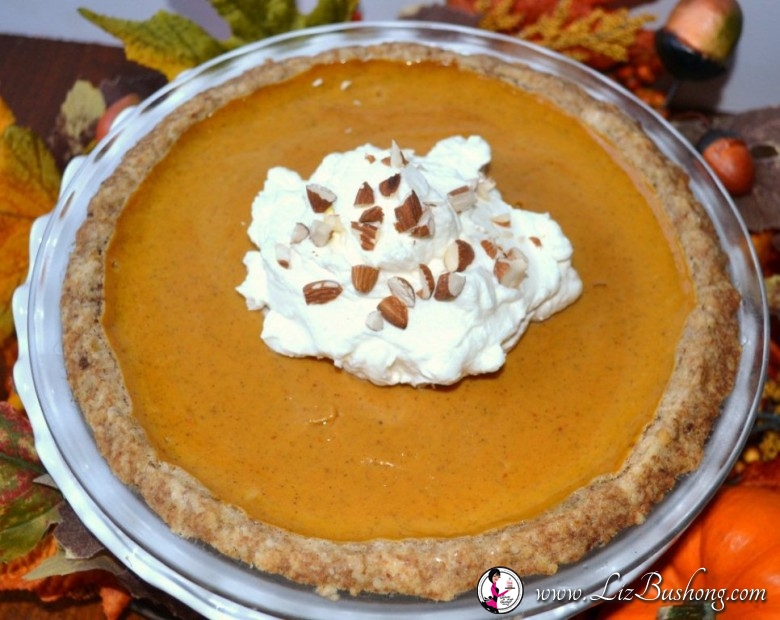 Pumpkin Pie with Spice Nut Crust |Recipe
Pumpkin pie with spice nut crust recipe is made with pecans & butter with a rich creamy pumpkin filling with ground cinnamon, ginger and allspice. The secret ingredient with this pie is Sweetened Condensed milk instead of evaporated milk.  Baked until golden brown, the pie performs beautifully with no cracks or separation from the crust!  YUM!!!  
With all the baking and cooking that we do over the holidays this pie takes just a few minutes to create.  The crust is made in a food processor which speeds up the process.  One tip- if you lay out all of your ingredients and preheat your oven before you start the process this will save time and aggravation if by chance you don't have the ingredients you need.  I have done this in the past,  where I was right in the middle of baking and discovered I didn't have enough flour, or sugar.
So.. just plan ahead to make baking a breeze.
Pumpkin Pie with Spice Nut Crust| Recipe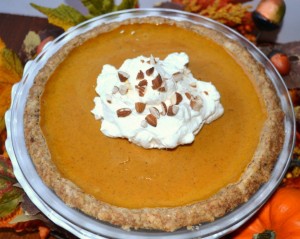 Pumpkin Pie with Spice Nut Crust |Recipe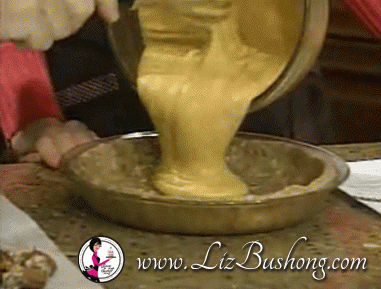 Ingredients
Crust:
1 cup all purpose flour
1/2 cup finely chopped pecans
1/4 cup firmly packed light or dark brown sugar
1/4 cup + 2 Tablespoons butter, melted
1/2 teaspoon ground cinnamon
1/4 cup finely chopped pecans
Filling:
1-16oz can pumpkin puree-*tested Libby's
1-14 oz can sweetened condensed milk
2 eggs, beaten
1 teaspoon ground cinnamon
1/2 teaspoon ground ginger and nutmeg
1/4 teaspoon salt
Instructions
Prepare 9 " glass pie plate. Do not spray pan. Set aside.
Melt butter in microwave on high for 40 seconds or until melted
Mix flour, pecans brown sugar and cinnamon with melted butter in bowl, toss to coat.
Form crust by pressing mixture into glass pie plate.
Bake at 425 for 7 minutes.
Remove from oven, set aside until filling is prepared.
Reduce oven to 350 degrees.
Prepare filling. Combine all ingredients in large bowl until smooth and blended.
Pour into partially baked spice nut crust.
Bake at 350 for 50-55 minutes or until center of pie is done.
Pie will have a shiny top and no cracks due to condensed milk.
Remove from oven, let cool before serving.
Serve with whipped cream, edible acorns and maple leaves if desired.
Topping option: Praline Almond or Pecan topping crumble.
Praline Almond Topping:
2 tablespoons packed dark brown sugar, 1 egg, 2 tablespoons dark corn syrup,1 tablespoon butter, melted, and 1 cup toasted chopped almonds or pecans.
Combine all ingredients, stir well.
Spoon topping evenly over baked pie, then bake an additional 15 minutes to brown.
http://serveitupsassy.com- http://lizbushong.com
Hope you will try this recipe.  We have used this recipe on many occasions especially for Thanksgiving!  It has been in our family many years.  I think the original recipe came from Southern Living about 20 years ago.
Enjoy!!!  Happy Thanksgiving!