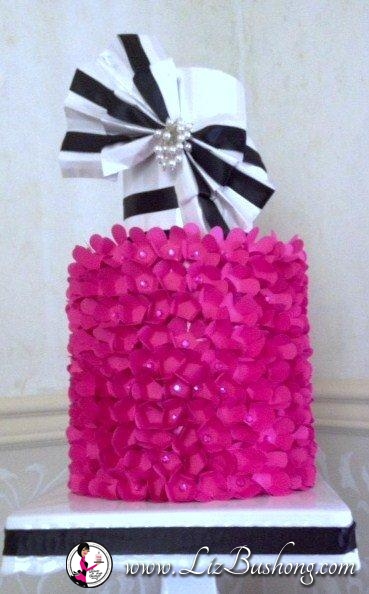 Sassy Cake Tutorial
Need a Sassy Cake for your next wedding shower or sweet 16 party!  This showstopper looks good enough to eat! But don't because it is all covered hat boxes and paper flowers.  I made this faux tired hot pink and black cake for the Bristol Olive Oil Company display window.  They were celebrating their first year store opening!   Thought you would like to know how to make it for your upcoming celebrations.
Bristol Olive Oil Company,https://abingdonoliveoilcompany.com/products, wanted a 1st year anniversary cake for their display window.  Knowing that the cake was going to be in the window and stationary for a few weeks, baking a real cake would not have held up to the heat, humidity and length of time. Making a paper cake was a great option for us.  Surprisingly,  it was pretty simple and easy to put together.  Here is a tutorial to help you Make a Statement, Make it Sassy and Make it Yours!®
Sassy Cake Tutorial Step 1|Stacked Hat Boxes
Select two hat boxes the size and height that you want your cake to be.  My sizes are 10″ and 6″  round hat boxes.   Select the boxes that look proportional to suit your look.  I had these boxes from another event and they worked perfect for this project.  In this photo, the base had already been covered with paper and small flowers.
Sassy Cake Tutorial Step 2|Punch Flowers
Using a large flower punch, ( ek tools) http://www.overstock.com/Crafts-Sewing/Slim-Paper-Punch-Large-Retro-Flower  and 12 x 12 scrapbooking paper,  http://www.michaels.com/recollections-pink-buttons-cardstock-paper/   Punch-out 200 + flowers.  This will cover the bottom cake.
After making the flowers,  fold up each petal to form a cup.  Set aside until ready to hot glue to base.
Meanwhile,  wrap the base hat box with hot pink gift wrapping paper.  I used double sided tape to tape the paper in place and not hot glue.  The first wrap was wonky, so I wrapped it again and this time the box had a smooth finish and looked like a frosted hot pink cake.  It was so exciting to see the smooth wrapped cake.  I realize I didn't have to cover it twice because I was adding the cut out flowers, but I felt better about the overall look of the artwork.
Sassy Cake Tutorial Step 3|Wrapped Box
Notice how smooth the hot pink paper is on the base hat box.   Begin at the bottom or base of the hat box to hot glue each individual flower with no space between flowers.  On the second row try to place the flower cup off-center of the bottom flowers.  I had 20-25 flowers per row, and about 10 rows of flowers.   In the center of every other flower I stuck an adhesive backed hot pink rhinestone in the center.  These kept falling off, so you might want to hot glue them in place. Just an FYI.
Sassy Cake Tutorial Step 4|Ribbon Bands
Details make a difference.  next, I wrapped the smaller hat box in white stripped wedding wrapping paper.  Wrapped this box twice for a smooth finish.
Two black satin ribbon bands on the base of cake  were equally spaced using double sided tape to adhere. The black ribbon bands added to the sassy look.
Sassy Cake Tutorial  Step 4| Paper Bow
This piece of wrapping paper makes the sassy bow on top of the cake.  Black satin ribbon lengths were taped to the wrapping paper.  (used double faced tape) .  The paper was folded and pleated to create the bow.   An old pearl earring with the back removed was used as the center of the bow.
I attached the bow with hot glue and to the left side of the top tiered cake.  You can move the cake box (tier) any way you want to create the Sassy look.  I decided on the left side, because I was going to place a pillar candle on the right side.
Not the best photo in the window, but you get the idea.  We taped extra paper flowers on the table skirt and wrapped boxes in damask wrapping paper to support the hot pink, black and white color scheme.    The white candle on the top of the cake had hot pink rhinestones attached to the candle to express the celebration year.
We made hot pink, medium pink and light pink paper chain to frame the window.  The Happy Anniversary signage was made from dessert paper plates in hot pink trimmed in white.  Black peel and stick large lettering spelled the celebration banner.   Black satin ribbon was threaded between each plate then hung the expanse of the window.  (Wish the car reflection wasn't in the shot).  Will have to take another photo after hours. ha ha
My real baked cake inspiration for the"Sassy Cake"!
Makememycake, http://cakesdecor.com/cakes/126491-super-bow-with-super-pink-cake
I love this real baked cake!  It is so beautiful and Sassy!