Savory Ficelle bread is baked, cooled and sliced on an angle on one end to create a small cup filled with 1 tablespoon Ranch dressing and sliced fresh vegetables as an appetizer. The bread loaves are skinny crusty baguettes with a coarse crumb and perfect with salads and Italian meals. 
Savory Ficelle Bread
Skinny bread ficelle bread is baked and cut into angled cups to hold dip and veggies. 
Print
Savory Ficelle Bread Recipe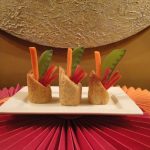 Author:

Liz Bushong

Yield:

3 skinny loaves
Ingredients
2 cups Bread flour, plus ¼ cup more if needed
1-teaspoon salt
1-cup hot water, 105-115 degrees
½ teaspoon sugar
1 package active dry yeast, not rapid rise
Instructions
Put 2 cups flour and salt in food processor, blend for a few seconds. Dissolve sugar in hot water, when temperature is correct add yeast. Let proof.
Add proofed yeast to flour. Process for 20 seconds. Touch dough; if it sticks add more flour 2 tablespoons at a time. Repeat if necessary.
With oiled hands remove dough and knead about 20 times. Divide dough into thirds, roll with hands into long ropes. Rolls should be 1 inch shorter than edges of ficelle pan.
Grease ficelle/baguette pan with cooking spray.
Place pan in cold oven for 35-40 minutes to rise.
Turn oven to 400 F. Place a Pyrex bowl with boiling water on floor of oven.
Mist the bread with water all over. After 5 minutes of baking mist the bread again and then again 5 minutes later.
Total baking time 30-35 minutes. Freezes well. Bread is base for many appetizers
Notes
Appetizer cups:  The bread is baked- cooled and sliced on an angle on one end to create a small cup. The inside of the bread is pulled out leaving the bottom in tact and filled with dressing of choice and sliced veggies.  Toast the cups under the broiler for a few minutes to create a crusty bread cup.  Cut the cups 3″ widths then angle one end.  The width of the bread is 1 to 1-1/2″.
These skinny loaves are crusty and delicious, perfect with all salads and Italian dishes.
The Ficelle Bread baking pan is a baguette pan.