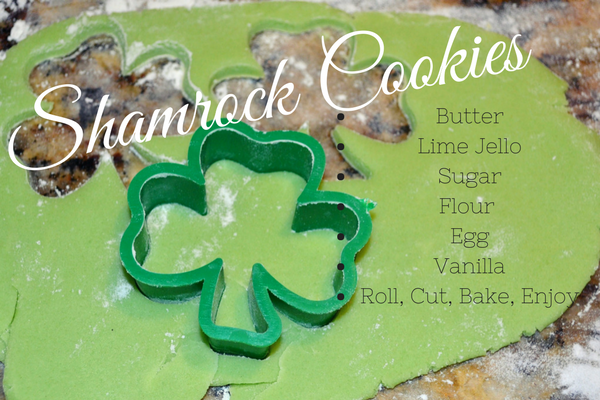 Shamrock Butter Cookies
Perfect for St. Patrick's Day Celebrations!  Serve these easy-to-make butter sugar cut-out cookies in the shape of shamrocks.  This roll and cut dough features Lime Jello to give that extra green color and adds a bit of extra sweetness.   Bake a batch and sandwich them with chocolate ganache or buttercream frosting.  Box them up as gifts and be sure to save a batch for you
St. Patrick's Day is also known as the Feast of Saint Patrick.  It originated in Ireland after the death of Saint Patrick back in AD 385-461.  St. Patrick was a the "foremost patron saint of Ireland".    The people of Ireland celebrated the "Day of the Festival of Patrick" as a cultural and religious celebration held on March 17th.
The shamrock became the symbol due to the three sided leaves which represents the Trinity.  Green possibly became the color scheme  representing Ireland as the Emerald Isle.  Today we celebrate for all of those reasons and because it is a fun holiday to wear  and bake green.  Emeralds could become my best friend!  Any jewel that God creates is beautiful and that includes you.  I consider everyone a beautiful jewel in God's kingdom.
AND so… we get back to baking these cookies!
Shamrock Butter Cookies|Questions & Answers
Q-  Substitute Lime Jello for Green Food Coloring Gel- Yes you can.
A-  Adjust recipe: Increase butter 1/4 cup and sugar 1/2 cup. Add desired amount of green food coloring gel.  ( I like the gels, you use less product and it blends well)
Q- Do you have to chill the dough before cutting out shapes?
A- It is recommended to use chilled dough for the cookie shapes will come out clean cut especially if using plastic cutters and chilling the dough after the cookies are cut out before baking will keep the cookies from spreading  Of course this recipe does not spread as some butter cookies due to leaving being added in the recipe.
Yield: 34 single or 15 sandwich cookies
You can dip the outside of single cookies with melted ganache if desired and not sandwich. While chocolate is wet, add desired sprinkles
Serve these cookies with the Chocolate Mint Mousse Parfaits, recipe @ lizbushong.com
Ingredients
¾ cup butter, softened- tested Land O Lakes
½ cup granulated sugar
1 teaspoon vanilla
1-3 oz box Lime gelatin dessert-dry- tested Jell-O®
1 egg
2 cups all purpose flour
Filling: Mint Chocolate Ganache
1 cup chocolate mini morsels
½ cup heavy whipping cream
4 unwrapped Andes Mints®, grated
Desired garnish- green sprinkles, grated Andes Mints ®
Instructions
Preheat oven to 350.
Line baking sheets with parchment paper.
Cream butter, sugar, extract, gelatin powder and egg in large mixing bowl on medium speed.
Lower speed gradually add flour.
Beat until mixture leaves the sides of the bowl.
On a floured surface, roll dough into 1/8 inch thickness.
Using floured shamrock cookie cutter cut out cookies.
Place on parchment lined baking sheet and bake at 350 for 9-11 minutes.
Cool cookies before frosting- cookies will be hard.
Ganache Filling:
In microwave safe bowl, microwave cream for 40 seconds on high til very hot, not boiling
Add chocolate morsels to warm cream.
Stir to combine, mixture will be runny at first, keep stirring until thickened.
Mixture will be soft and glossy.
Allow ganache to firm slightly.
Add shaved Andes Mints to mixture to flavor or use 1/ 4 teaspoon mint extract.
Stir to blend in flavor.
When chocolate is thickened, spread on one side of cookie, add remaining cookie to make a sandwich.
http://serveitupsassy.com- http://lizbushong.com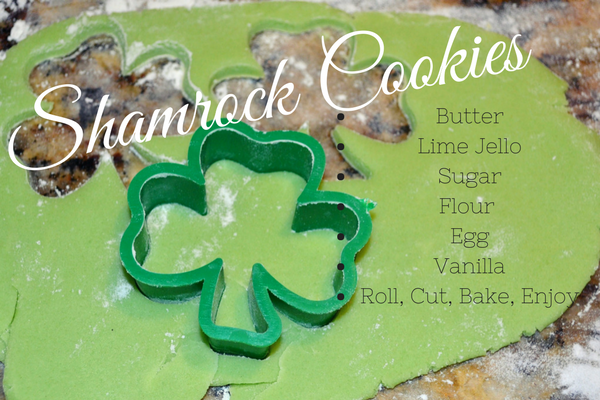 More St. Patrick's Day Desserts