A New Cookbook Full of Sassy New Recipes!
---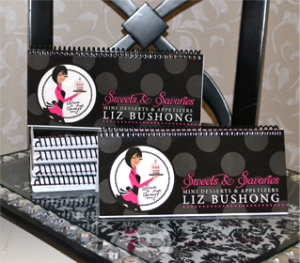 Sweets & Savories Cookbook
Sweets and Savories Cookbook gives you the opportunity to showcase mini appetizers and desserts in an impressive and inviting presentation at your next event. These recipes are sure to please every discriminating palate. The first section of this cookbook features Sweets, mini cakes, cookies, and macrons divided by a colorful photo insert showcasing presentation ideas. The second half features Savories, mini appetizers, entertaining serving tips and suggestions. What will be more impressive…you're elegant but easy delicacies or the fun and confidence you will have hosting your next gathering. You will certainly Make a Statement, Make it Sassy, and more importantly Make it Yours!
More Serve It Up Sassy Merchandise
---
Sassy Aprons
Fashionable and functional, you'll be sure to make a bold statement in the kitchen with your very own Serve It Up Sassy apron.
Liz's Zazzle Store
For more Serve It Up Sassy merchandise including more aprons, dinnerware, linens, cards, and even postage, visit Liz's Zazzle Shop.