Snowmen Oreo Cookie Pops
Snowman Oreo Cookie Pops perfect for gift giving. Cookies dipped in white bark and colorful candy melts dressed up like snowmen will make everyone smile!  These pops are adorable and taste great too.  If you think you can't make these… you can.  With a few helpful techniques and an afternoon, you can create several gifts.  A few ideas would be  place setting surprises at your Christmas breakfast table, Christmas stockings, small gift boxes to give to drop by visitors, the mailman, hairstylist, and a few for yourself.   This was not my original idea so thank you Ruth Ann at Easy Baked Blog for sharing this recipe.   Oreo Cookies are the best, and they have so many varieties.  I made the first batch with traditional Oreo's but with double stuffing. The second batch I used the Oreo with Lemon filling for those who can't have chocolate.
Snowmen Oreo Cookie Pops
These guys are so cute!  To make your snowmen Oreo cookie pops you will need, double stuffed Oreos, 2 bags  pure white Candy melts or Almond Bark,  pop sticks,  candy melt colors- orange, red, green, and black.  Mini red and green M & M's, tiny confectionery snowflakes or other edible decor for the hat. You will also need a cute 1/4″ wide striped ribbon to tie around the stick or package to resemble a scarf.
Snowmen Oreo Cookie Pops – Candy Melts or Almond Bark?
Melt 1 bag of white candy melts or almond bark in microwave 25 seconds at a time until melted.  Stir until wafers are melted.  The bark melts easier and will not be as thick as the melts.  The melts give you a brighter face and thicker coating.  Your preference whether you use the melts or bark.  I liked the results of the white faces using the candy melts, but it was harder to work with.  See recipe here-http://serveitupsassy.com/snowmen-oreo-cookie-pops/
Snowmen Oreo Cookie Pops- Inserting the Pop Sticks
On a parchment or wax paper lined baking sheet, separate your Oreo's in half.  Insert stick into white candy melt, sandwich cookies back together.  Let this stand for 10 minutes.
Dip cookie in melted white candy melts.  Place on flat surface of parchment lined baking sheet.  Allow to harden 10 minutes or longer.  Place in refrigerator for quick results.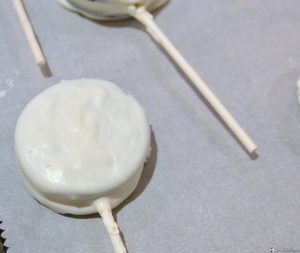 Snowmen Oreo Cookie Pops- Recipe http://serveitupsassy.com/snowmen-oreo-cookie-pops/
That's It!  Complete the look with finishing the facial details and tie with striped ribbon!  See recipe –http://serveitupsassy.com/snowmen-oreo-cookie-pops/