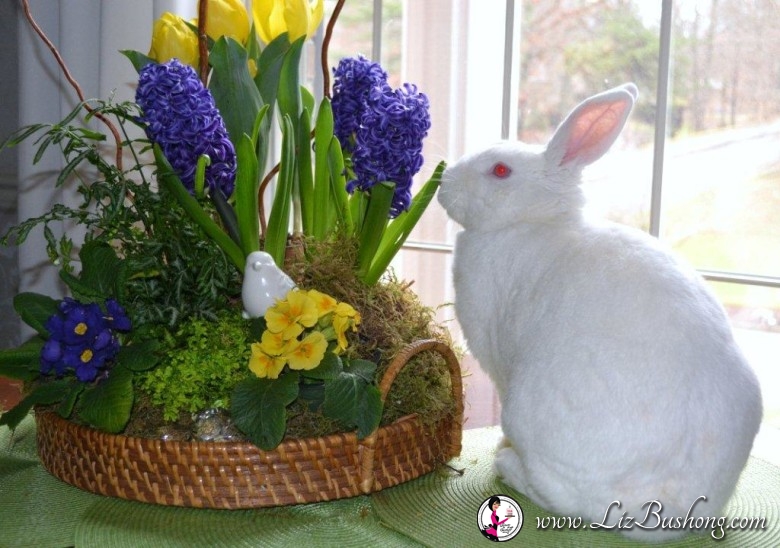 Spring Flower Arrangement Tutorial
Welcome Spring !  Create a Spring Flower Arrangement and bring potted blooming bulbs  inside for an easy, simple table centerpiece.
As the ground awakens from the wintertime slumber, tulip and daffodil stems push through the soil about to burst open with colorful fresh blooms. Bright yellow forsythia bushes and cherry blossom branches begin to pop open profusely with small breathtaking delicate flowers. The scent of sweet hyacinths and greening new grass alert our senses that spring has arrived.In the early morning hours, we listen to chirping robins singing their joyful songs as they gather twigs to build their nests and bunnies can be seen here and there as they hop across the fresh new lawn. All creature's great and small welcome the lively splendor of spring marveling at God's creative works.  It is amazing to see and experience.  Don't you just love Spring!  JJ, my sweet bunny does!
Look at this cutie pie!  He had to help with the arrangement.   I was fortunate enough to get him in a standing pose after the arrangement was finished.  I will share that one later in the post.  Ok  What's in this arrangement and how to do it!
Spring Flower Arrangement Tutorial Step 1: Gather flowers
What says "Spring-time" better than flowers?  Whether you are hosting a luncheon or Sunday family dinner, a lovely springtime arrangement of your favorite floral can take center stage on your dining room table.  For an easy, breezy centerpiece, embrace your spontaneous spirit and head to the floral department of your local grocery store or favorite greenhouse.  Most merchants will showcase potted tulips, daffodils, hyacinths, primrose, moss, ivy and many types of ferns that you can place in a basket for a stunning and simple centerpiece.
Go to your local greenhouse or favorite floral shop for an early selection of hardy forced spring bulbs.  I found yellow tulips and a purple-blue hyacinth to take center stage in this arrangement.  I was decorating a table for my next VIP SEEN magazine article and the color scheme was cobalt blue , white, yellow and green.  This color scheme helped me with the flower and color selection.   I knew I wanted something tall, medium and low for this arrangement, so I began with the tall item.
The flowers that I selected would be placed inside of a flat sided basket, without removing the plants from the pots.  I had my basket with me while searching for the perfect flowers.  After reviewing all the selections,  I came back to my first choices, yellow tulps (for height), purple-blue hyacinths for the medium height, two primrose- one in yellow, one in blue, a low growing moss ground cover and in between all of these heights and dimensions I selected a leafy small leaved medium tall fern.  Everything I had in visioned for the arrangements but one thing was missing.  I needed to find the one thing that would really draw in peoples attention.. well at least would draw my eyes into the arrangement, that item was a small bird sitting on a facuet pick.
Don't you just love this!  I liked the water drop (small crystal prism).  I had seen a large bucket that was attached to a faucet in a photo and thought how adorable it was…so when I saw this little one I had to have it.   After putting the pick in the arrangement, I added a few small prisms that I had from on old lamp into the bed of the arrangement.  My camera really didn't pick them up very well, but they were very visible and so cute.  The water (prisms) made you think there was a small creek streaming in the arrangement.
Spring Flower Arrangement Tutorial Step 2:  The arrangement
To create a springtime centerpiece for your table, gather some of the season's best blooming potted bulbs, primrose and ferns. Place 3- 5 potted blooms at different levels inside a plastic lined basket at various heights.  No need to remove the plants from the pot.  Cover and tuck moss over the potted flowers and between spaces inside the basket.  A good mix of flowers would include two to three colors with different textures and heights.  Leafy green ivy and low packed ground cover with reindeer moss will add to the fullness of the arrangement. For a bit of whimsy as I mentioned earlier, I  added a small bird sitting on a faucet with dripping water crystal.  An empty bird nest would also be a great touch to this spring arrangement too.   To add extra texture and height to the arrangement I added a few willow branches.  Any flowering branch or twigs would be a great accent.
I lined the basket with a trash bag  so that water would not run through onto the table.  You might want to place an extra round place-mat underneath your living arrangement just in case of an accidental water leak.  Keep filling the basket until you have the flowers where you want them.  As mentioned above, cover with moss.  You can see in the photo that I added a small cup to help elevate the tulips.  That is what you want to do.. unequal heights for your arrangement.  You could use paper towel or other items to help elevate your potted plants.   Water this arrangement when needed.  You can purchase a plant watering meter to help gauge when to water.  
To use the gauge, insert into the middle of the plant and watch the small needle go from low to high.  If the needle lands in the middle it means you water lever is normal. It will tell you what you need to do.  I found mine at Lowe's home and garden shop.
After the flowers are spent, you can plant the bulbs in your garden for next spring.  A note about tulips, you can plant Gladiolas and Dahlias this spring for flowering this summer.  In September as fall arrives plant tulip and daffodils for next spring.  Spring bulbs should be planted in the fall or early winter because they require a long period of cool temperatures in order for them to flower.  In the fall, it is important to get the bulbs in the ground before the ground freezes.  They need time to develop strong roots.  You could also plant bulbs in individual containers as the merchants do forcing the bulbs to grow.
Spring Flower Arrangement Tutorial Step 3:  Finished Arrangement
Some Fun Moments with JJ my little helper!.. Mischief maker.
My sweet bunny JJ was excited about spring too!   He is an adorable New Zealand white bunny with red eyes.  JJ allowed me to take a few photos of him checking out the floral arrangement while I was putting it together. He looked out the window, chewed a few willow branches, smelled the flowers by standing on his hind feet, and finally lay down beside the finished arrangement. 
Invite springtime into your home with this creative and fanciful setting that boasts this season's vibrant scents and colors. You don't have to be a green thumb to enjoy the beauty of the season. Bring the outdoors in with a beautiful potted arrangement. Like a breath of fresh air, after the morning dew, breathe in the cool breeze of this new season with a living arrangement that will linger in memories.
VIP SEEN Magazine article here:  April16-Sassy
Helping you Make a Statement, Make is Sassy and Make it Yours! ®