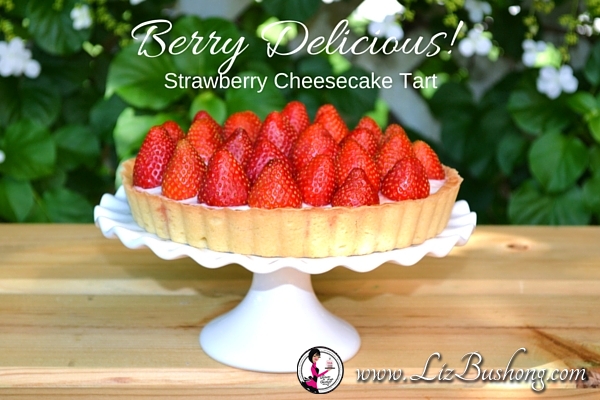 Strawberry Cheesecake Tart
Strawberry Cheesecake Tart begins with fresh whole strawberries and a creamy rich cheesecake filling all layered in a Vanilla Wafer cookie base crust. Fresh strawberries in season makes this tart super simple to put together.  The strawberries are positioned with ends up standing at attention on top of the cheesecake filling that commands attention.   You can also slice the berries and arrange in concentric circles on top of the tart .   More about that in a minute, here's the how to and recipe.  Watch  Daytime Tri-cities how to video  on next page.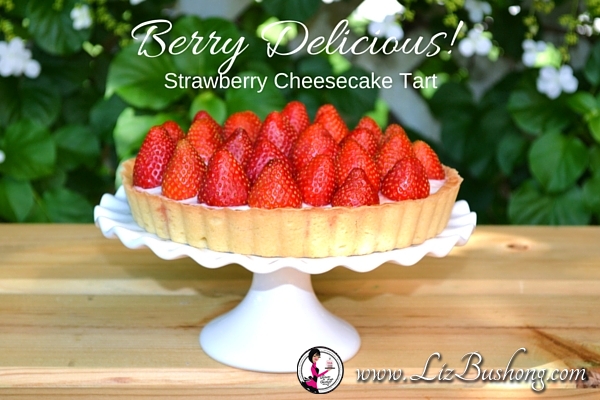 Strawberry Cheesecake Tart has a sweet crust made with  Nabisco Nilla Wafers®, can't go wrong that with great flavor!  Mixed with a tiny bit of sugar and melted butter, the crust forms perfectly in a 9″ springform pan.   I use this crust recipe for other desserts and I bet you will too.  It forms well and tastes great with Key Lime, Lemon and Banana Creme pie.  YUM!!!
I made another Strawberry Tart that was featured in VIP SEEN magazine July 2016.  Check out Vip Article-Berry Delicious Summer!  The crust and filling are different but the berries are still standing tall.  The crust has a flour base but it is sweetened with confectioners sugar.  You might like this crust as well.  The filling is a lemon cheesecake type, with heavy whipped cream and no eggs for a no bake tart.   The Strawberry Cheesecake Tart has a pre-baked shell with the filling also being baked.  Either tart is delicious and if you want to get creative substitute the strawberries with other berries, like raspberries and blueberries.  Hey,  mix it all up, that would make a pretty presentation too.
You know me, I love a pretty presentation.  The tart sits on a ruffled white cake plate that I purchased from Pier 1.  Another great dessert  served on this pretty cake plate is the Blueberry Swirl Pound Cake that was featured in the same article.
Strawberry Cheesecake Tart|Crust
Pulse about 2 cups of Nilla Wafers, sugar, salt  in food processor until crumbly.  Then add the melted butter. Pulse lightly to blend.  Lightly spray the springform pan with cooking spray, then press buttery crumbs into tart pan.
To help crumbs form tightly around inside edges of springform pan, use the back of a measuring cup to flatten and press.  You will love doing this pressing of crumbs.   It really makes your crust super pretty and professional looking as well as leveling the crumbs in the pan.
The crust has been baked in the oven at 350 for 8 minutes.  Then reduce oven temperature to 325 and make the cheesecake filling.
Recipe for Strawberry Cheesecake Tart filling has cream cheese, sugar, salt, egg and heavy cream all blended together in a quick pulse or two in your food processor.  If you don't have a food processor, you can mix your filling ingredients in a medium bowl until smooth and creamy.  Just make sure your cream cheese is very soft so it will mix easily.
After spreading the tart with the filling.  Bake on a double lined baking sheet with parchment  for 20 minutes at 325 degrees.
The next step is to place the fresh strawberries on the tart as shown.  Brush the berries with melted current or apricot jelly for sweetening the berries and professional shine.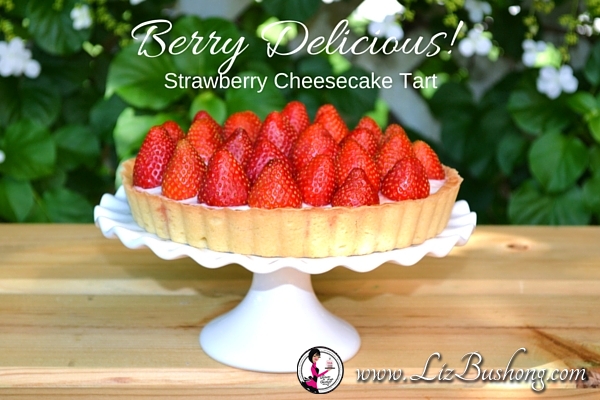 Strawberry Cheesecake Tart|Concentric Circle Garnish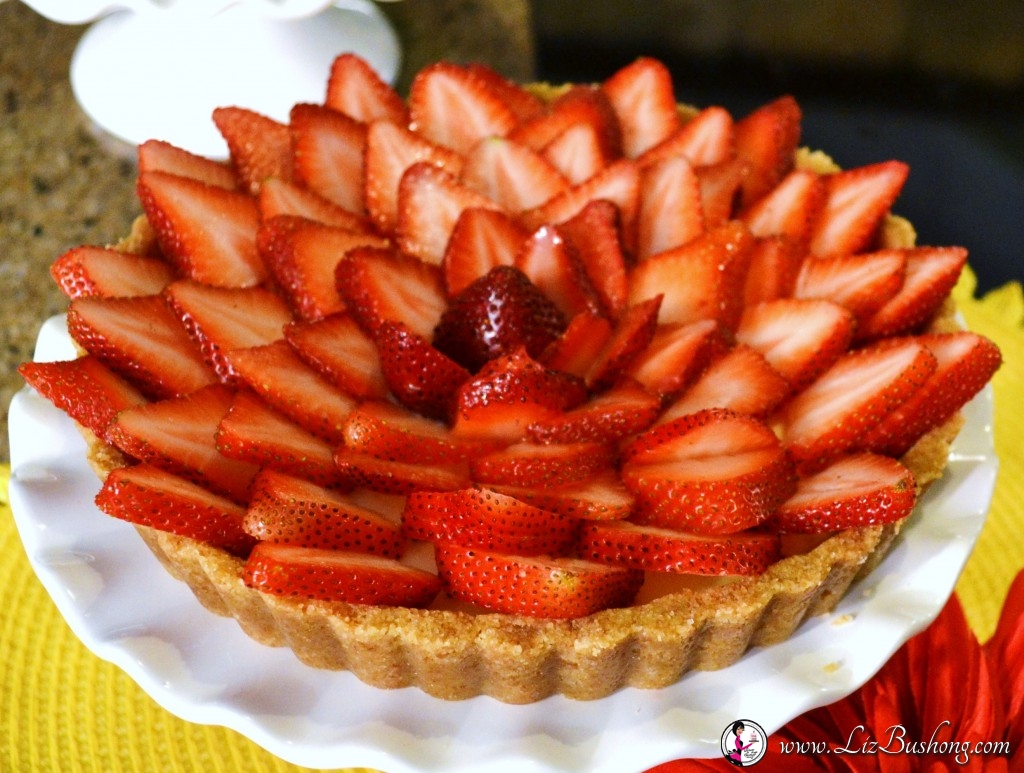 Slicing the berries thin will make the berries position better on the tart.  Make sure you use firm berries without bruises for best results.
For the center of the tart, use one firm pointed end up berry.  Melt current jelly or apricot jelly in microwave 10 seconds to melt and brush on berries for a pretty high gloss edible finish.   Eat immediately!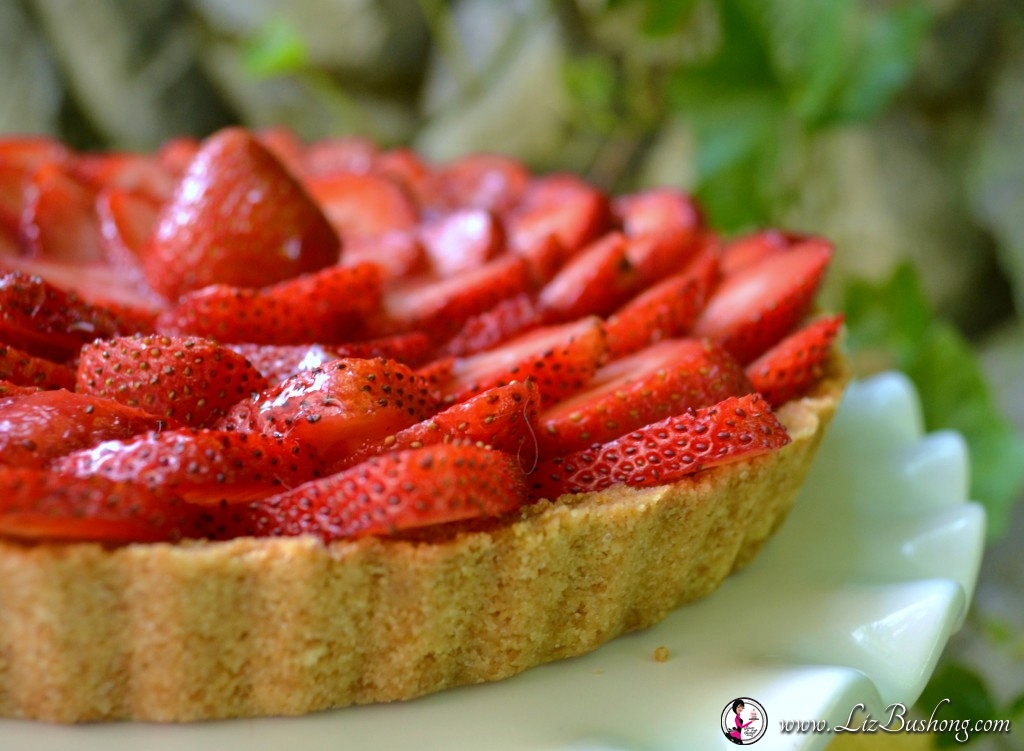 Hope you will try this sweet little tart for your next summer event, picnic, special dinner, or just a fresh summertime pleasure.
 Helping you Make a Statement, Make it Sassy and Make it Yours! ®