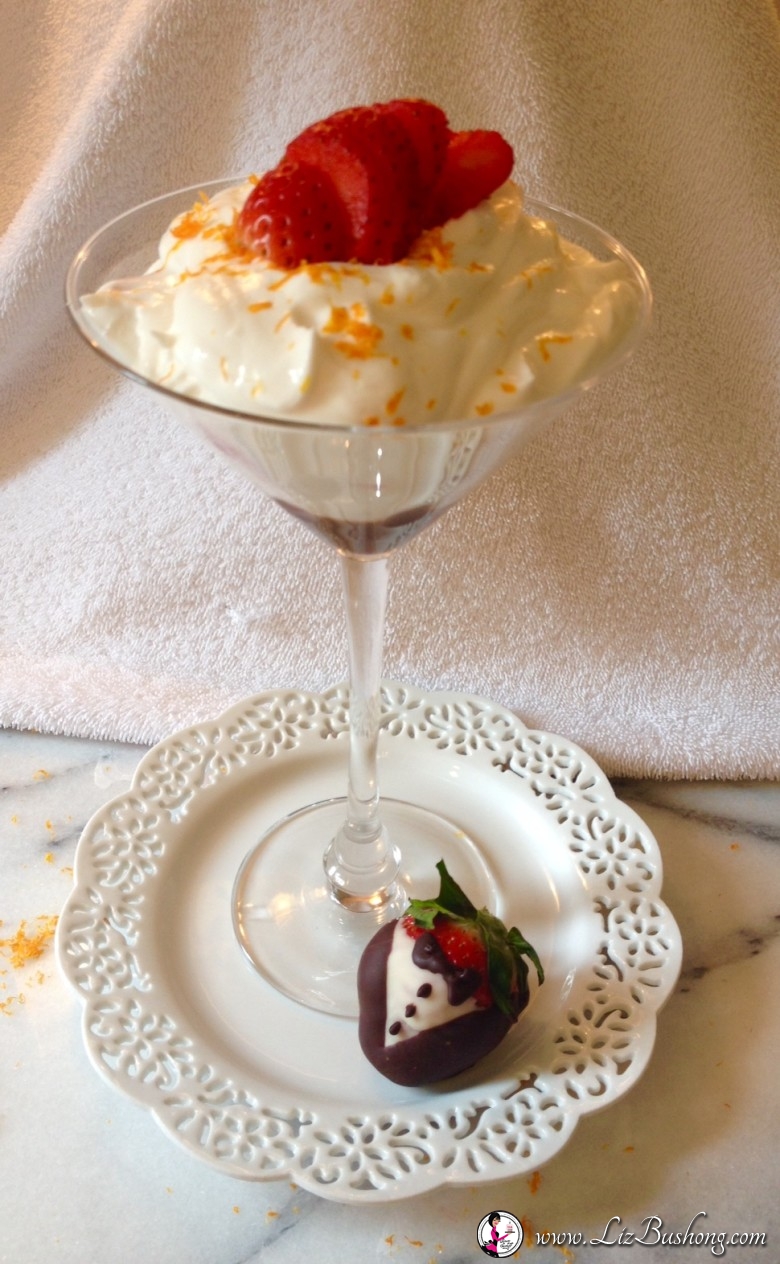 Strawberry Mock Romanoff Recipe
Strawberry Mock Romanoff Recipe has fresh strawberries, whipped cream, cream cheese, orange juice, and sweetened with confectioners sugar.  Served up sassy in a parfait glass with warm special dark chocolate sauce.  YUM!  
Strawberry Mock Romanoff Recipe
What makes this Strawberry recipe a Mock Romanoff is substituting the orange juice for Triple Sec, an orange flavored liqueur and adding cream cheese.  This dessert is light,airy and perfect after a large or heavy meal.
Fresh whipped heavy cream and cream cheese are combined with orange juice then fresh diced strawberries  are folded in the mix.  To serve, pour home-made dark chocolate sauce in the parfait glass, then add whipped Romanoff.  Garnish with orange zest and sliced strawberry.  The tuxedo berry is easy to make.  Click on photo below for recipe.
Strawberry Mock Romanoff Recipe
Ingredients
1-8 ounce package Cream Cheese
1-1/2 cups Whipping Cream-divided
1/3 cup orange juice
1 teaspoon orange extract
¼ cup powdered sugar
1-quart fresh strawberries, hulled, cut into halves+4 whole berries for garnish
Zest of one orange for garnish
Instructions
In food processor or mixer cream together the cheese and one cup whipping cream, extract, juice and sugar.
Whip remaining ½ cup whipping cream in separate bowl fold the two cream mixtures together.
Gently fold in the prepared strawberries..
Serve with chocolate sauce. Store in refrigerator covered.
Serve in champagne glasses or individual glass serving bowls
http://serveitupsassy.com- http://lizbushong.com
To dress up this lovely dessert especially for Valentine's Day serve Tuxedo Strawberries.  These berries are dipped in white chocolate, then dipped again at a V angle in dark chocolate.  After the coated berries are set, piped dark chocolate bow ties and three buttons are positioned on the white chocolate V.
Strawberry Mock Romanoff Recipe| Strawberry Tuxedos Garnish
For recipe see Strawberry Tuxedo Post
Let me know how what your guests and family think of the Strawberry Mock Romanoff Recipe.  I would love to hear about all the oohs and ahhs you received!!!
Check out Pinterest for more Valentine's Day Inspiration.
Go to http://www.serveitupsassy.com  for  magazine articles, videos and  more!!!