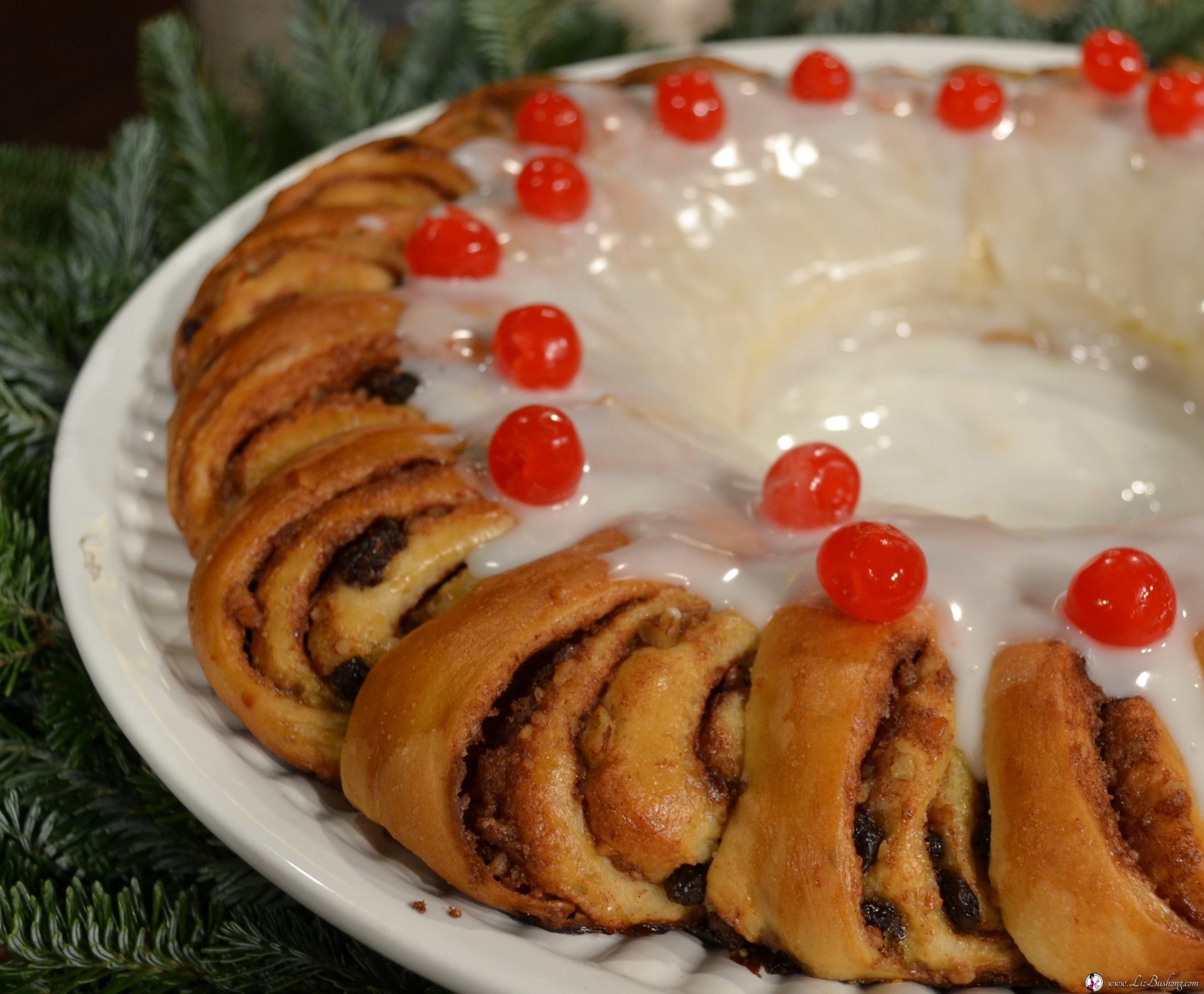 Swedish Tea Ring
Swedish Tea Ring is a circle braid sweet yeast bread filled with cinnamon, sugar, raisins, and pecans.  The ring is so pretty and festive for Christmas morning breakfast or to wrap and give away as a gift.  The dough is sweet and the filling is abundant.  This recipe has raisins but you could add any dried fruit or nuts for your personal taste.  See how to create this delicious ring for your table centerpiece this Christmas!
Swedish Tea Ring Instruction
First – the recipe http://serveitupsassy.com/swedish-tea-ring/
Proofing yeast is important when making yeast breads.  The active dry yeast needs a warm bath and a bit of sugar to make the yeast come alive and rise. To make this happen, you will need a baking thermometer.  This recipe calls for  1/2 cup warm water (110-115  degrees) a teaspoon of granulated sugar and a package of Active Dry Yeast.  If your water temperature is too hot it will kill the yeast, if it is too cool, the yeast will not rise and so your bread will not rise.   Check out this link for more information on yeast.
This mixing of yeast and flour is sometimes called "the sponge".  I like to let the dough rest for 5 minutes or so after mixing 2 cups of the flour with the yeast.   Here are  more tips and tricks on making the best yeast dough for breads and sweet breads.  The sponge allows the gluten in the flour and yeast to combine so your bread will be smooth and elastic.  I also use King Arthur Bread flour for bread making.
Next step, after mixing all ingredients the bread will leave the sides of the mixing bowl and is ready to knead.  Kneading the bread causes the bread to rise, just like yeast.  It is perfectly fine to let the dough rest after a couple of massages (kneading).  Check out this video on how to knead bread.  It is really a lot of fun to do.  So what …if you get flour on yourself and clothes.  Wear an apron and have fun in the kitchen.
Place the dough in a greased bowl, make sure dough top is greased with cooking spray or butter, cover and let rise in cool place.  This recipe will allow you to make the dough and place in the refrigerator up to 3 days before rolling out.  Which I love.. it is a real time saver and the longer the dough rises in the refrigerator the richer the yeast flavor.  You will love this dough recipe.  http://serveitupsassy.com/swedish-tea-ring/
The dough has risen.  Next you will divide the dough in half and only roll out one half on a floured surface.  If the dough is stubborn and wont roll out.  Let it rest on the counter for a few minutes then try to roll again.  It will roll out just fine.  Roll into a large rectangle.  Spread with softened butter and then sprinkle with filling; ground cinnamon, brown sugar, raisins, and nuts.
Roll the long side of the rectangle like a jelly roll or log.  Seal edges of dough when completely rolled.   Prepare your baking sheet with parchment paper or if you prefer, butter the baking sheet and don't use parchment.   Keep in mind your ring will have a second rise so make sure your baking sheet is large enough to handle the rise.  I had to bake my ring in a broiler pan.   After you shape the ring in a circle, you will cut it into 1″ intervals and lay the slice on its' side.  You will not cut all the way through the ring, you will only cut 2/3 way through.
After cutting ring, cover ring with a tea towel and allow to rise until double in a warm place.   After rising, brush ring with an egg yolk wash.  The yolk wash will make your ring have a golden glow to the crust.  Mix 1 yolk with 2 teaspoons of water for this wash.  Also,  remove any raisins that are exposed because they will burn during the baking process.  You can gently push them inside the dough or remove them.
You may wonder why there is a foil ring in the center of this ring?  Good question.  I wanted to keep the center perfectly round, so a rolled piece of foil was greased and placed inside the center ring.  You don't have to do this if you don't want too.     This photo above shows the ring that has the second rise and is ready to bake.  Just need to add the egg wash and we are good to go!
Bake this ring 25 minutes at 375.  You will want to cover the ring with foil after the first 12 minutes of baking.  It will be golden brown and bake up beautifully.   Allow the ring to cool before glazing and garnished with cherries.  Here is the recipe for you http://serveitupsassy.com/swedish-tea-ring/.
Here is the Swedish Tea Ring video from Daytime Tri-Cites.