Twice Baked Valentine Cupcakes
Surprise your kids with a heart-shaped cake baked inside this sweet cupcake.  Twice Baked Valentine Cupcakes are really twice baked because you bake the center cake first, then add to the cupcake or cake loaf batter and bake again. With every slice when using the mini loaf pan you get a heart in the middle.  
Cakes are all about celebration!!! Who doesn't love celebrations and surprises?    This little cupcake is a vanilla strawberry cupcake.  The outside batter is made with a vanilla cake mix and the center heart is made with a pound cake type strawberry batter.  The loaf slice is made with a lemon cake mix with strawberry batter.  Recipe for the cupcakes will be the vanilla strawberry.  For the lemon substitute a lemon cake mix for the white mix and follow the same instructions.  The original idea came from  "Surprise -Inside Cakes cookbook.  After experimenting with the idea here is my adaptation to these cute little cupcakes or mini loaves.
Tips on Baking a Cake with in a Cake  
Tip #1|Cake Mixes vs From Scratch
Cake mixes are measured correctly and easy to prepare with great results.  Scratch cakes are made from single ingredients that you combine together to make a cake. Baking from scratch can be a bit tricky and you do have to measure accurately.  If you don't like to measure accurately use a cake mix.  Cake mixes are pre-measured with easy to follow instructions.  I used Duncan Hines Lemon Cake Mix for this loaf baked cake. For the Cupcakes I used Duncan Hines White Cake mix with a few additions.
If you want to make a cake from scratch  make sure you use a pound cake type batter for the center baked cut-out cake shape. You will need the firmness of the pound cake to stand in the cupcake liner or mini loaf pan during the baking time.  Raw batter will be poured over the top of the baked center cake and baked again.
Tip #2| Room Temperature Ingredients
When baking from scratch or from a mix make sure your ingredients are at room temperature.  Taking the chill off eggs before using them will give your cake more height.  A cold batter will cause the leaving to work harder and sometimes will cause your cake to fall during baking.  For this recipe you will be separating the egg yolks from the egg whites.  Save the yolks for another use, store in a covered container for an omelet later.  The eggs will be easier to separate when they are at room temperature too.
You will love how this turns out.  It is so exciting to cut into a cake and see a great shape inside.  You can do any season with the center cakes, shamrocks, circles, squares, whatever your little heart desires.  I used metal cookie cutters to cut the baked cakes into shapes.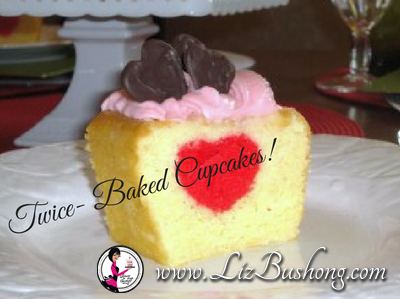 Tip #3|Baking the Cakes
When using cupcake liners or mini cake pans lightly spray the insides with cooking spray to grease and for easy removal.  Avoid butter as a greasing agent it tends to burn.  Cakes are baked in a preheated oven-350 degrees.  Cakes are done when the cake springs back when gently pressed with fingertips, 20-25 minutes for cupcakes and 15-20 minutes for mini loaf pans.
How to Bake the Cake with in a Cake
To bake the cake with in a cake is very simple.  Mix the cake batter and divide the batter 3 to 1.  Add strawberry extract and red food coloring to the small amount of batter.  This batter will be baked in a 13 x 9″  greased parchment lined cookie sheet. When cake is baked, allow to cool, then using a mini heart shaped cookie cutter, cut out the hearts.
The loaf pan or cupcake liner is filled with white cake batter or lemon cake batter about 1/2″ on the bottom of the pan/liner.  The baked shaped cut out cakes are stacked together and with pointed end of hearts facing down, place on top of the unbaked cake batter.  Add enough cakes to cause the cakes to stand together on their own.  At this point, gently pour the remaining cake batter over the top of the baked cakes.  Do not stir the batter after it is poured over the cakes.  Fill cupcakes with batter to cover the baked cake about 2/3 full.  If you prefer and have a jumbo muffin/cupcake pan, bake the liners in this pan.   Bake cupcakes on a parchment lined baking sheet.  Bake as recipe directs.
Twice Baked Valentine Cupcakes
To create a heart shaped cupcake liner fold the liner lengthwise and create points one inverted and the other extended like a heart. Fill a pastry bag with cake batter and pipe the batter in the bottom of the cupcake liner. Add the baked heart shaped cake,pointed end down in batter, and pipe remaining cake batter over the baked cake until liner is 2/3 full. Bake the liners on a parchment lined baking sheet to keep the heart shaped liner in place or if you have a jumbo cupcake pan bake liners in pan. Bake 22-25 minutes.
Ingredients
1-18.25 ounce package white cake mix
1-3 ounce package instant vanilla pudding mix-dry
3 egg whites
1 1/3 cups water
1/3 cup vegetable oil
1 teaspoon vanilla
2 teaspoons red food coloring
2 teaspoons strawberry extract
Strawberry Cream Cheese Frosting
1- 8 ounce package cream cheese softened
¼ cup real butter, no substitutes and softened
¼ cup strawberry jam
2 teaspoons strawberry extract
½ teaspoon red food coloring if desired
1 cup whipped heavy whipped cream
1 ½ cups confectioner's sugar
Instructions
Preheat oven to 350.
Mix cake ingredients in order of recipe except do not add red food coloring and strawberry extract
Measure 1 1/2 cups batter in separate mixing bowl
Add to this batter red food coloring and strawberry extract
Spray a parchment lined 13 x 9 inch baking sheet with cooking spray
Spread red batter into all corners and evenly as possible into the pan
Bake for 12-12 minutes at 350 degrees or until cake center is done
Cool red cake in refrigerator until well cooled
Using a mini heart shaped cookie cutter cut cake into mini hearts
Depending on the size loaf pan you use you will need 12-14 mini hearts
Cake hearts will be stacked together to create one log of hearts for mini loaf
For cupcakes you will use one to two cake hearts in cupcake liner
Pour 1/2" layer of remaining cake batter into bottom of loaf pan or cupcake liner
Position hearts or heart log with point of heart into cake batter
Cover with remaining cake batter
Make sure hearts do not move while covering with remaining cake batter
Bake 20-25 minutes for cupcakes or 15-20 minutes for mini loaf pan
Frost cakes when cakes are completely cooled
Strawberry Cream Cheese Frosting Instructions
In mixing bowl, beat cream cheese and butter together until smooth.
Add strawberry jam, extract and food coloring, beat to mix
Add whipped cream and beat for a few seconds to blend but not deflate
Add confectioner's sugar, beat to smooth and blend
Using a 1 M decorating tip and piping pastry bag, pipe frosting onto top of cakes
Refrigerate until ready to serve
Recipe will make 3 cups of frosting or frost 12 -15 cupcakes
http://serveitupsassy.com- http://lizbushong.com
Frost cakes with Strawberry Cream Cheese Frosting and top with heart shaped Valentine Chocolate candies. I used my favorite piping tip, Wilton's 1 M to create a pretty piped cupcake . You will love this frosting recipe too.  Very light and sweetened with strawberry extract.  You could also garnish with fresh strawberries for any occasion.
Nothing makes a statement like the perfect cake for the perfect occasion!