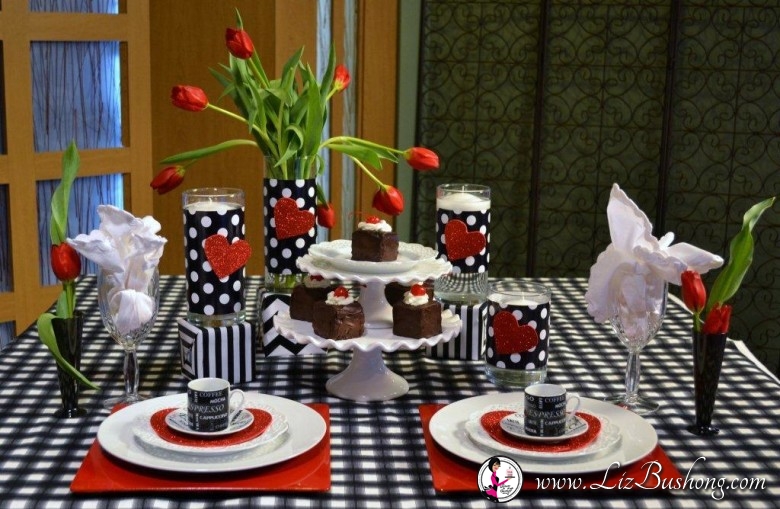 Valentine's Day Tablescape Ideas
Valentine's Day Tablescape Ideas bloom with red tulips, black, white and red accessories and  Mini Black Forest Cakes as the centerpiece. The mini cakes sit pretty on a  ruffled cake stand and was the inspiration for this special Valentines Day table.  Why do I want to go to the effort to create a pretty table?  What is a tablescape anyway?   All great questions for anyone to ask, read more for the answers as well as  to see how simple it is to bring joy to your home with a pretty table, especially at Valentines Day.  
What exactly is a tablescape, asked a young millennial the other day?  I was stunned she didn't know and I even stumbled a bit to explain it.  So after thinking about the question  and looking up definitions, which the dictionary was absolutely no help, I came up with this statement.   A tablescape is like a lovely black dress accessorized with your best pearls, it can be classic, stunning,and a beautiful statement of refinement or a sense of sassy happiness for a dining table, side buffet, or any table.  Accessorizing a table top for a dinner party, special occasion celebrations, or for everyday living creates warmth, joy, excitement and sets the tone for any event.  A tablescape is a work of art, a small-scale landscape, or little black dress which expresses a personal touch.  It is the artists canvas for  interpretation of the season, holiday, or event and it always says.. Welcome to my Home!
So lets get started on this fun and sassy Valentines Day Tablescape Ideas!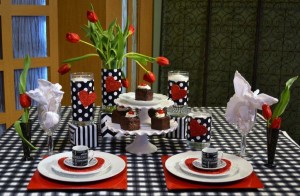 Valentine's Day Tablescape Idea # 1- Color Scheme
Valentine's Day usually begins with red, with pink, and white.  In my case,  I wanted to use what I had on hand to create this cute scape. I had white dinner plates, red chargers, and the black and white mini cups and saucers.  Next thing I had on hand was black and white polka dot, striped, and chevron wrapping paper.  The Cake stands I had on hand too.  Yeah!  The only thing I purchased for this scape were the red tulips!
You have seen this before, I like to use the black and white plaid tablecloth, which is't a table cloth, just dressed up like a tablecloth. It is really a piece of fabric cut in a 54 x 54 inch square.  This size fits most table tops or can be used as a secondary table topper.   I have used this black and white fabric for other scapes. You can see it here  http://serveitupsassy.com/hot-chocolate-recipe/ .    The red chargers were once lime green but I needed red ones for a Christmas tablescape and they were spray painted then.  Using what I already had on hand, just re-purposed the props.
Some people have asked if I have a huge storeroom of props?  No,  I just reuse the basics, which helps keep my inventory manageable.  Besides using red in the charger and felt heart under the cup and saucer,  the classic White dinner plate and lacy white salad plates were stacked together.  The small demitasse cup and saucer was the perfect size and compliment to the overall black, white and red scheme.   I had all of this stuff in my cabinets!
Valentine's Day Tablescape Ideas #2- Black and White Wrapping Paper
During Christmas, at Hobby Lobby, I purchased several rolls of black and white wrapping paper.  You can always use black and white for any occasion, so that is when I stocked up.   Polk-a-dot,  striped- and chevron were must haves!  My friend, Susan Burns created these stacked boxes using black & white damask wrapping paper with turquoise ribbon for an event recently and they were stunning!  I need to see if she has a photo that I could post for you to see.  She was my inspiration for using wrapping paper!  Special hugs to Susan!
So what do you think of the wrapped candle canisters?  I added the felt red heart with double sided tape so I could us them again in the future.  In the overall table top scheme, I had 4 candle canisters all wrapped in the polk-a d0t paper.  One of the three canisters was filled with red tulips.  The tulips were fresh from the grocery store floral department and because they were beginning to open, the price was reduced to 60% off.   Love those kinds of deals.  Just so happened they had red tulips available on that day in the discounted area.
Valentine's Day Tablescape Idea #3-  Centerpiece
The day I created this scape, was the day before my appearance on Daytime Tri-Cities for the monthly cooking segment.  Valentine's Day was definitely on my mind and I had already decided to make these cute Black Forest Mini Cakes for the segment.  Since I already had those baked and ready, they were the perfect centerpiece for this table.
The white ruffled stacked cake stands I found at Pier 1.  Hope you will get a set, they come separately but you will want both sizes.  These cake stands or plates you will use over and over again.  They would be a great addition to your basic white inventory.    The  chocolates cakes are 2 x 2 inch squares that were filled with chocolate whipped cream and  formed in a silicone baking mold, then frozen, then covered with chocolate ganache.  Yes, you can bake these!   Recipe for Mini cakes.    The small covered striped boxes are for elevation only.
When creating a tablescape it is important to think about balance and proportion on your table.  In this case, the candle canisters were three different heights which is good, but when left flat on the table they were not interesting.  The didn't offer enough filled in or completed space to create a cohesive look or feel to the center of the table.  Your natural eye will tell you when something isn't quite right with your tablescape.  It is important to vary your heights and sized to create balance.   I like to work in threes and fives.  If you look at the photo above, you will see in 5 items in the the center of the table.
Item one, the stacked cake plates with cakes,  item 2 is the small candle holder to the far right of screen, item 2 is the next candle canister to the right, item 4 the tulip vase, and item 5 the candle on the box on the far left of the photo.  This creates balance.  Even the little tulip hanging from the vase, fills in the could be open space above the mini cake.  But if you notice,  every space you see between the 5 elements is balanced.
If you don't see this right now, don't worry about it.  In time your eye will see this kind of stuff.  In the meantime, just have fun creating and using what you already have around the house!
Let me know what you are planning for  your Valentine's Day Table decor by sending me an email or commenting below.  Would love to hear from you!
As soon as I can figure out how to download the Good Day Tri-cities ABC TV 19 segment and the WJHL Daytime Tricities segment  I will post them.    In the meantime, here are the links.   When you think you have it down, technology changes!    LOL.
I love helping you Make a Statement, Make it Sassy and Make it Yours! ®
Update:  Here are a few photos of a  Valentines Day Ladies Luncheon from Cornerstone Church that featured my tablescape idea!  I am so honored they liked the idea and wanted to make it for this luncheon.  xo  Thank you!!! 
We need this recipe Ms. Pam.  It looks divine! xoxo