What do you get when you have one set of dishes and you want to transition from Thanksgiving to Christmas?  Here a few ideas to help you Create a pretty setting for this upcoming holiday season.
Creative Table Setting begins with the classic white dinner plate, be it round or square.  Next add a festive salad one for fall and one for Christmas.  Ground it all with the same charger, be it gold, cream or white.  Napkins play a large roll in the setting too.  Create a festive fold using the two napkins, one set for fall and one set for the holidays.  Double the napkins into a simple fold with a pretty napkin ring or tie with ribbon.  Keep the setting simple using the same flatware or add a bit of bling for the holidays with decorative handles.  Select a color scheme and stick with it.  One scheme that transitions well is gold and white or gold and cream.
Having a place card at each setting is a good idea and fun to create.  Simple treat bags filled with candies or small felt stockings for Christmas, or fresh fruit, pinecones, even mini desserts laying on each plate adds creative flair to each setting.  Your guests will love the attention to detail. Charger, gold & red plate, napkins with rings found at Pier 1.
Fall Table Setting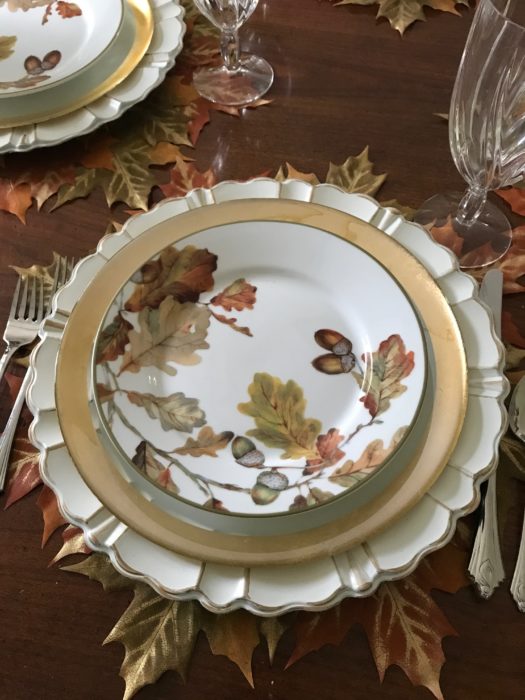 Salad plate above photo is from Williams and Sonoma, the gold rimmed plate and charger from Pier 1.  To transition from fall to Christmas, use the same charger and gold rimmed dinner plate but add the decorative gold and white salad plate ( photo below).  Of course this is an other look for fall but the gold round placemat under the lantern will be the foundation for the Holiday setting instead of the leaves.  
Using gold, cream and white will help you transition from Thanksgiving to Christmas.
Transforms to Thanksgiving Setting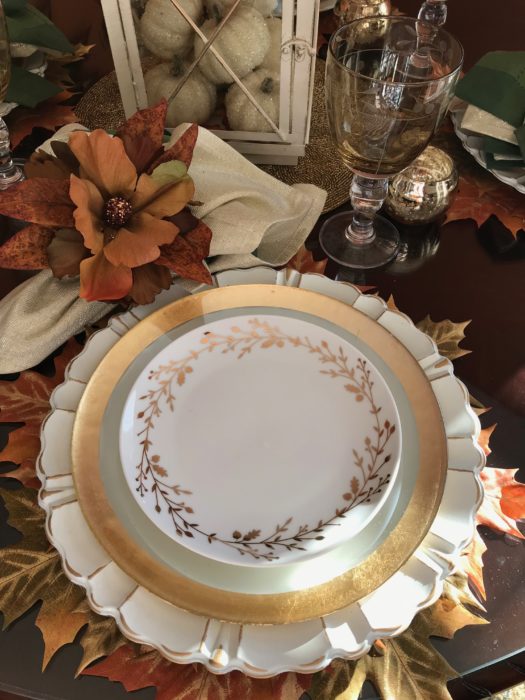 Transforms to Christmas Setting
Add a red plate to change the look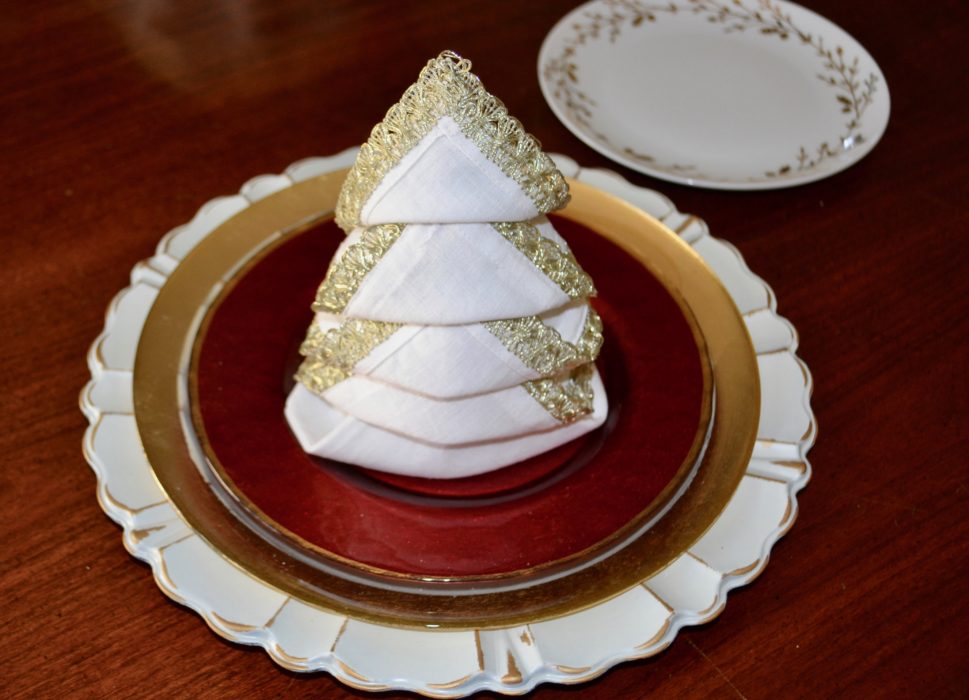 Return to Gold plate just change out napkin and ring