Floral Blooms with Floral Diplomacy are flowers that have the "potential to take on a nuanced diplomatic role, conveying strategic messaging in support of …any setting "  at home or around the world especially in high profile events at the White House.
One of my floral mentors and friend is the former White House Chief Florist, Laura Dowling.  She has published her first book called Floral Diplomacy at the White House.   I wanted to share with you her talent and skills as a floral designer as well as my experience working as a volunteer with her at the White House.   The following is a recent article that I had written for VIP SEEN  Magazine May 2017 issue.  All photos posted in this article are courtesy of Stichtung Kunstboek, Publisher of Floral Diplomacy at the White House.
Its springtime! The April rains have subsided creating a bountiful harvest of new blooming flowers. Small buds unfurl their tiny petals as they lean into the warm sun that quickly reveals a full and luscious bloom. Whether gazing or strolling through an orchard meadow sprinkled with daffodils or watching bloomed tulips gently sway with the wind, nothing could be more lovely and calming. Who doesn't love beautiful floral arrangements or a single stem in a pretty little vase?
Blooms with Floral Diplomacy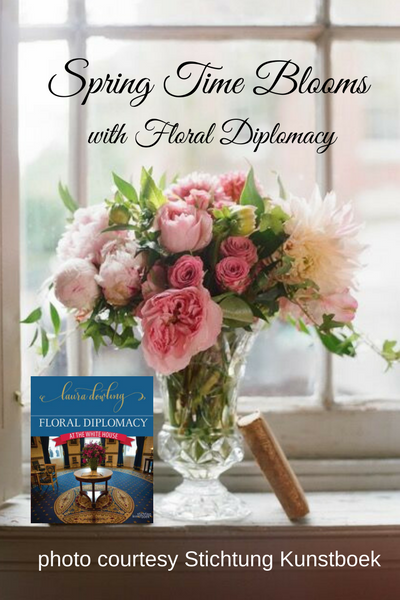 Flowers are symbolic and diplomatic
Flowers are symbolic and diplomatic; they provide natural beauty and artful structure to home décor, landscapes and food as they play an integral part of the ambiance for many celebrations! Every season brings new life to the many different varieties of flowers, some with lovely fragrances and delicate petals, such as peonies and lilacs to the hardy annuals and perennials that protect our vegetables from unwanted bugs and beetles. We probably don't think about how flowers affect our lives but flowers make a statement whether decorating dining tables at home or in the Peoples house on Pennsylvania Avenue.
One of my floral mentors and friend is the former White House Chief Florist, Laura Dowling.  I had the honor of working with Laura as part of a national volunteer floral and decorating team that she oversaw in the floral shop. Being part of this very talented team of floral and design ambassadors allowed all of us to observe her "artistic vision and innovative approach to design." Her love for French history and floral design along with her keen eye for color and composition makes every floral arrangement stunning to behold! Laura's arrangements are alive and natural with a refined garden style, even her floral containers feature organic vessels covered in leaf vines and berries. I have also seen some of her vessels covered with decorative cupcake liners for a casual but festive event like the White House Fourth of July.
As the "creative director for flowers and décor, Laura managed the White House floral designs and installations for major events including state dinners, official parties, special receptions, public events such as the Fourth of July, Halloween and White House Christmas. She also designed for the personal residence of the First Family, as well as the East and West Wing offices. Her White House floral designs were thoughtfully conceived to convey important diplomatic messages, meaning and metaphor … flowers could be more than just decorative objects." "Floral Diplomacy became a signature initiative, which became the title of her first tabletop book. Her book offers a unique appreciation of how flowers and floral artistry were involved with an array of national, international and family orientated projects."
Laura served as Chief Floral Designer at the White House from 2009 until 2015 and currently travels the world teaching and creating arrangements while promoting her new book Floral Diplomacy. We are fortunate to have Laura in our region sharing her talent, skills and expertise at seminars and book signing events. If you love flowers you will want to get a copy of her book, Floral Diplomacy.
The White House experience deepened my desire to create beautiful tablescapes for every day and special occasions. Working in the floral shop at the White House is surreal and a humbling experience. Watching Laura create large floral arrangements one after another was astonishing. Not only did she create these designs she often had two or three other projects to lead at the same time. "Her 16 hour days, 100 hour work weeks, 7 days a week for 6 years were long and laborious" but she always remained steady and energized with a constant flow of new creativity. She loved serving the nation as the Chief Florist of the White House. Laura is a friend who is "lovely, gifted and generous, a floral artist, educator and most definitely, a floral diplomat."
My purpose for sharing her creativity is to offer a new perspective on how to create beauty for your home with lively inspirational color-infused floral.  For all of our decorative and entertaining needs fresh flowers will never go out of style or fade away from prominence.  To see more fabulous and french inspired  floral designs from Laura  refer to her new book Floral Diplomacy. 
As you go through this day wherever you are take time to "smell the roses". The aroma of the blooms and vibrant colors will take your breath and diminish the weight of day. With gratitude and appreciation for nature's beauty the proverbial clock stops for a moment. This time of calm reflection will enable you to be more tactful and skillful in managing life and delicate situations; now you have become a Floral Diplomat.
Helping you Make a Statement, Make it Sassy and Make it Yours! ®
One quote: http://www.debraprinzing.com/
Photo Credit and Publisher of Floral Diplomacy: Stichtung Kunstboek BVBA is distributed in North America by ACC Distribution USA
Quotes: Laura Dowling Bio-Press Release
Update:  Laura has a new book release:  A White House Christmas Including Floral Design Tutorials, Released October 2017,  Stichtung Kunstboek Publisher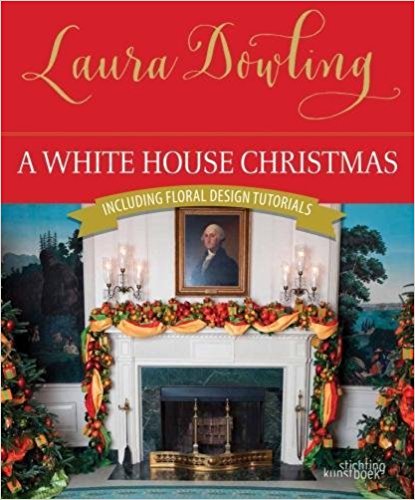 ---
 Liz Bushong is an expert in the three-dimensional art of entertaining. She transforms simple dining occasions into beautiful and memorable moments by adding a touch of her own "sassy" style. For the past several years Liz been entrusted to decorate the White House for several Holidays and special events.  She is a featured monthly guest designer-chef on Daytime Tri-Cities, Daytime Blue Ridge and other television shows. Liz is the author of the Just Desserts and Sweets & Savories cookbook,  contributing writer for VIP SEEN Magazine.