Discover how easy it is to make a wall of paper flowers. Card stock, hot glue, cake boards, and scissors are just a few materials you will need to create your flower wall.  Also, these card stock flowers are mixed with tissue paper flowers to create texture and interest to your colorful wall of art.  These flowers are perfect for wedding decor, dessert buffets, or any occasion.
Materials Needed 
Makes one medium sized flower:
25- 8 1/2 x 11 inch Card Stock Sheets in Shades of Red
3-6 x 6 inch Black Tissue Paper for Stamen
Scissors, Glue Gun & Glue Sticks, 10″Card Board Circles- Wilton cake board
 Step 1: Separate 5 sheets of each of 4  shades of red card stock.
You will need 20 card stock sheets total. ( these are 8 1/2 x 11″)
 You can add another layer of 5 sheets if desired to make the flower fuller which is good, I only had 20 sheets of paper so I used what I had.  The  25 sheets will give you  5 sheets of 5 shades.   Photos only show 4 colors of 5 sheets.
(Card Stock sheets in monochromatic colors make a pretty wall flower)
Step 2: Create your petal shape using scrape paper and then trace the others.   I created a heart shape leaf pattern but squared off the bottom point.. this is the point that will be glued to the cardboard round.
Step 3: Cut 5 sheets into large petals  8 1/2 x 11 with the 11″ side as the flat edge.  Cut 5 sheets of the next color only 1″ small all around, repeat this process for all 4 sectioned colors.  Cut a 2″ slit on all shaped petals in the middle or center front from the bottom  straight edge.  See photo below.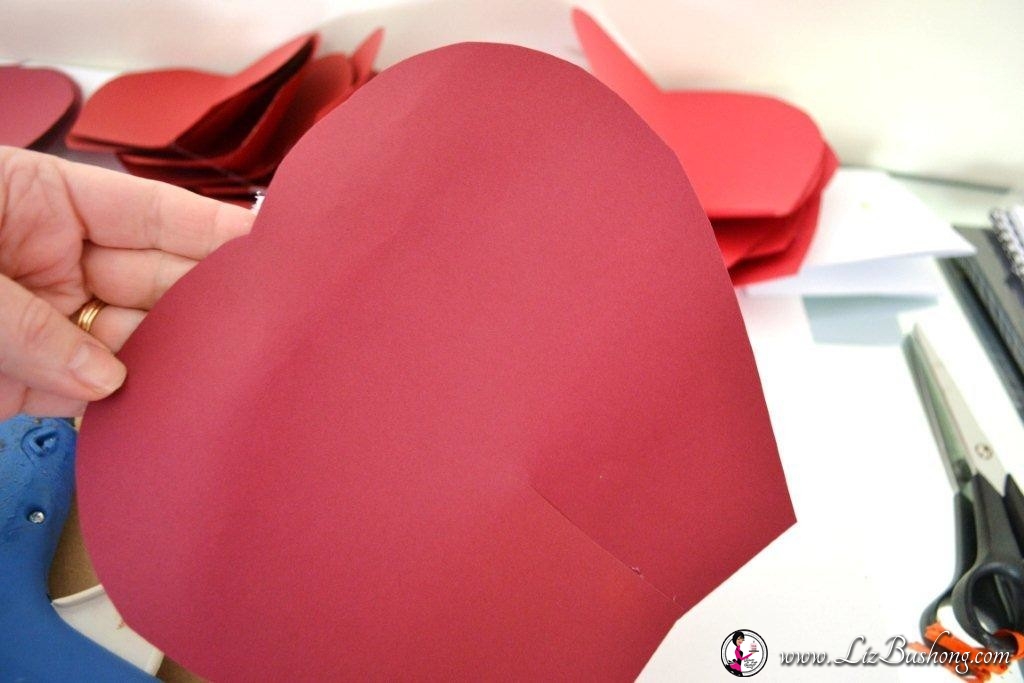 Using your hands, gently curve the outer edge of the petal to shape it slightly rounded.
Step 4: Attach largest petal to cardboard cake round with hot glue.  You will bring in the cupped petal about one inch.  Continue around the board with all 5 petals.  Repeat this step with the next size for second row.
Continue this process until you have the flower almost filled with room for the stamen.
Notice the edges are gently curved and the color shades are really adding dimension to the flower.  Last step,  add the black stamen for the center.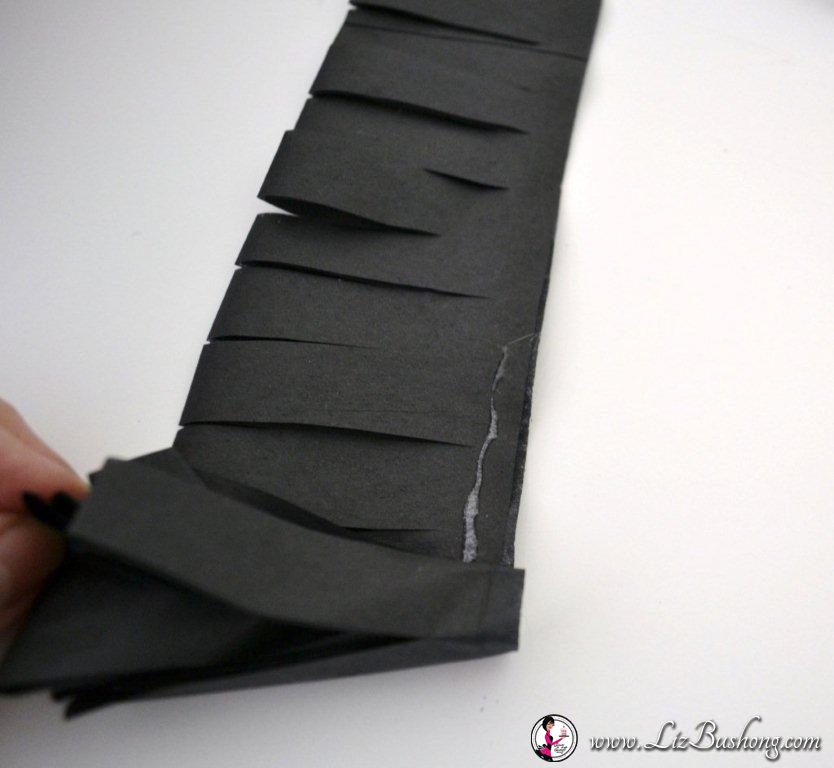 Step 6: Cut a 6 x 6 inch piece of black tissue paper, fold into 3″ wide strip.  Cut 1/4 " slits on the folded edge, glue loose edge with glue and roll up like a jelly roll.   Make 3  stamens so center is full.  Apply glue to end of stamen and insert into center of paper flower.  TA DA!!!! DONE!

DIY: Card Stock Cone Flowers
Card stock Cone Flowers Tutorial
Materials needed:  20 – 8 x8 inch squares card stock- your choice of color.
20-6 x 6  inch squares card stock- your choice of color-
40- 4 x 4 inch squares card stock- your choice of color-
3-6 x 6 inch tissue paper for stamen- your choice of color
glue gun and glue sticks,  scissors,

This is how I cut my card stock, this is optional of course.  Using an 8 1/2 x 11 inch sheet of  card stock, I fold one corner to the opposite corner so the edges line up, then cut off the excess paper.  It makes a perfect square every time without measuring each sheet.  This makes the 8 inch square.
This is the 6  inch square
This is the 4″ square.  Notice the white chalk arrows,  this is to help you fold corners into the cone shape.  You will be folding each cute paper square into a cone shape.  When shaped, hot glue the cone edges.
Getting ready to glue in place to form the cone shaped petal.
Ok.. you are on a roll!  Ha ha.. keep forming and gluing all squares into the cone shape.
Have you ever seen so many cones?  Which they were sugar cones full of chocolate ice cream right about now.  YUM!
These are the card cake boards I used for all the flower making in this long tutorial post.

Notice I drew a pencil line in the center of the cake board and then across, this is to help with the cone layout.   The cones will sometimes fit the quadrants but more likely they will not, so don't be upset if they don't line up.  It isn't a big deal.  The reason they might not line up is the fact that each cone might be rolled tighter than another.  Just like a  real fresh flower, not all flowers are the same.    I flattened the pointed end where I have the chalk colored in on the photo to show you where it was flattened.  This helps keep the cones in place too.
Repeat the gluing process until the first row and board is covered. Repeat second and third rows with same gluing process. You will have to cut the pointed end of the cone the closer you get to the center of the flower so it will lie flat.  Take off 1/2 inch to start and then see how it fits your flower. The last step will be to create your tissue paper stamen.
All glue messes will be covered with stamen.  How are your fingers?  I had a few mild burns from the glue gun.. Yikes!
Making the stamen from the tissue paper.  6 x 6 inch piece, folded in half and cut in 1/4″ slices along the folded edge side.  Glue loose edge and roll into a jelly roll.  Make three of these stamens for the center of your cone flower.   Attach stamen to center of cones!  Drum roll please!!!  YOU are Finished!