Rich, Chocolate, and Decadent!  Semi sweet chocolate, half and half, eggs, little bit of sugar makes a rich baked custard or pots de creme. Serve it up …with fresh whipped cream and strawberry shaped heart.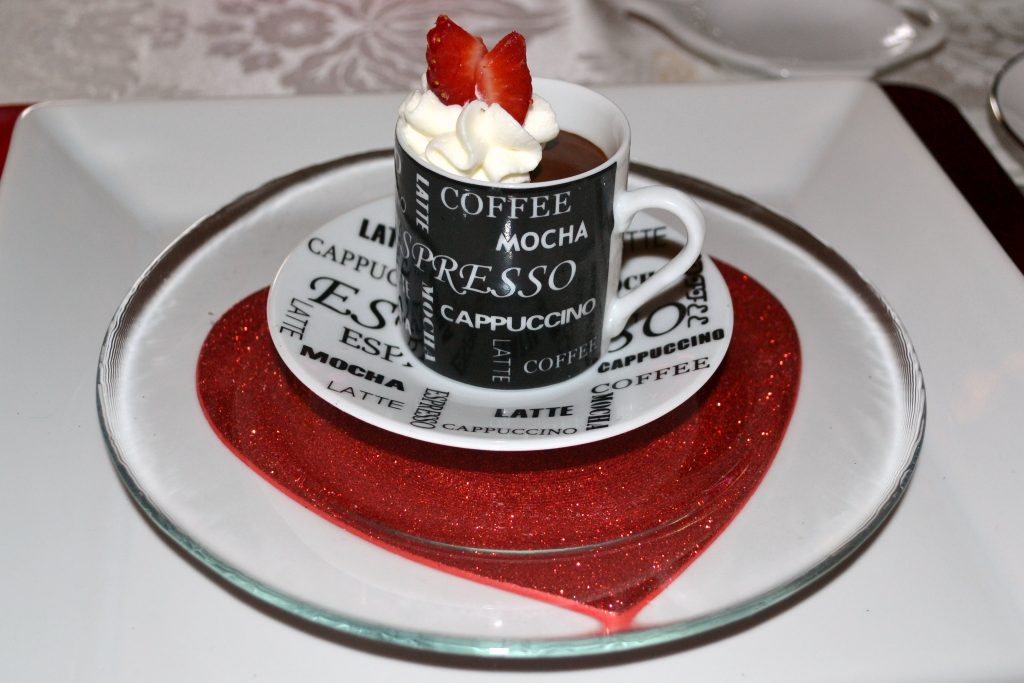 To create the strawberry heart- cut thin slice of strawberry vertically, cut slice in half, then cut upper corner of each half at an angle to represent a heart.  Put the two halves together to create the entire heart.  Top the creme with a dollop of whipped cream then add the strawberry heart.
Print
Chocolate Pots de Crème
2/3 cup semisweet chocolate chips
1 cup half and half
2 eggs
3 tablespoons sugar
1/4 teaspoon sea salt
2 tablespoons rum extract or good vanilla
Whipped Cream Recipe
1/2 cup chilled heavy whipping cream
4 tablespoons confectioners sugar
1/2 teaspoon vanilla extract
Instructions
Heat oven to 350.  Assemble 4 un greased ramekins or small ovenproof decorative cups.  Meanwhile simmer 3 -4 cups boiling water for baking custard.
In saucepan over medium heat, melt chocolate and half and half, stir constantly until chocolate is melted and smooth.
Cool slightly.
Meanwhile, Beat eggs and sugar together with a whisk to blend add salt, whisk to mix.
Gradually add egg mixture with melted chocolate. Stir to blend.
Pour into 4 un greased ramekins or small ovenproof cups.
Place cups in baking pan on oven rack.
Pour boiling water into pan to within 1/2 inch of the tops of the cups.
Bake 20 minutes.
Cool slightly, cover and refrigerate at least 4 hours but not longer than 24 hours.
Whipped Cream Instructions:  Clean mixing bowl and wire whisk attachment free of any residue and chill in refrigerator for 10 minutes.  Add heavy cream to chilled bowl and beat on high speed for 1-2 minutes gradually add confectioners sugar and extract, beat on high speed until stiff peaks form.  Place whipped cream in piping bag and pipe dollops or decorative swirls on top of chilled dessert.
To serve:  Top with fresh whipped cream and strawberry heart halves.
Notes
Piping whipped cream use tip 1 M as a decorative tip or simply spoon a dollop on top of dessert.
To Make Strawberry heart:  Cut hulled strawberry vertically into 1/4″ slice, cut slice in half vertically, insert the two halves into dessert to form a heart.  If necessary trim the upper edge of berry slice to resemble the rounded edges of a heart.