Cobalt Blue and Orange Table Ideas features a fall table with cobalt, navy and orange color scheme. Drape a table with a navy tablecloth, paisley runner, white dinner plates, orange chargers and decorative plates. Add a tall cobalt hurricane vase with white twigs and maple leaves for a dramatic centerpiece.
Cobalt Blue and Orange Table Decor Idea|  The Setting
Drape a navy table cloth over a round table as the base. Next add creamy white peacock floral runner down the center of the table.  At each place setting, a coppery/orange charger with the classic white dinner plate provides the base for cobalt blue salad and decorative dessert plate.
 A decorative porcelain dish filled with a bright orange sits gracefully on the center of each plate.  Tightly rolled and furled white ruffled napkins stand inside empty water glasses. Because the table decor has texture and color combinations, a simple cobalt blue vase with  a single green stem adds balance to the other elements making this scape easy to update from fall to Thanksgiving.  Speaking of Thanksgiving and serving pieces…  one thing you always need is additional  utensils as in flatware serving pieces.  Order needed dinnerware and serving pieces now before Thanksgiving to avoid not having what you need or not being able to find it.
Cobalt Blue and Orange Table Decor Ideas| Take it Inside or Out
For Entertaining purposes, this table will go through fall to Thanksgiving. Enjoy the view and create your own fall inside or outside at your favorite table.
Cobalt Blue and Orange Table Decor Ideas| Centerpiece Above Heads
Cobalt Blue and Orange Table Decor Ideas|Maple leaves & White Branches
Make ahead spray painted small twigs have hot glued yellow and orange maple leaves attached to ends of twigs with some leaves allowed to fall on the table for added interest.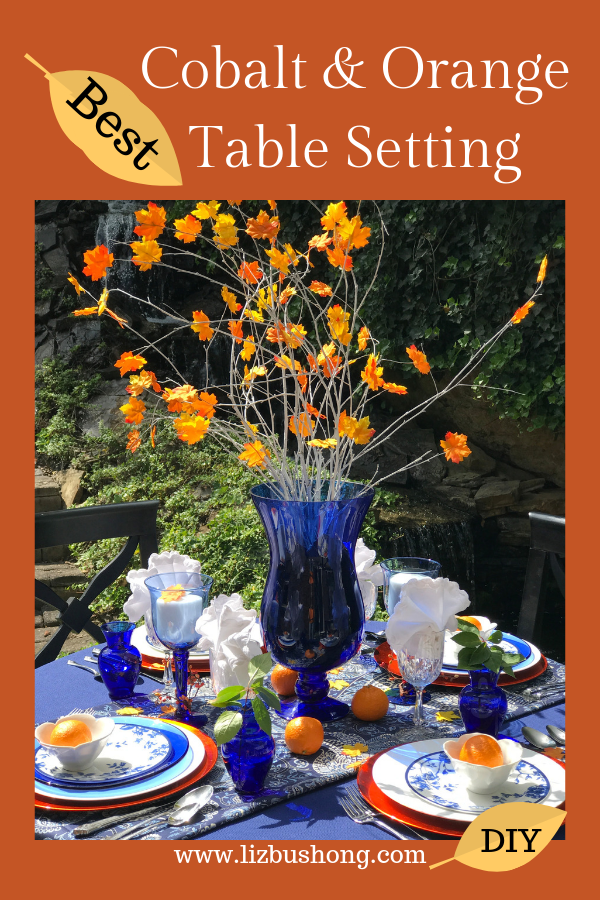 White ruffled napkins folded like the fan tail of peacock feathers stand ready for guests in the drinking glass while a small cobalt blue vase boasts hydrangea leaves with no flower.

Fall is Fabulous and Beautiful!
Helping you Make a Statement, Make it Sassy and Make it Yours! ®
This table setting was featured on WSLS-Daytime Blue Ridge in Roanoke, Virginia.
Other Ideas you might like to try: