There is nothing more American than Celebrating the 4th of July at the White House. Red, White and Blue table centerpieces took center stage on south lawn of our nation's grandest estate.  Red, white and blue tablecloths lined round tables with fresh cut floral arrangements for centerpieces.  Chief Florist, Laura Dowling made sure every table sparkled with creativity for the 5,000 military guests to enjoy.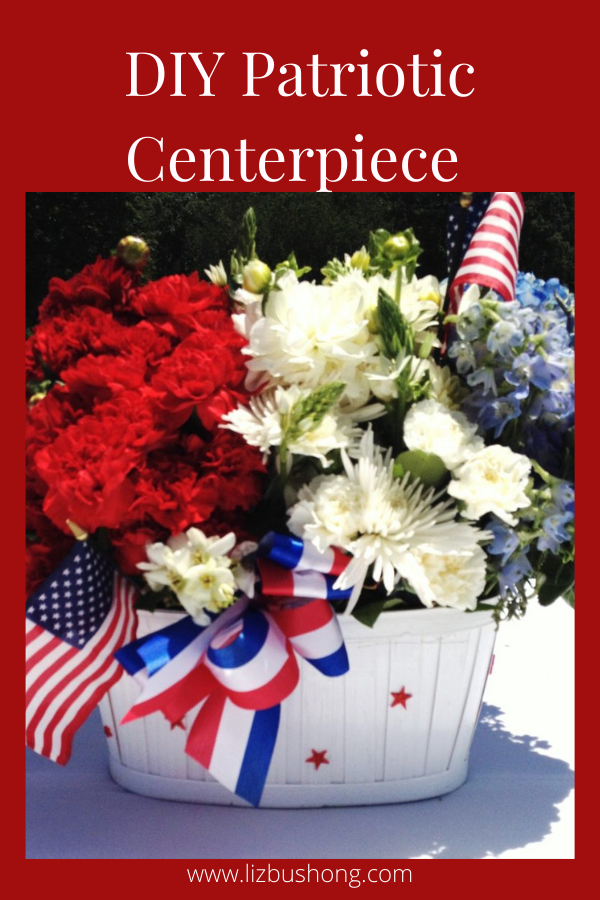 The table centerpieces featured an assortment of red, white and blue fresh florals. Flowers such as carnations, white spider mums, blue hydrangea to name a few. In the arrangement, two small American flags were added along with red, white and blue bows.
Even the chairs got a special red white and blue touch. Large stars with event invitation was placed on the back of alternating chairs.
Floral designers and designers created these beautiful centerpieces. I was honored to be part of this designing team. It was wonderful!  Loved every minute of it.

Red & Blue Stars for Chair Decor

Red and blue stars with White House event and red, white & blue ribbon graced the backs of each outdoor dining chair. Coordinated tablecloths in red, white and blue were also draped over the tables for simple and elegant outdoor entertaining.
( It was a very hot summer day on the south lawn… the florals were kept cool as they were housed in refrigerated trucks and placed last minute on the tables.)
Grand Statement Wreath for Entrance to Event
We made this 7'wreath from vinyl strips or tablecloths cut into strips. Each vinyl strip was looped into small bubble like ropes and stapled to a plywood frame. We had over a mile of vinyl bubble rope for each color in the block.
Needless to say, a lot of looping, wiring, twisting took place to make each loop perfection. Our fingers and hands were very tender after working on this large 7 foot round wreath. It was so pretty and made a beautiful welcoming statement for this grand event.
In conclusion to the White House decor event….
4th of July Signage Makes Great Sentiment 

In keeping with the color scheme red, white and blue, wooden stakes turned into letters spell out Happy 4th of July. Mini round tissue fans not fully opened were used in blocks to create the texture of the letters on both sides of stakes.  We used a lot of hot glue and burnt fingers creating this pretty statement.  It was perfect for photos with the White House in the background.
It was a great honor to serve as a volunteer designer decorating for this event.  Thank you Laura Dowling, Chief White House Floral Designer.
Hope this glimpse into the holiday decor will inspire you to create your own special 4th of July event at home.
Celebrate with family and friends in your own back yard create something beautiful while remembering our nations birthday and the sacrifice's that many made for this great country.  GOD BLESS THE USA!
Other Ideas you might like to try: