Check out how to create this DIY harvest pumpkin, gourd and candle table scape for fall events. Various squashes, pumpkin candle holders help set the table. Harvest pumpkin|gourds and candle scape begins with gathering fall leaves, gourds, berries, various sized pumpkins, candles and even a 'jack bean'. The long skinny green gourd/squash that you see in the photo below.  In addition to squashes, leaves and pumpkins Make this DIY pumpkin candle stick holder.  Instructions are below.
Gather Materials for DIY Pumpkins, Gourds and More Table Scape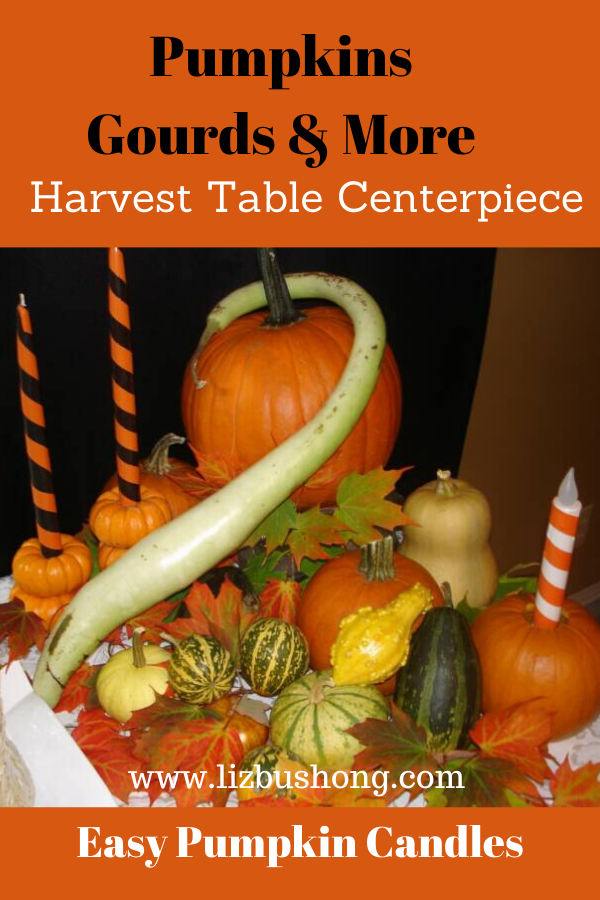 Assorted Pumpkins, Gourds, Squashes, colorful leaves and orange candles can turn your harvest table into a bold and beautiful lay out.  Get out your cake stands for various heights, drill and bit along with black duck tape to wrap orange candles  In moments you will have a great centerpiece perfect for buffet tables or down the center of your dining table.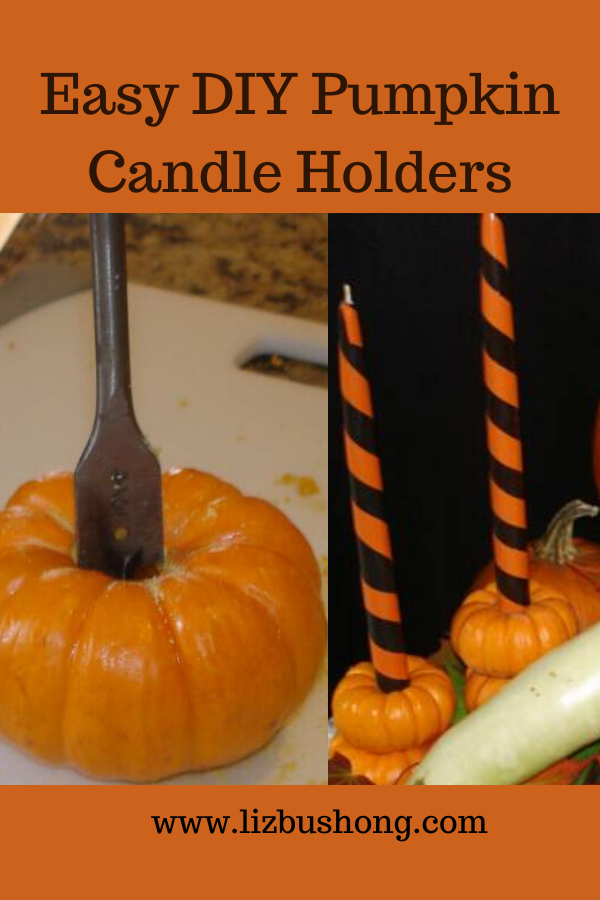 How to Make Pumpkin Candle Holders
To make the pumpkin candle stick, select 3 similar sized mini pumpkins, remove stems on all three and drill a 3/4″ hole in one pumpkin center.  Depth of hole depends on base of candle you will be placing in the pumpkin.  For this example I used a 3/4″ round tapered candle for the orange with black stripe.  The white candle with orange stripe is a battery operated candle stick.  This base was a bit larger but for my purposes the 3/4″ drill bit worked great for all three sizes.
This is a two person job, one drills and the other holds the pumpkin steady. (Of course…Be very careful drilling).
Stripe your orange candles with black electrical tape.  Use orange electrical tape for white tapers.  ( After event is over, simply remove the duck tape to use the candles for future projects).
Use hot glue to attach the candles in the drilled opening.  Note: the hot glue will not adhere to the pumpkins very long, so try not to move them around. Your candle should fit snuggly in the pumpkin.
Hope you will try this idea!  It's fun, easy and oh so pretty to set a harvest filled table setting.
Check out these other ideas you might like to try: